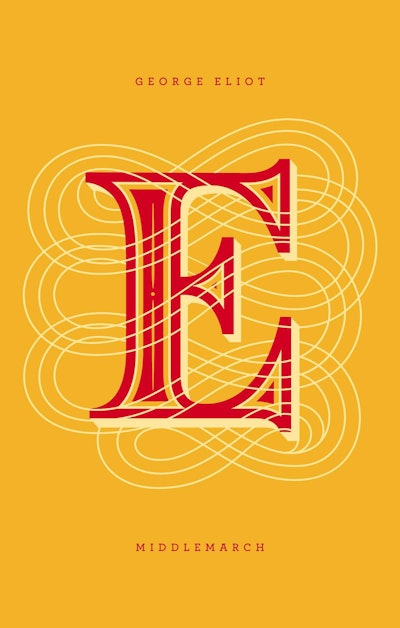 Published:

31 January 2013

ISBN:

9780143123811

Imprint:

Penguin Classics

Format:

Hardback

Pages:

912

RRP:

$72.00
Middlemarch
---
---
Penguin Drop Caps collect twenty-six stunning hardcovers-one for each letter of the alphabet-featuring cover art by lettering superstar Jessica Hische.
E is for Eliot.

From A to Z, the Penguin Drop Caps series collects 26 unique hardcovers—featuring cover art by type superstar Jessica Hische
It all begins with a letter. Fall in love with Penguin Drop Caps, a new series of twenty-six collectible and gift-worthy hardcover editions, each with a type cover showcasing a gorgeously illustrated letter of the alphabet by superstar type designer Jessica Hische, whose work has appeared everywhere from Tiffany & Co. to Wes Anderson's film Moonrise Kingdom to Penguin's own bestsellers Committed and Rules of Civility. A collaboration between Jessica Hische and Penguin Art Director Paul Buckley, the series design encompasses foil-stamped paper-over-board cases in a rainbow-hued spectrum across all twenty-six book spines and a decorative stain on all three paper edges. Penguin Drop Caps debuts with an "A" for Jane Austen's Pride and Prejudice, a "B" for Charlotte Brontë's Jane Eyre, and a "C" for Willa Cather's My Ántonia, and continues with more classics from Penguin.
E is for Eliot. Considered one the masterpieces of realist fiction, George Eliot's novel, Middlemarch: A Study of Provincial Life, explores a fictional nineteenth-century Midlands town in the midst of modern changes. The proposed Reform Bill promises political change; the building of railroads alters both the physical and cultural landscape; new scientific approaches to medicine incite public division; and scandal lurks behind respectability. The quiet drama of ordinary lives and flawed choices are played out in the complexly portrayed central characters of the novel—the idealistic Dorothea Brooke; the ambitious Dr. Lydgate; the spendthrift Fred Vincy; and the steadfast Mary Garth. The appearance of two outsiders further disrupts the town's equilibrium—Will Ladislaw, the spirited nephew of Dorothea's husband, the Rev. Edward Casaubon, and the sinister John Raffles, who threatens to expose the hidden past of one of the town's elite. Middlemarch displays George Eliot's clear-eyed yet humane understanding of characters caught up in the mysterious unfolding of self-knowledge. 
Published:

31 January 2013

ISBN:

9780143123811

Imprint:

Penguin Classics

Format:

Hardback

Pages:

912

RRP:

$72.00
Other books in the series