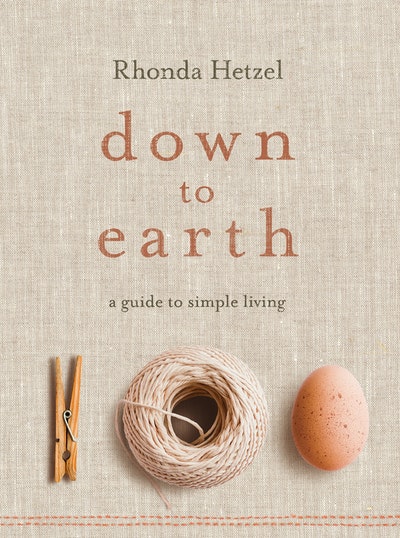 Published:

20 October 2020

ISBN:

9781761041808

Imprint:

Viking

Format:

Paperback

Pages:

336

RRP:

$34.99
Down to Earth
A Guide to Simple Living
---
---
---
Whether you want to learn how to grow tomatoes, bake bread, make your own soap and preserve fruit, or just be inspired to slow down and live more sustainably, the bestseller Down to Earth will be your guide.
'I was pulled into simple living before I knew what it was. It crept up on me using the smallest of steps and didn't reveal its true beauty and real power until I was totally hooked. I was searching for a way to live well while spending very little money. What I found was a way of life that also gave me independence, opportunity and freedom.'
There is no simple solution when you ask, 'How can I change my life to create a resilient and secure future?' But there are steps you can take to create a haven for you and your loved ones. Rhonda Hetzel's book, Down to Earth, was originally written for those who wanted to slow down and simplify life. Now, with the events of 2020 forcing change on all of us, it is also a valuable guide for creating a home that will provide safety and comfort during the uncertain years ahead.
Rhonda gently encourages readers to find the pleasure and meaning in a simpler life, sharing all the practical information she has gathered on her own journey.
'This book has brought me such knowledge and comfort over the years.' – Clare Bowditch
Published:

20 October 2020

ISBN:

9781761041808

Imprint:

Viking

Format:

Paperback

Pages:

336

RRP:

$34.99
Whatever stage you are at, from complete beginner to experienced self-sustaining homesteader, you will find much inspiration in this book ... exceptional.

thebyronlife.com
A bible ... [this] go-to thrift guide explains how to live a simpler life and save lots of money in the process.

Herald Sun
While Down to Earth is filled with practical skills for building a sustainable, more environmentally responsible lifestyle, there is a deeper current running through the book that is about finding meaning and beauty in the life you choose to live.

The Hoopla
A practical DIY guide that is designed for the cost-conscious, eco-aware homeowner ... will no doubt come in handy for those seeking a refreshing change to their busy, stressful lives.

West Australian
Rhonda Hetzel has the simple life down pat ... [A] must-read guide.

Australian Home Beautiful
Fear not, dear women of Oz, Rhonda Hetzel is the woman to help us slow down and breathe deep.

sheknows.com
Beautifully illustrated ... an inspiring guide to simple living ... Hetzel has imbued her book with quiet wisdom and practical steps no matter what stage you are in life.

Sunday Mail (Brisbane)
Here's a book on simple green living if we ever found one. Hetzel doesn't miss any aspect of our lives.

G Magazine
Warm, homespun, practical advice on everything from how to bake bread to why paying off your home loan can lead to a better life.

Sunshine Coast Daily
Brilliant, simply brilliant! Beautifully styled and a real pleasure to hold. I never wanted it to end ... We are blessed to be able to hold Down to Earth in our hands and keep it in a special place for whenever we need inspiration, ideas or support.

Amanda Brooke
Contains a wealth of information, all delivered in an honest, light-hearted, easy to understand way, with gorgeous photos.

Mildura Midweek
Inspires readers to slow down and live more sustainably. A great read!

Real Living
An impressive book you can dip into it over and over again for inspiration on the fun of making life simpler ... Beautifully written.

Manly Daily