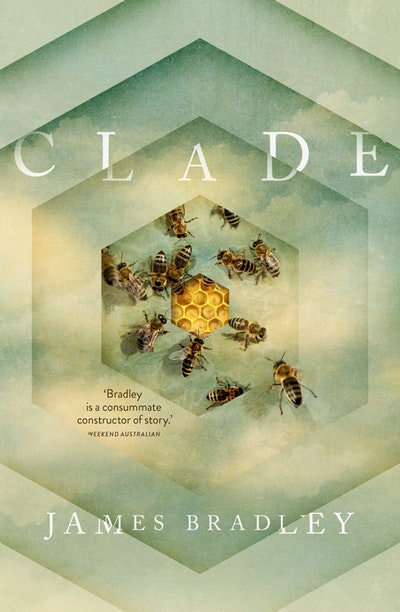 Published:

28 January 2015

ISBN:

9781926428659

Imprint:

Hamish Hamilton

Format:

Trade Paperback

Pages:

256

RRP:

$32.99
Clade
---
---
---
A provocative, urgent novel about time, family and how a changing planet might change our lives, from James Bradley, acclaimed author of The Resurrectionist and editor of The Penguin Book of the Ocean.

On a beach in Antarctica, scientist Adam Leith marks the passage of the summer solstice. Back in Sydney his partner Ellie waits for the results of her latest round of IVF treatment.
That result, when it comes, will change both their lives and propel them into a future neither could have predicted. In a collapsing England Adam will battle to survive an apocalyptic storm. Against a backdrop of growing civil unrest at home, Ellie will discover a strange affinity with beekeeping. In the aftermath of a pandemic, a young man finds solace in building virtual recreations of the dead. And new connections will be formed from the most unlikely beginnings.
Clade is the story of one family in a radically changing world, a place of loss and wonder where the extraordinary mingles with the everyday. Haunting, lyrical and unexpectedly hopeful, it is the work of a writer in command of the major themes of our times.
Published:

28 January 2015

ISBN:

9781926428659

Imprint:

Hamish Hamilton

Format:

Trade Paperback

Pages:

256

RRP:

$32.99
Epic . . . Riveting.

Missy Higgins
I think James Bradley's Clade was very good at portraying "slow violence" by way of a few generations, each dealing with some kind of climate shock, making them into refugees more than once, in which a sense of family is improvised over the generations as a human necessity and accomplishment. So some novelists are trying to find ways to use the form to express this new content. It will always be a problem, but to an extent it's a problem that has always existed for the novel, which in the nineteenth century often wanted to describe not just individual lives but these individuals' relationship to their society, with history happening either on stage or off, as the macro-plot of the novels. Aspects like these of the pre-modern novel can be very useful to us in the postmodern or Anthropocene period.

Kim Stanley Robinson, Nature Culture
Clade opens up to become that rarest of novels: one that stares down its harrowing beginning to find a sense of peace and even of wonder, while being true to itself. All the way through, the prose is achingly beautiful. Bradley's a magnificent writer and it's all on display here: sentences and images float, poetic and sharp as crystal.

The Saturday Paper
Clade triumphs . . .It is impossible not to be swept along by the sheer pace of the narrative.

Malcolm Forbes, The Australian
Before it is about anything else, Clade is about family . . . There's a real Dickensian sweep to both its structure and its passionate despair about humanity's dearth of improvement or compassion . . . Complex and beautifully paced, Clade is the first great novel of climate change. So well does it predict our possible future, it is unlikely to be the last.

James Tierney, Kill Your Darlings
A compelling story of the triumph of hope over devastation . . . Clade is a visionary book.

Elaine Fry, The West Australian
The book works. It stays with the reader. In the end, Clade does what apocalypse stories do, from the epic of Gilgamesh to The Walking Dead. It tells us that life will go on, even after the end of the world.

Michael Lucy, The Monthly
[Bradley's] attitude is sanguine . . . Time is long and the universe is vast: while the novel deals throughout in very familiar human emotions, it sets them finally in a thought-provokingly wider perspective.

Katharine England, The Advertiser (Adelaide)
In these relentless, brilliantly imagined apprehensions, Clade's foretellings movingly bind the reader to the lives we all-too-human spirits live – and may live. This is the unstinting dreaming and devoted craft-work of a deeply serious, marvelously accomplished artist taking on the absolutely essential.

Thomas Farber, author of Brief Nudity, On Water and The Beholder
At once intimate and epic . . . There is something of the blockbuster movie about this: the beleaguered family battling to stay together as the world ends. But Bradley's deft merging of near-future predictions and cutting-edge science into a convincing setting for his family drama enables us to focus on the interactions between the characters. The apocalypse is happening, even as our messed-up lives distract us.

Jane Housham, The Guardian (UK)
A beautifully written meditation on climate collapse, concentrating on three generations of an Australian family. Bradley skilfully evokes the particularity of lived experience, and the novel is full of vivid little moments, although its real triumph is in setting these in their larger context: a world wrecked by storms and floods, changes in vegetation and the collapse of bird and bee populations . . . Bradley's short, intense novel is as much a hymn to hope as it is a warning.

New Scientist
[Clade] is among the most literate and humane contributions to that slowly emerging tradition of what is sometimes called ''slow apocalypse'' fiction . . . It's his astute management of chronology, as each section leaps years ahead of the preceding one, that generates the novel's haunting and elegiac feeling, making it a near-epic of loss, remembrance, and steadily diminishing hope.

Gary K. Wolfe, Locus online
What is really important in this novel is not these brilliantly rendered future disaster scenarios, but the way epic events are juxtaposed with very human stories. Clade is a book full of people struggling to find connections, not only with each other, but the wider world around them . . . There is a beauty in the way Bradley depicts sadness with such truthfulness and honesty. And in very important ways Clade is, in fact, a hopeful novel. It is a book that depicts human life and love as a shining star in the great dark abyss of time . . . Clade is not a novel about what is lost, but what we can never lose.

Luke Brown, sffworld.com
A melodic, intense rendering . . . sharp, inventive and ultimately hopeful.

The Herald Sun
Moving and nuanced characterizations distinguish this subtle look at an Earth suffering the consequences of climate collapse . . . John Wyndham fans will find the presence of small, intimate moments in the midst of catastrophe familiar.

Publishers Weekly
A remarkable and important novel.

Surf Coast Times
[A] sensitive and imaginative novel . . . embroidered with despair but with the tensile strength of hope . . . There is a depth and emotional resonance to the characters . . . Bradley has a clear and articulate understanding of human bonds and connections.

Samantha Allender, South Coast Register
Birds and fish are dying, wildfires scorch the land, extreme weather wreaks havoc. In this vividly conjured, multigenerational saga, Bradley humanizes the impact of global warming by zeroing in on the daily lives of his characters, who still get pregnant, pay bills, and have marital spats while confronting uncertain fates.

Amy Brady, Oprah Magazine
Aurealis Award
Shortlisted • 2015 • Science Fiction Novel
Colin Roderick Award
Longlisted • 2015 • Colin Roderick Award
ALS Gold Medal for Australian Literature
Shortlisted • 2016 • Australian Literary Society's Gold Medal
NSW Premier's Literary Awards
Shortlisted • 2016 • Christina Stead Prize for Fiction
Victorian Premier's Literary Award
Shortlisted • 2016 • Fiction
Western Australian Premier's Book Awards
Shortlisted • 2016 • Western Australia Premier's Book Awards
International Dublin Literary Award
Longlisted • 2017 • Fiction