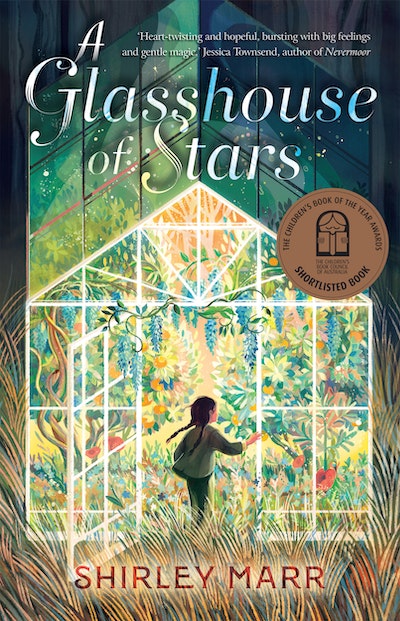 Published:

4 May 2021

ISBN:

9781760899547

Imprint:

Puffin

Format:

Paperback

Pages:

288

RRP:

$16.99
A Glasshouse of Stars
Winner of the CBCA Book of the Year Younger Readers 2022
---
---
---
An exquisite, heartbreakingly beautiful gem of a novel for anyone who loved Wonder, Lenny's Book of Everything, A Monster Calls or When You Reach Me.
Winner of the Children's Book Council of Australia Book of the Year - Younger Readers 2022
Meixing Lim and her family have arrived at the New House in the New Land. Everything is vast and unknown to Meixing – including the house she names Big Scary. She is embarrassed by her second-hand shoes, has trouble understanding the language at school, and is finding it hard to make friends.
Meixing's only solace is a glasshouse in the garden, which inexplicably holds the sun and the moon and the secrets of her memory and imagination.
When her fragile universe is rocked by tragedy, it will take all of Meixing's bravery to find her place of belonging in this new world.
'Heart-twisting and hopeful, bursting with big feelings and gentle magic. This is a special book from a powerful, compassionate new voice in children's literature, destined to be read and loved for generations and held close in many hearts (including mine).' – Jessica Townsend, New York Times bestselling author of the Nevermoor series

Published:

4 May 2021

ISBN:

9781760899547

Imprint:

Puffin

Format:

Paperback

Pages:

288

RRP:

$16.99
Praise for A Glasshouse of Stars
A Glasshouse of Stars is heart-twisting and hopeful, bursting with big feelings and gentle magic. This is a special book from a powerful, compassionate new voice in children's literature, destined to be read and loved for generations and held close in many hearts (including mine).

Jessica Townsend, New York Times bestselling author of the Nevermoor series
Poignant and beautifully told. I loved this book.

Melina Marchetta, bestselling author of LOOKING FOR ALIBRANDI
A Glasshouse of Stars is a rare and beautiful masterpiece; deeply heartfelt, dreamily magical, and glitteringly hopeful. I adored it!

Sophie Anderson, award-winning author of THE HOUSE WITH CHICKEN LEGS
Told in a unique second-person narrative, this is an exceptionally beautiful and lyrical debut, based on the author's own experiences of growing up as a first-generation immigrant in Australia.

The Bookseller
Poignant, authentic and heartbreakingly tender – a touching story of loss and resilience. Shirley Marr gives a face to our deepest fears and proves that even the scariest monsters can keep us company in the dark.

Daria Ostrowska, Collection Development Specialist, Westbooks
There is no doubt that A Glasshouse of Stars will be a Middle Grade novel to watch in 2021 … We share Meixing's journey from loss and displacement, from heartbreak and confusion. A Glasshouse of Stars is ultimately, however, a tale of resilience, compassion and hope – with brushstrokes of magic to help illuminate the way. I loved this perfectly balanced book!

Paul Macdonald, Owner, The Children's Bookshop
A Glasshouse of Stars is poignant, thoughtful and an absolute joy to read. By turns tragic and hopeful, this breathtaking book joins the small number of titles that I will happily recommend to readers of any age. It is destined to be one of the best books of 2021, and I can't wait to see it out in the world!

Hannah Gardiner, Children's Book Buyer, Berkelouw Books
When I finished A Glasshouse of Stars I had the same tingles as when I read The Bone Sparrow. The grit of reality, juxtaposed with the magic. The chance to step into another culture and learn their customs. To again be reminded of how important these stories are to build empathy and understanding. Marr has articulated a very common new immigrant experience by using powerful metaphors that will engender meaningful conversations with young readers. It will also speak to any reader who similarly embraces their imagination to make better sense of the people and the world around them. This is a book bursting with colour and heart.

Libby Armstrong, Owner, Beachside Bookshop
A Glasshouse of Stars is a wonderful middle-grade novel told with bravery and sensitivity. Marr has brilliantly captured a child migrant's experience, and I confess to being excited about what Marr will write next. I predict this to be my favourite read of 2021!

Nadia L King, nadialking.wordpress.com
A powerfully moving novel

tiensblurb.wordpress.com
An important story for all ages that has the power to bring adults back to childhood.

Vanessa Elle, Glam Adelaide
As an avid reader, I really enjoyed reading this book and every time I see the coloured cover of the book, I am compelled to pick it up and fly back to Meixing's world . . . I encourage you thoroughly to pick up this book and find yourself in the shoes of a migrant girl. I loved this book deeply and rate it a well-deserved 5 out of 5. Come read this exceptional book!

Joshua, age 13, Alphabet Soup
WA Premier's Book Awards
Winner • 2021 • The Premier's Prize for Writing for Children
CBCA Book of the Year Awards
Winner • 2022 • Younger Readers
Queensland Literary Award
Shortlisted • 2022 • Children's Book
Readings Book Prize
Shortlisted • 2022 • Children's