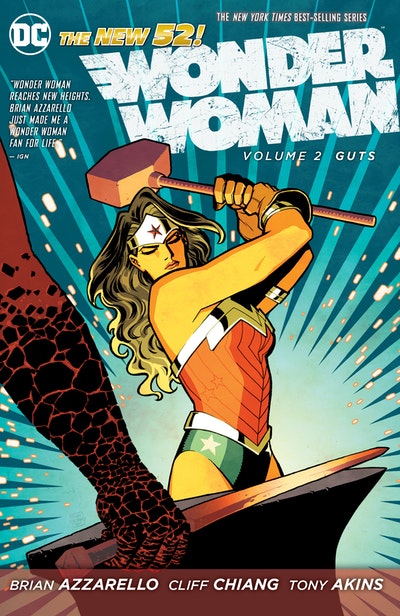 Published:

2 September 2013

ISBN:

9781401238100

Imprint:

DC Comics

Format:

Paperback

Pages:

144

RRP:

$24.99
Wonder Woman Vol. 2
Guts (The New 52)
---
---
A NEW YORK TIMES BESTSELLER
Wonder Woman goes to hell! After playing Posidon, Hades, and Hera against each other, Hades strikes back by kidnapping Zola and trapping her in the Underworld. It's up to Wonder Woman--with a little help from the God of Love and the God of Smiths--to break Zola out. But what is Hades' real game, and once you get into the land of the dead, how exactly do you get out?
Collecting WONDER WOMAN #7-12.

From the Hardcover edition.
Published:

2 September 2013

ISBN:

9781401238100

Imprint:

DC Comics

Format:

Paperback

Pages:

144

RRP:

$24.99
Praise for Wonder Woman Vol. 2
"Expect a lot more Wonder Woman fans after a few issues of this book."—USA Today

"This is clear storytelling at its best....It's an intriguing concept and easy to grasp. The reader doesn't need to know that much about Wonder Woman because she is, well, Wonder Woman."—The New York Times

"It's a different direction for Wonder Woman, but one still steeped in mythology, and I think this is the start of great things from Azzarello and Chiang."—The Onion AV Club

"There's actually a lovely balance between being just wordy enough and going mute to let the art do the heavy lifting. And let me tell you, Cliff Chiang's art does said heavy lifting with nary a grunt. He handles suspense, gore, and action all with aplomb. His line-work is loose enough to avoid being static, and yet maintains a confident line."—Ain't It Cool News