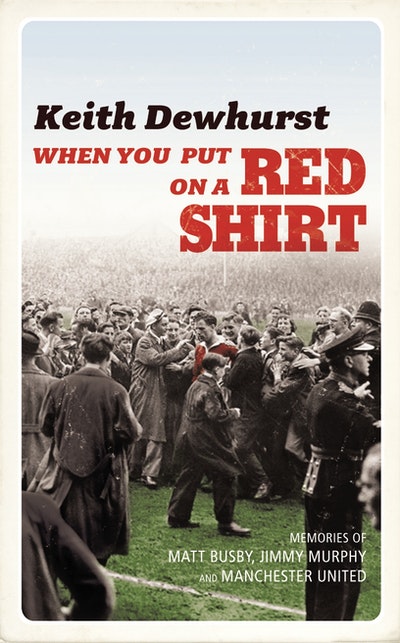 Published:

1 February 2011

ISBN:

9781446420249

Imprint:

Vintage Digital

Format:

EBook

Pages:

288
When You Put on a Red Shirt
Memories of Matt Busby, Jimmy Murphy and Manchester United
---
---
---
A brilliant footballing memoir, in the tradition of My Father and Other Working-Class Football Heroes and Provided You Don't Kiss Me
'If David Lloyd-George was the most charismatic person I ever laid eyes on, Matt Busby was the most charismatic I have known, when he was the manager of Manchester United and I was a reporter travelling with the team.'
Keith Dewhurst first saw United play in 1946. Ten years later he was writing about them for the Manchester Evening Chronicle. Half a lifetime later, he looks back on a passion that helped to shaped his life.
On his journey from the terraces to the press box and then on to the game's inner sanctums, Dewhurst fell in love with a club and a game. A schoolboy fan when Busby arrived at Old Trafford, he was on the terraces as great teams took shape, and there as a reporter to witness the aftermath of the club's great tragedy - the Munich air crash. He was there too on the road with Jimmy Murphy, United's assistant manager and coaching genius, as the team played on during Busby's long recovery. In Busby, he witnessed both the hero of football legend and the darker side of a master manipulator. But in Murphy, he found his hero. It was Murphy who would tutor him in football and dreams, and Busby's ambiguous nature.
The friends Dewhurst made then, the players and the coaches, the lost and the saved, are with him still - in memory, if no longer in life. When You Put on a Red Shirt is Dewhurst's homage to them and to his youth, evoking with vivid brilliance a lost era, and powerfully recapturing a world which is becoming myth.
Published:

1 February 2011

ISBN:

9781446420249

Imprint:

Vintage Digital

Format:

EBook

Pages:

288
Praise for When You Put on a Red Shirt
When You Put on a Red Shirt is the story of dreamers, hard men who wanted to create perfection on the football pitch. It's a story of tactics and idealism, poetry and savagery. The great strength of this book is the absence of nostalgia. Keith Dewhurst writes fondly but it's a hard, often cruel, world he's describing. And the muck! Jesus. I'd forgotten it existed.

Roddy Doyle
Its evocation of a vanished age should be required reading for the Ronaldos and Rooneys of our day

Sunday Herald
Keith Dewhurst brings to his subject the precision of a time-served journalist of the old school, the insights of a major dramatist and the uncompromising love of a lifelong supporter. Along the way he kicks a few myths into touch - notably the idea of the beautiful game being beautiful all the way through. You can't have beauty without the beast and Keith honours both parties.

Alan Plater
Glorious...if only all football books were this good.

Four Four Two