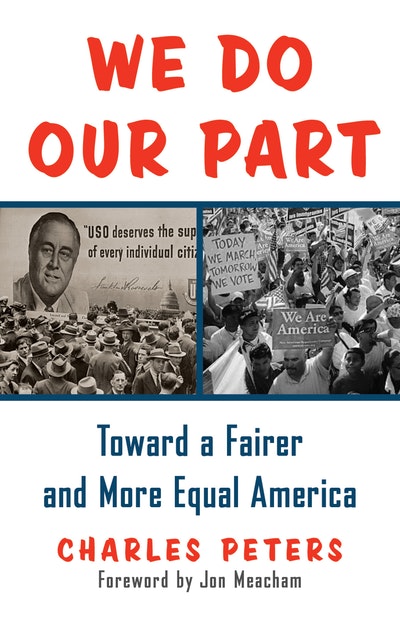 Published:

29 October 2019

ISBN:

9780812983753

Imprint:

Random House US Group

Format:

Paperback

Pages:

288

RRP:

$29.99
We Do Our Part
Toward a Fairer and More Equal America
---
---
Charles Peters tells the story of "how Democrats lost their way—and how they can find it again" (The Washington Post) in a book "full of vivid, funny, often touching anecdotes" (The Atlantic).
"We Do Our Part" was the slogan of Franklin Delano Roosevelt's National Recovery Administration—and it captured the can-do spirit that allowed America to survive the Great Depression and win World War II. Over the course of a sixty-year career as a Washington, D.C., journalist and historian, Peters, the founder of the Washington Monthly, has witnessed drastic changes firsthand. Ranging from the history of lobbying to the explosion of high-end fashion and travel reporting, this surprising book explains how we can consolidate the gains we have made while recapturing the generous spirit we have lost.
We Do Our Part is entertaining, insightful, and engaging. Spanning decades of politics and culture, Peters compares the flood of talented, original thinkers who flowed into the nation's capital to join FDR's administration with the tide of self-serving government staffers who left to exploit their opportunities on Wall Street and as lobbyists from the 1970s to today. He explains that too many Democrats lost touch with the average American as the liberal elite became more concerned with being smarter, having better taste, and making more money than with understanding why the average worker was making less and resented being looked down on. He cites as an example Hillary Clinton's failure to understand what was wrong with taking a six-figure speaking fee from Goldman Sachs or with calling people "a basket of deplorables." 
If liberal Democrats—and Peters is one—want to win again, they need to be fair to everyone, including the working man who was once essential to the party of FDR. We Do Our Part shows us where we have been and where we are going, drawn from the invaluable perspective of a man who has seen America's better days and still believes in the promise that lies ahead.
Praise for We Do Our Part
"[Peters] weaves a synthesis of mainstream and progressive, centrist and popular thought that would re-anchor the Democratic Party, both in its own traditions and in outreach to the restless, angry swath of the country that elected President Trump. . . . Peters is an American original."—The Washington Post
"A great book about modern American history."—Chris Matthews, Hardball
"Part joyful memoir, part shrewd political analysis, and part insightful cultural criticism . . . [Peters] offers a keen understanding of where the Democrats went wrong in scorning the kind of people in Appalachia that he grew up with"—Walter Shapiro, Roll Call
"We Do Our Part is not directly about the Trump era or phenomenon, though Charlie gets to Trump at the end. But it is all about the resentful, unequal, uncaring parts of today's American culture that Trump has inflamed and that have made Trump possible—and how to cope with them."—James Fallows, The Atlantic
"An important book . . . The truth [Charles] Peters aims to impart in this book is one that all Americans, and especially liberals, need to understand: An America in which the elite serves the interests of the majority isn't a pipe dream."—Washington Monthly
"A wise and brilliant book by a wise and brilliant man . . . Everyone should read it."—Nicholas Thompson, editor, newyorker.com
Published:

29 October 2019

ISBN:

9780812983753

Imprint:

Random House US Group

Format:

Paperback

Pages:

288

RRP:

$29.99
Praise for We Do Our Part
"[Peters] weaves a synthesis of mainstream and progressive, centrist and popular thought that would re-anchor the Democratic Party, both in its own traditions and in outreach to the restless, angry swath of the country that elected President Trump. . . . Peters is an American original."—The Washington Post "A great book about modern American history."—Chris Matthews, Hardball "We Do Our Part is not directly about the Trump era or phenomenon, though Charlie gets to Trump at the end. But it is all about the resentful, unequal, uncaring parts of today's American culture that Trump has inflamed and that have made Trump possible—and how to cope with them. . . . Vivid, funny, often touching."—James Fallows, The Atlantic "Part joyful memoir, part shrewd political analysis, and part insightful cultural criticism . . . [Peters] offers a keen understanding of where the Democrats went wrong in scorning the kind of people in Appalachia that he grew up with"—Walter Shapiro, Roll Call "An important book on the central issue facing our country . . . The truth [Charles] Peters aims to impart in this book is one that all Americans, and especially liberals, need to understand: An America in which the elite serves the interests of the majority isn't a pipe dream. That world actually existed, in living memory. And there are signs, in the country's reaction to the election of Donald Trump, that it could exist again."—Washington Monthly "The spirit of all Americans doing their part for the good of society—not just greedily grabbing for themselves—is woven throughout the book. . . . The old magazine editor has immense knowledge about Washington and its colorful government insiders. His book is filled with Capitol Hill struggles."—Charleston Gazette-Mail "A thoughtful, well-reasoned argument for American citizens to pull back from political brinksmanship and embrace the values of the Roosevelt era. . . It's always worth listening to a guy who managed John F. Kennedy's 1960 campaign in West Virginia and was introduced to marijuana by Allen Ginsberg; this man has stories. . . . A cogent and meaningful call for citizens to share the benefits and burdens of a unified society—hopefully an argument that isn't already past its sell-by date."—Kirkus Reviews "A wise and brilliant book by a wise and brilliant man . . . Charlie Peters loves this country deeply, and this book is packed with insights on how we can make America more just, more civil, and, well, great. Everyone should read it."—Nicholas Thompson, editor, newyorker.com "Charles Peters, who remembers the New Deal as an indelible personal experience, has given us a deeply moving, and also deeply troubling, account of how we got from the national political culture he knew when he was young to the one we have today. This is a book about the past that makes it possible for us to imagine a better future: one in which public service regains its rightful place of highest purpose in American society."—Nicholas Lemann, dean emeritus, Columbia University Graduate School of Journalism