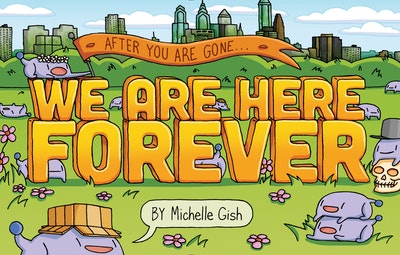 Published:

6 August 2019

ISBN:

9781683691204

Imprint:

Quirk Books

Format:

Paperback

Pages:

224

RRP:

$22.99
We Are Here Forever
---
---
Based on the popular webcomic, this all-new stand-alone comics collection artfully blends post-apocalyptic sci fi, dry humor, and utter adorability.
A hilarious graphic novel in which the human race has been supplanted by a sweeter, kinder, happier species...but are they as innocent as they seem? In this post-apocalyptic comedy, it's survival of the cutest!
After the most adorable apocalypse ever, the human race has vanished from the earth, replaced cute, innocent, playful purple creatures called the Puramus. In this hilarious and epic graphic novel, short interlocking stories follow the purple pals as they explore their new home, form a mini-monarchy, and develop a modern society on par with 21st-century humans. A final act pulls us across time and space in the search for clues to the origins of the Puramus. Along the way, humor and intrigue abound: Can King defend his village when nobody understands what war is? Will Jingle work up the nerve to read her poetry at open mic night? Will Puff Puff ever stop floating? Based on the viral Tumblr comic that gained 18,000 followers in just one year, We Are Here Forever is for fans of post-apocalyptic sci-fi blended with dry comedy and undeniable cuteness. Colorful and cartoony art will you rooting for these cute critters through their absurd adventures. But where did they come from, and what happened to all the humans?
Published:

6 August 2019

ISBN:

9781683691204

Imprint:

Quirk Books

Format:

Paperback

Pages:

224

RRP:

$22.99