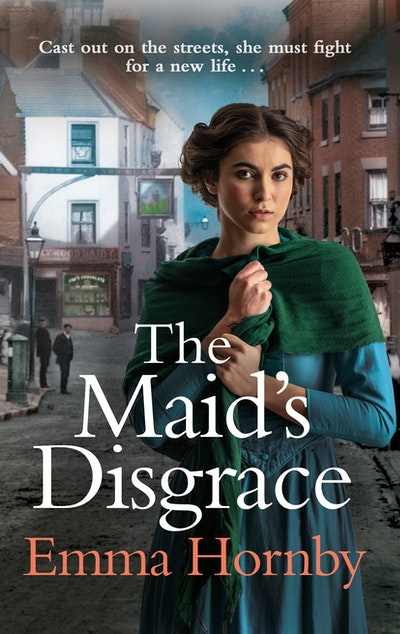 Published:

18 April 2021

ISBN:

9781787632448

Imprint:

Bantam Press

Format:

Hardback

Pages:

400

RRP:

$42.99
The Maid's Disgrace
---
---
---
A gritty and page-turning historical saga, from Northern England's answer to Dilly Court.
When her beloved mistress dies, lady's maid Phoebe Parsons is forced onto the poverty-ridden streets of Manchester by her unforgiving new master. Desperately searching for a new position, Phoebe discovers her reputation is in ruins. Now she is destitute, disgraced and alone.
Fearing for her future and haunted by her abandonment, Phoebe finds herself living with thieves and drunks in the smog and squalor of the city - until she meets Victor Hayes. A police officer removed from duty and shamed by a cruel lie, Victor is a kind face among the uncertain threats of living in the slums. But Phoebe soon realises the sacrifices she must make to rebuild her life from the ground up...
As their worlds collide, can they make a new life from the wreckage? Or will the judgement of their peers make a pauper of Phoebe?
----------------------------
Readers love Emma Hornby:
'Similar to Rosie Goodwin and Dilly Court, Emma Hornby tells a brilliant story that will keep you guessing with twists and turns. Pure talent.'
'Emma Hornby's books just keep getting better and better. Honest, gritty, lovely characters.'
'Keep writing Emma, you are very talented and can't wait for your next book. I've read them all.'
'Emma is a wonderful storyteller and I can't wait for the next one!'
'Thank you again Emma Hornby for a captivating read'
'Another beautifully written story by Emma Hornby'
Published:

18 April 2021

ISBN:

9781787632448

Imprint:

Bantam Press

Format:

Hardback

Pages:

400

RRP:

$42.99
Praise for The Maid's Disgrace
A woman's lot was shocking in the 1850s as this Cooksonlike saga brilliantly describes... Have some tissues handy!

Peterborough Telegraph on A Shilling for a Wife
Readers love Emma Hornby: 'Similar to Rosie Goodwin and Dilly Court, Emma Hornby tells a brilliant story that will keep you guessing with twists and turns. Pure talent.' 'Emma Hornby's books just keep getting better and better. Honest, gritty, lovely characters.' 'Keep writing Emma, you are very talented and can't wait for your next book. I've read them all.' 'Emma is a wonderful storyteller and I can't wait for the next one!' 'Thank you again Emma Hornby for a captivating read' 'Another beautifully written story by Emma Hornby'

Amazon reader reviews