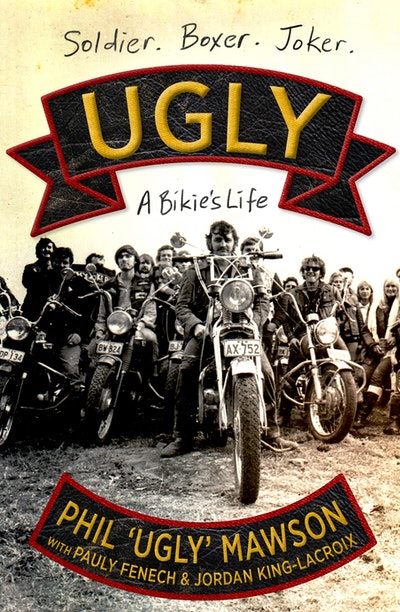 Published:

31 August 2021

ISBN:

9781761043727

Imprint:

Penguin

Format:

Trade Paperback

Pages:

288

RRP:

$34.99
UGLY
A Bikie's Life
Extract
1
My Dad Was a Boxer
I was born Phillip William Mawson on 9 February 1945 in Fairfield, a western suburb of Sydney. Life was much quieter back in those days. You didn't need to lock your doors. People trusted each other. You didn't have to watch your back. That all comes later, when you grow up. Back then, it was rock 'n' roll and leather jackets; that post-World War II kind of thing.
My dad, William Horace Mawson, was strict, but I loved him. William's a bit of a family name, which is why I ended up with it. Dad had it, and his dad had it, and so on. Mum was Violet May Tripp. She was a sweetheart, but if I didn't do as she said, Dad would whack me across the arse. He had a hand like cement. They were a good team. I respected them and did as I was told most of the time, but I was a cheeky little bugger, always starting trouble and making smart-arse comments.
Dad worked as a stonemason, but in his spare time he was an amateur heavyweight boxer. I had two big brothers, Neil and Peter, who were ten and eleven years older than me, respectively.
Neil was a middleweight boxer. Our love of fighting came from Dad. It was like a family business. He used to train at a gym on Harris Street in Fairfield, around the back of the School of Arts. I'd sneak over and watch him spar without him knowing I was there. It was exciting. I admired the strength. Dad didn't want me watching because he didn't want me to get into fighting, but I was soon addicted. It's hard to not get into it as a young boy, when both your dad and your brother are into it too.
I guess it was inevitable that I'd get a fire in my belly about fighting.
Even at that early age, I knew strength was something that was respected.
My other brother, Peter, was a circuit pushbike rider. I used to go watch him race at Bankstown Velodrome. He ended up doing his national service with the army.
And there you have it, really: fighting, bikes and the army were all in the family from the very start. I was riding pushbikes at a young age, but I didn't get a taste of my first motorbike until I was fifteen.
But I'm getting ahead of myself.
Dad was a fighter in the tent. A tent fighter was like a circus act, a dodgy set-up, with a paid plant on the ground. They'd have someone go around with a big drum – bonga bonga bonga – and the ringleader would present a row of fighters – strapping, strong fellas – and then call for volunteers from the audience to step up and fight them.
My dad was the paid plant, the 'volunteer'. He'd put up his hand and yell, 'I'll fight him!'
And then off they'd go. They never really hurt each other, not seriously, but they could have if they wanted to. It was good to watch, pretty believable. And they fought properly, it wasn't completely fake, but Dad was a trained boxer so he wasn't some chump stepping up and risking a full-on beating. He'd get up and fight and my brothers would egg him on.
At the time, I didn't know it was rigged.
'No, don't do it!' I'd yell at Dad. I was scared for him.
'It's all right,' he'd whisper, putting his hand on my shoulder. 'Just shut up and let me go up.'
When I found out later how everything worked – that he was the paid plant and was going to be okay – I egged him on as well. We looked just like three regular boys proud of their dad for taking a risk in the ring.
Once he got going, it was more or less like any other fight in that he'd either win, or he'd lose. Sometimes, though, he wouldn't even make it into the ring. Some local smart-arse would jump up and get in first, volunteering to fight, and barging right past Dad. Well, that fella would get tuned up pretty good by the main fighter. That usually taught him a lesson.
Dad had ten wins under his belt in the tent, but he only fought for about a year. At least, as far as I knew. I don't know how many fights he really had – I never tallied them up – but then and there I decided I wanted at least eleven wins.
I wanted to one-up him.
I ended up with more than that.
Dad fought for fun and for the exercise. Being a stonemason only made his hands even stronger. He wasn't tall, about five-foot-five, but he was solid. A real puncher. I get my build from him, although I'm definitely heavier now than he ever was.
My brother Neil, the middleweight, was a bit of a shit-stirrer. He got me my first punching bag, although that wasn't his intention. I was about twelve years old and Neil had just won the Australian Jitterbug championship. He was a hell of a dancer. When he wasn't fighting or dancing, he worked at a printer's shop. So he had a trade, too, like Dad and, later, me. Anyway, after winning the dancing championships, Neil brought me home his prize: this big fluffy teddy bear. It was about four foot high, same as me. He handed it over and said, 'You can cuddle right up to that, because you're a teddy bear.'
Well, I took that fucking thing and I went out and got some rope. I wrapped the rope around its neck and hung it up in the backyard, next to the chook pen.
I used that teddy as a punching bag.
Dad came out and gave me a whack on the arse for my trouble.
'What the hell are you doing?' he said.
'Just going to punch a bag of teddies!' I said, smart as can be.
He laughed. I ended up training on that bear for quite a while.
Later, I practised on a punching bag made out of Neil's army kit bag. He was in the national service – we called them nashos, but they're the army reserves now – and we filled his bag up with sawdust and paper. It was pretty solid. I also did karate, which I kept up for a long time. There was something about the pacing of it, the peace of it, the structure that I loved. It settles your mind as well as being really good for your body.
Mum and Dad didn't own a car – this was the 1940s and 50s – and I don't think Dad even had his driver's licence. We went everywhere by train or bus. Mum had her licence and could drive because she needed to for her work as a Meals on Wheels volunteer. She'd spend all day cooking and then delivering the meals around town. As I got older, I'd sometimes go along for the ride, just to check that the people she was seeing were being good to her and weren't trying anything on. I didn't help her cook, though, I was never much good in the kitchen.
One time we were all coming back from a family outing to Bronte, in the eastern suburbs. We'd gone to do some shopping and spend time at the beach. To get home, we walked to Bondi Junction train station – a very different place then to what it is now – to catch the train home. In those days, the gap between the platform and the train was pretty big. Big enough for someone to fall into.
Dad was getting onto the train and must have missed his footing, because he slipped in between the train and the platform and got stuck. He told me to go for help so I ran off screaming for the guards.
'Stop the train!' I yelled. I was only about ten or twelve. 'Stop the train! My dad's stuck and can't get out!'
The guard quickly sent a signal up the line to the conductor and he stopped the train from leaving the platform. A crowd of people gathered, along with a few of the guards, and somehow pushed the carriage back so they could haul Dad out. They pulled his arms and he came sliding up and back onto the platform. He wasn't injured and must have felt lucky that he wasn't a big fella.
I didn't end up much bigger than Dad, and kids used to pick on me for it. That's one of the reasons why both Neil and I ended up getting into boxing. We didn't want to have to deal with that kind of nonsense, that kind of disrespect. The idea of being respected took root in my head at a pretty young age. I saw the kind of respect Dad got at work and at the tent boxing shows, and how successful Neil was becoming.
Strength was the key to all of that.
Because my brothers were so much older than me, we didn't really have a close relationship. Peter and Neil were close, because they grew up together, but I was too young. They'd buy me things sometimes, because I was their kid brother, but that's about it. Neil showed me a few boxing moves here and there, got me started, but we didn't spend a lot of time together. He did some tent fighting for a while, just like Dad. And he gave me some good advice which has stuck with me ever since.
'You've got to be angry to fight,' he said. 'You've got to be angry and channel that.'
So I got angry. I was already angry because I wasn't tall, and a bunch of kids would be on me for that. I was also by myself a lot of the time, and that wasn't something I dealt with very well.
Every Friday night, Dad would come home with a big tub of ice cream and some cones. We'd all plonk down on the lounge and eat that as a treat. It was our favourite thing about the week. Dad would watch us with this huge smile on his face while he drank his Dirty Annie.** He wouldn't drink it out of the bottle, though, he'd always pour it into a glass. Two glasses and the whole thing was gone.
Home life was quiet. I spent a lot of time listening to Night Watch on the radio, a reality crime news program that gathered up a bunch of stories from the week. In the 1950s I listened to the Larry Kent* program, which was a lot of fun, and we watched Homicide on TV.*** I liked crime. As I got older, I didn't go in for fiction much. Not because it was bad, but because my patience for bullshit got pretty thin. I gravitated towards fair dinkum stuff. I liked learning about things that had really happened.
I never saw much of my extended family. Mum had one sister, but she lost the plot, got dementia. She stayed with us a few times, but she was always wandering around at night, not knowing what a toilet was. It was sad. They ended up having to put her in a nursing home, and I lost contact with her after that.
Dad had one brother who ended up setting himself alight. He was a smoker and he fell asleep in his lounge chair with a cigarette in his hand. The smoke probably – hopefully – got him before he felt anything.
That was 1972, the first time I ended up in jail.
* Resch's Dinner Ale.
** Larry Kent, created by Ron Ingleby, was a series of pulp detective stories, novelettes and books published from the 1950s through to the 1970s. The Macquarie radio network aired 155 half-hour episodes of the Larry Kent radio show, with Ken Wayne as the titular character and all episodes written by Ingleby.
*** An Australian procedural drama that aired from 1964–77 on Channel Seven.
---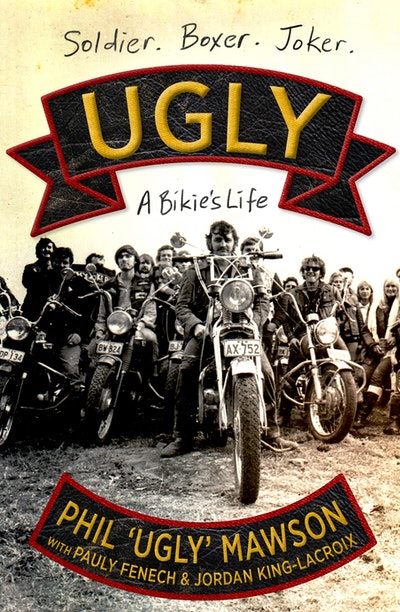 A fighter, a protector, a figurehead, a jailbird, a son, husband and father, who started a brotherhood and has stood by it ever since
Buy now
Buy now
---