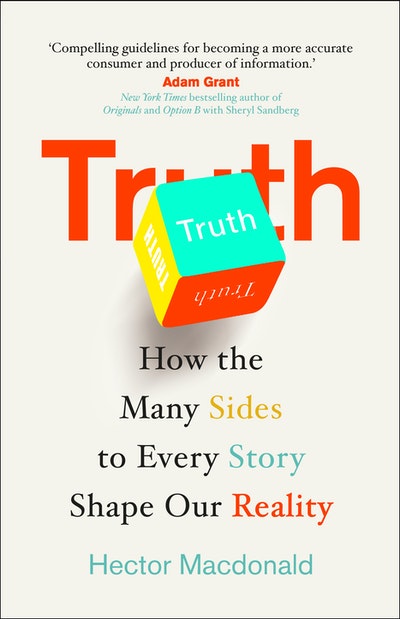 Published:

19 March 2018

ISBN:

9780593079331

Imprint:

Bantam Press

Format:

Trade Paperback

Pages:

352

RRP:

$35.00
Truth
---
---
---
For fans of Nudge, Blink and The Art of Thinking Clearly, a fascinating dive into the many ways in which 'competing truths' shape our opinions, behaviours and beliefs.
We like to think that there is a clear distinction between true and false. Unfortunately, the reality is far murkier.
Hector Macdonald has spent his entire career exploring the ways that two completely true statements about the same thing can give wildly different impressions to the people listening. For instance, the internet can be described as a place that spreads knowledge or a place that spreads misinformation and hatred. Both statements are true, but they would paint radically different pictures of the internet for person who had never heard of it before.
Now, in Truth: A User's Guide, Macdonald explains how and why these so-called 'competing truths' are used intentionally and unintentionally by businesses, media, politicians, advertisers and even regular people having regular conversations. He shows how understanding competing truths makes us better at navigating the world and more influential within it. Combining great storytelling with practical takeaways and a litany of fascinating, funny and insightful case studies, Truth is a sobering and engaging read about how profoundly our mindsets, attitudes and actions are influenced by the truths that those around us choose to tell.
Published:

19 March 2018

ISBN:

9780593079331

Imprint:

Bantam Press

Format:

Trade Paperback

Pages:

352

RRP:

$35.00
Delightful… beautifully explores the truth that truth can look very different to different people.

Matt Ridley, author of Genome and The Red Queen
In a time when truth is under assault, Hector Macdonald is here to defend it. He offers clear-eyed, compelling guidelines for becoming a more accurate consumer and producer of information.

Adam Grant, New York Times bestselling author of ORIGINALS and OPTION B with Sheryl Sandberg
Macdonald zeros in on the slipperiness of factuality, offering an array of case studies from the worlds of history, commerce and – of course – politics.

New York Times Book Review
Engrossing

Caroline Sanderson, The Bookseller
No one can tell the whole truth in all its glory. Hector Macdonald's Truth explores how communicators spin reality, whether in the name of clarity or skullduggery. Macdonald is a deft guide to a topic that could not be more timely.

William Poundstone, author of Are You Smart Enough to Work at Google?
As an expert on choice, I've long believed that our choices define who we are. This book explores the ways in which the decision to tell the truth is a choice that uniquely shapes who we are. While it's easy to assume that the act of lying is more complicated one than telling the truth, the choice to tell the truth can be equally, if not far more complex.This book is not simply about telling the truth, but rather a guide to navigate the tough decisions that lead to truth.

Sheena Iyengar, author of The Art of Choosing
With the phrase 'fake news' dominating the conversation in 2017, Hector Macdonald's Truth feels like timely reading. Drawing from examples including the infamous Brexit bus and the way the Texas Department of State Health Services spread misinformation to pregnant women, the author asks whether it is ever morally acceptable for marketers to lie? It also looks at how consumers can protect themselves from misleading truths.

Marketing Week - Recommended Reading
An engaging primer in critical thinking, Truth will enable you to defend yourself against fake news, from bots on Twitter to loudmouths on cable television. Read the book attentively and from then on you'll be carrying the most important concealed weapon of all: an informed mind.

Peter Robinson, former White House speechwriter
Illuminating, judicious and lucid ... It will surely change the way you read the news and see the world.

Patrick West, Caholic Herald
A fascinating look at how such an abstract concept can be shaped to many purposes, the ethics of bending the truth, and what consumers can do to analyze the innumerable truths presented to us.

Booklist
The merit of Hector Macdonald's Truth is precisely that it forces us to remember how few claims can be definitively established as beyond dispute

Washington Post
A useful, commonsensical framework for making reasonable, responsible, and effective decisions.

Publishers Weekly
Ultra-timely...perfect for our fake news era

Inc.