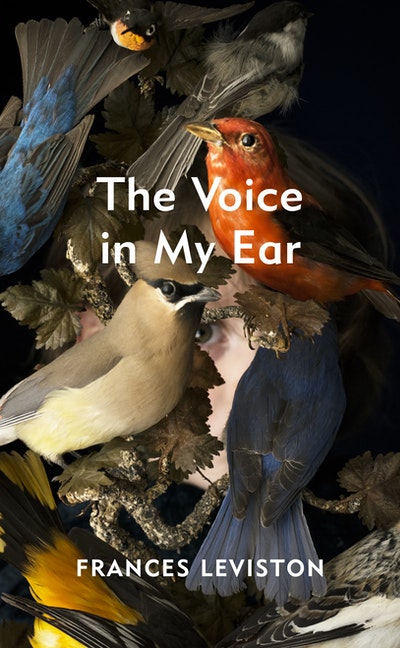 Published:

19 March 2020

ISBN:

9781787331983

Imprint:

Jonathan Cape

Format:

Hardback

Pages:

272

RRP:

$35.00
The Voice in My Ear
---
---
---
Ten different Claires - each at a different stage of her life - offer up a terrifyingly perceptive slice of contemporary womanhood.
'I absolutely loved it... I cannot say enough how much I enjoyed it.' NAOMI ALDERMAN'Beautifully, psychologically exact. Leviston reveals, confronts, disarms and pares us from our unwitting, falser selves. Superbly written and fearlessly imagined fiction.' SARAH HALLThe first work of fiction from award-winning poet Frances Leviston offers a frighteningly perceptive slice of contemporary womanhood.Ten women, all called Claire, are tangled up in complex power dynamics with their families, friends, and lovers. Though all are different ages, and leading different lives, each is haunted by the difficulty of living on her own terms, and by her capacity to harm and be harmed.
Claire is a teenaged babysitter left alone with a strange little girl and her imaginary friend. She is a woman trying to escape her elderly mother by employing an android carer. Claire is a young TV journalist wrecking her first big interview. Claire's boyfriend discovers more than he bargains for when he begins to read her diary.
And no matter her age or background, Claire is living in the shadow of a monstrous mother.
With startling insight and understanding, Frances Leviston offers a frighteningly perceptive slice of contemporary womanhood. In forensic, indelible prose that is often bleakly funny, The Voice in My Ear reveals a brilliant new voice in fiction - and invites us to consider our own place in the relationships that define us.**A NEW STATESMAN BOOK TO READ IN 2020**
Published:

19 March 2020

ISBN:

9781787331983

Imprint:

Jonathan Cape

Format:

Hardback

Pages:

272

RRP:

$35.00
Praise for The Voice in My Ear
I loved it. I absolutely loved it. It felt like a choose your own adventure version of somebody's life... I cannot say enough how much I enjoyed it. It's a writer putting herself through her paces – it's showing us what she can do and I'm really excited to see what she does next.

Naomi Alderman, BBC Radio 4 Front Row
Brilliant, bracing... Dazzling... One of the many triumphs of this original, peculiarly truthful book is to leave us questioning what kindness is and what care is, no longer able to take the platitudes of daily life for granted also unwilling to leave them behind.

Lara Feigel, Guardian
Frances Leviston's debut work of fiction positively knocked my socks off. Each of the 10 stories in The Voice in My Ear is about a different woman called Claire — an apt appellation for characters illuminating aspects of modern life… She has triumphantly succeeded in turning a poetic perceptivity to the [short story] form.

Mia Levitin, Financial Times
[The Voice in My Ear has] a psychological and emotional coherence unusual for a story collection… You can feel the subtext pulse between the lines and occasionally, thrillingly, it surges onto the page… Extraordinary… Leviston is so skilled at noticing and cataloguing the emotional abrasion of being a daughter, the toll of motherhood and love's ability to wound… But these responses are matched, and exceeded, by the admiration, excitement and exhilaration provoked by what she achieves on the page.

Chris Power, Sunday Times
A sharp, insightful story collection… Leviston is a keen observer of the ways other people can burrow deep inside an individual's mind… The emotional impact of such relationships are, in Leviston's hands, devastatingly, thrillingly clear.

New Statesman
Award-winning poet Frances Leviston's impressive debut work of fiction…works brilliantly…inordinately more than a standard short-story collection… Leviston's imagery leaps off the page… I am not going to forget [these characters] any time soon.

Lucy Scholes
Beautifully, psychologically exact. Leviston reveals, confronts, disarms and pares us from our unwitting, falser selves. Superbly written and fearlessly imagined fiction.

Sarah Hall
A remarkable work of fiction – the idea behind it is both brilliant and simple, but it is the execution that brings it off so unsettlingly well. Leviston writes with lacerating psychological accuracy, and has a poet's sense for the details that give us – and so much more than us – away. In The Voice in my Ear, the dark undercurrents of our most ordinary relationships are exposed through a series of perfect plots and haunting character studies.

Patrick McGuinness
A beautiful, brilliant, painful book. It is subtly but unignorably haunting, and its power builds and builds – Leviston has such a clear grasp of the most difficult aspects of being human, and being a woman, from sexual dynamics to surviving your own family. Darkly comic and quietly, devastatingly urgent.

Daisy Buchanan
The Eric Gregory award-winning poet Frances Leviston makes an auspicious fictional debut with this collection of short stories… Leviston has a beautiful way with prose.

Alexander Larman, Observer
Superb. Elegant, enthralling, often frightening, Leviston walks the dangerous edge of desire and discovery in women's lives.

Adam Foulds
This debut of short stories from poet Frances Leviston conjures up a neat hook... The cool electricity of Leviston's style leaves you eagerly awaiting her next move.

Anthony Cummins, Metro
Frances Leviston's prose, like her poetry, is as illuminating as it is unsettling. Her narratives are all about what remains unsaid and the silent inexorable falling into place of deep truth.

Lavinia Greenlaw
The Voice in My Ear is so devastatingly perceptive and intimidatingly accomplished in a range of modes that it's hard to sit still while you're reading; often I found myself pacing up and down the hallway in raptures at the quality of the prose or terror at the exquisitely harrowing turn of the plot. Aside from the formal mastery, Leviston is fearless in facing difficult truths of which lesser writers never even get within telescopic range. Uncompromising and stricken but delivered through beautiful observation and unrivalled emotional and intellectual insight.

Luke Kennard
What an extraordinary book, so dense with understanding about personhood and relatedness, about connection, disconnection and unconnection. Frances Leviston puts her distinctive and compelling style at the service of a precise, sinuous, at times agonisingly subcutaneous storytelling. There's a clarity and superobservancy of the everyday that she conveys along with 'the sorrow that never was said': the hidden, the unspeakable, that shapes so much of experience.

David Hayden
This heated, haunted debut is about the dark, violent knots we carry inside ourselves – and what happens when they start to unravel. A lyric, frightening portrayal of what it means to move through the world in female form.

Sue Rainsford
The absorbing stories that make up Frances Leviston's The Voice in My Ear do what fiction does best, swimming deep in complexity and ambivalence. A work of high emotional intelligence and narrative control.

Rob Doyle
Absolutely exquisite, combining just the right amount of sweet and sour. The characters in The Voice in my Ear haunted me long after I'd finished reading. Leviston has an uncanny ability to turn a small moment into a kind of meditation on humanity.

Jan Carson
The poet Frances Leviston brings her razor-sharp observations to prose.

Monocle