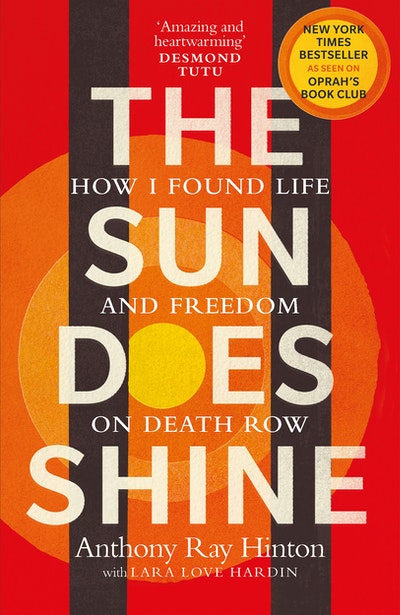 Published:

16 April 2018

ISBN:

9781846045738

Imprint:

Rider

Format:

Trade Paperback

Pages:

272

RRP:

$32.99
The Sun Does Shine
How I Found Life and Freedom on Death Row (Oprah's Book Club Summer 2018 Selection)
---
---
---
The remarkable story of how Anthony Ray Hinton spent 30 years on death row, for crimes he did not commit.
OPRAH WINFREY'S BOOK CLUB SUMMER 2018 SELECTION
**THE NEW YORK TIMES BESTSELLER**
'Both [Nelson Mandela and Ray Hinton] emerged from their incarceration with a profound capacity to forgive...The Sun Does Shine is amazing and heartwarming' Desmond Tutu, Nobel Peace Prize laureate'Hinton is an example to us all of the power of the human spirit to rise above complete injustice. His book will inspire people to never accept the unacceptable.' - Richard Branson The Sun Does Shine is a powerful and compelling true story that brings to life deep, human questions about suffering and redemption.
Anthony Ray Hinton was poor and black when he was convicted of two murders he hadn't committed. For the next three decades he was trapped in solitary confinement in a tiny cell on death row, having to watch as - one by one - his fellow prisoners were taken past him to the execution room. Eventually his case was taken up by the award-winning lawyer, Bryan Stevenson, who managed to have him exonerated, though it took 15 years for this to happen.
How did Hinton cope with the mental and emotional torture of his situation? The Sun Does Shine throws light not only on his remarkable personality but also on social deprivation and miscarriages of justice.
Published:

16 April 2018

ISBN:

9781846045738

Imprint:

Rider

Format:

Trade Paperback

Pages:

272

RRP:

$32.99
Praise for The Sun Does Shine
Anthony Ray Hinton's memoir of his wrongful imprisonment...is a riveting account of the multiple outrages of the criminal justice system of Alabama. But that isn't what makes this a genuine spiritual experience: that comes from the nearly biblical capacity of the author to endure, to forgive, and finally to triumph...his book is a harrowing masterpiece.

Guardian
A wonderful memoir...a story of forgiveness and struggle - and a story of friendship and imagination

Book of the Day, Observer
This incredibly moving chronicle...is one staggering revelation after another, but also a lovely portrait of kindness, warmth and how faith is its own reward...On death row he somehow navigates through his rage and despair to a state of forgiveness and grace.

Independent
Hinton spent almost 30 years on death row. In this quite extraordinary book...he never sugar-coats either his experiences or his reactions to them...

Readers Digest