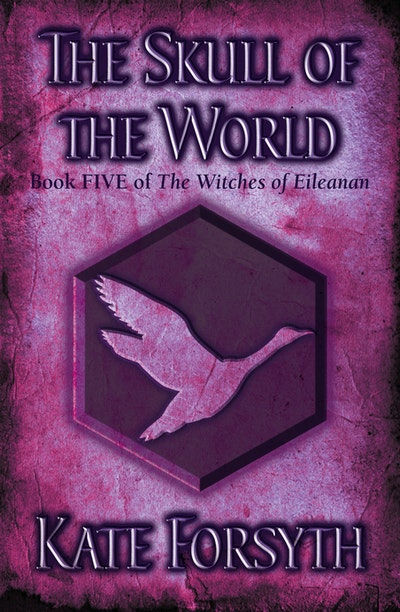 Published:

1 June 2001

ISBN:

9781740510424

Imprint:

Arrow Australia

Format:

Paperback

Pages:

432

RRP:

$14.99
The Skull of the World
Book 5, The Witches of Eileanan
---
---
---
The fifth instalment of Kate Forsyth's compelling Witches of Eileanan series
The fifth instalment of Kate Forsyth's compelling Witches of Eileanan series
'Sign of the Soul-Sage, a good omen for your quest, so high to the roof of heaven,' the Soul-Sage said. 'A sign of death as well as wisdom, though, remember. Change ahead for you, like the change wrought on a landscape by an avalanche. Dangerous pattern indeed. There are things in your past and in your unknown which shall seize you in their jaws and seek to drag you under.'
Isabeau has immersed herself in the life of the Khan'cohbans but she still hopes to return to Eileanan from her self-imposed exile. First, though, she must undertake her journey of initiation to the Skull of the World, where the cruel and enigmatic Gods of White will reveal her destiny to her. On this journey she will face many dangers but by overcoming them, will finally discover her true Talent. - shape-changing.
After successfully fulfilling her initiation quest, Isabeau returns to the Pride triumphantly and is given her initiation scar. She is now free to return to Lucescere and the Tower of Two Moons, where she plans to study to be a sorceress. Meanwhile, Iseult and Lachlan face new challenges to their rule. Although peace has been restored to the lands of Eileanan, the young Rìgh and Banrìgh have paid a high price for victory. Lachlan's forces are much depleted by the struggle to win the war and, despite the signing of the Pact of Peace, there are still many pockets of civil unrest, with pirates attacking ships and coastal towns to great cost.
Most importantly, the Rìgh's army has marched upon Tìrsoilleir in an attempt to win back the throne for Elfrida's NicHilde. But while Lachlan and Iseult are preoccupied with the invasion of Tìrsoilleir, Margrit NicFóghnan, the deposed banprionnsa of Arran, kidnaps Lachlan's son Donncan, the heir to the throne, and her grandson, Iain's son Neil, from Lucescere. Bitter at the loss of her own throne, her hatred of the MacCuinn clan has become obsessive and she wishes to turn the young prionnsa against his father and use his magic for her own.
It is Isabeau, though, who stands accused of treachery when little Doncann and Neil disappear, and yet no-one but she has the power to save the children from their fate at the hands of Margrit. This will be the truest test of Isabeau's Talent, a test which will threaten to destroy her and all she holds dear.
Published:

1 June 2001

ISBN:

9781740510424

Imprint:

Arrow Australia

Format:

Paperback

Pages:

432

RRP:

$14.99