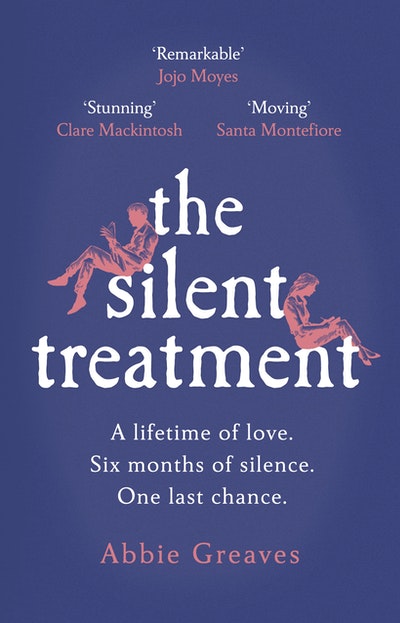 Published:

31 March 2020

ISBN:

9781529123951

Imprint:

Century

Format:

Trade Paperback

Pages:

336

RRP:

$32.99
The Silent Treatment
The book everyone is falling in love with
---
---
---
A unique and uplifting love story about a couple who have been married for decades and haven't spoken for six months. Will be devoured by fans of Jojo Moyes, Joanna Cannon and Gail Honeyman.
'A remarkable debut' JOJO MOYES'It's beautiful, so moving and clever. I truly adored it.' JOSIE SILVER, author of One Day in December___________________________A lifetime of love. Six months of silence. One last chance.
Frank hasn't spoken to his wife Maggie for six months.
For weeks they have lived under the same roof, slept in the same bed and eaten at the same table - all without words.
Maggie has plenty of ideas as to why her husband has gone quiet, but it will take another heartbreaking turn of events before Frank finally starts to unravel the secrets that have silenced him.
Is this where their story ends?Or is it where it begins?
With characters that will capture your heart, THE SILENT TREATMENT celebrates the phenomenal power of love and the importance of leaving nothing unsaid.___________________________'An original and moving debut from a talented new voice.' SANTA MONTEFIORE
'This is an extraordinarily tense yet tender portrait of a marriage ... written with assurance and agonising insight, and the characters of Maggie and Frank will stay with me for a long time' Daily Mail'Beautifully written in Greaves's unique voice... Poignant, heart-breaking and insightful.' Woman & Home
'A must read' Sunday Express'Heart-breaking secrets tenderly evoked with intelligence and depth. Maggie and Frank are unforgettable characters' RACHEL HORE, author of The Memory Garden'Empathetic, beautifully written ... will resonate with fans of Jojo Moyes, David Nicholls and Gail Honeyman.' Daily Express'I adored this powerful, heart-breaking tale' The Sun
'Such stunning prose, and such insight for a debut author. I was bowled over by Abbie's writing.' CLARE MACKINTOSH'A beautifully written and compelling novel that enthralled us from beginning to end. Frank and Maggie feel so real, and their moving story is simple, but powerfully told.' Heat
When a debut is praised by the likes of Jojo Moyes, you know it's worth reading . You won't be able to put down this tender and heartbreaking read.' Cosmopolitan'An unforgettable love story with a mystery that had me captivated until the last, heart-wrenching page. It deserves to be huge' CATHERINE ISAAC, author of You Me Everything'Greaves's insightful account of a long marriage kept us gripped till the very last page' Independent
'Beautifully written... Poignant, heart-breaking and insightful.' Woman'A tender, heartfelt portrayal of a long marriage with all its secrets. Cleverly structured and beautifully written, this novel celebrates love, hope - and the importance of finding the right words.' LUCY DIAMOND
'In her tremendously moving debut, a novel that pulses with emotional tension, Abbie Greaves masterfully unpicks a history of ordinary lives facing extraordinary challenges. I found it impossible to look away from the relationship at the heart of this novel.' GILLY MACMILLAN, author of The Nanny'I really loved it.It's a very moving book' JO WILEY
Published:

31 March 2020

ISBN:

9781529123951

Imprint:

Century

Format:

Trade Paperback

Pages:

336

RRP:

$32.99
Praise for The Silent Treatment
This moving debut unpicks the secret selves of Maggie and Frank to reveal the tragic miscommunications of their broken family. It's a pleasure to read such a stylish and confident new voice

Louise Candlish
Heart-breaking secrets tenderly evoked with intelligence and depth. Maggie and Frank are unforgettable characters

Rachel Hore
An unforgettable love story with a mystery that had me captivated until the last, heart-wrenching page. It deserves to be huge

Catherine Isaac
The premise alone had me, but the book itself is just heartrendingly lovely. It's beautiful, so moving and clever. I truly adored it

Josie Silver
In her tremendously moving debut, a novel that pulses with emotional tension, Abbie Greaves masterfully unpicks a history of ordinary lives facing extraordinary challenges. I found it impossible to look away from the relationship at the heart of this novel.

Gilly Macmillan
A remarkable debut which doesn't go where you expect it to go. I very much look forward to seeing what she writes next

Jojo Moyes
An original and moving debut from a talented new voice

Santa Montefiore
Such stunning prose, and such insight for a debut author… I was bowled over by Abbie's writing

Clare Mackintosh
A tender, heartfelt portrayal of a long marriage with all its secrets. Cleverly structured and beautifully written, this novel celebrates love, hope - and the importance of finding the right words

Lucy Diamond
Promises a twisting plot that will reveal hidden secrets and unspoken events

Stylist Best Books for 2020
Beautifully written in Greaves' unique voice, we slowly begin to learn what bought them to this point and how the complexities of life play out in a marriage – and indeed family. Poignant, heart-breaking and insightful, it's a skilled debut

Woman & Home
Greaves's insightful account of a long marriage kept us gripped till the very last page

Independent
The Silent Treatment is an empathetic, beautifully written exploration of relationships and family dynamics that will resonate with fans of Jojo Moyes, David Nicholls and Gail Honeyman.

Daily Express
This is an extraordinarily tense yet tender portrait of a marriage…It's written with assurance and agonising insight, and the characters of Maggie and Frank will stay with me for a long time

Daily Mail
Subtle...hard-hitting...thought-provoking

Candis
This is a beautifully written and compelling novel that enthralled us from beginning to end. Frank and Maggie feel so real, and their moving story is simple, but powerfully told

Heat
When a debut is praised by the likes of Jojo Moyes, you know it's worth reading…You won't be able to put down this tender and heartbreaking read

Cosmopolitan
It's a little gem

Sam Baker
I adored this powerful, heart-breaking tale that highlights the importance of communicating, no matter how hard that might be

The Sun
Beautifully written...Poignant, heart-breaking and insightful

Woman
'I really loved it…It's a very moving book'

Jo Wiley