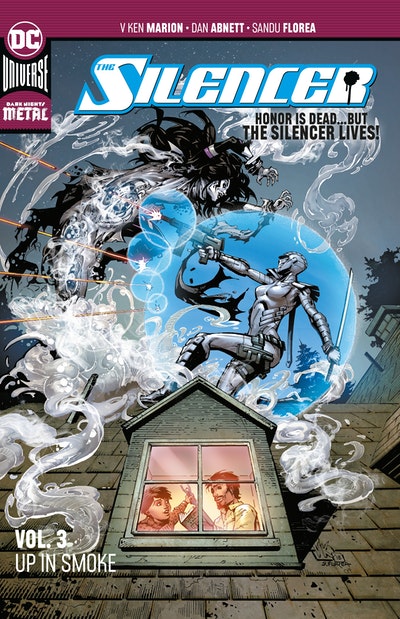 Published:

15 October 2019

ISBN:

9781401294496

Imprint:

DC Comics

Format:

Paperback

Pages:

144

RRP:

$27.99
The Silencer Vol. 3 Up in Smoke
---
---
The Silencer is one of the DC Universe's deadliest assassins...and you've never heard of her, until now! The Silencer Vol. 3 is part of the New Age of Heroes, a bold new line of comics starring a thrilling array of heroes.
The Leviathan War ends, and a winner rises--but what does that mean for the Silencer? At long last, learn the secrets behind the Silencer's powers, her rise as Talia's right hand and how she became the woman known as Honor Guest...
The Silencer is once more the weapon of Leviathan--and Talia al Ghul has seen to it that she can never escape again. As her family grieves her loss as one of the many missing and presumed-dead civilians of the Action Land massacre, Honor Guest is seemingly unconcerned and focused solely on her new mission for Talia. But is Honor really ready to let go? Or is the game of cat and mouse between the Silencer and Talia far from over? Plus: not one but two shocking revelations rock everyone's world.
Has Blake finally discovered Honor's terrible secret--that she is actually the assassin known as the Silencer?! Oh man, this poor guy is in for a world of hurt as the discovery he never saw coming escalates to terrifying new levels. Plus, in the secret genetic experimentation lab of Jonah Nine, the Silencer uncovers her own horrific discovery--the truth of her origin. Don't miss the next installment of the New Age of Heroes story The Silencer Vol. 3. Collects #13-18.
Published:

15 October 2019

ISBN:

9781401294496

Imprint:

DC Comics

Format:

Paperback

Pages:

144

RRP:

$27.99