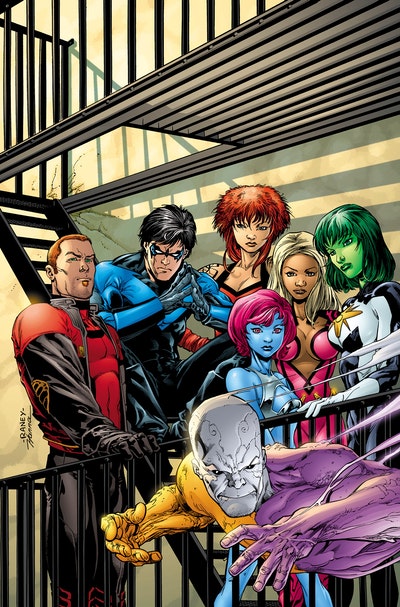 Published:

28 May 2019

ISBN:

9781401288518

Imprint:

DC Comics

Format:

Paperback

Pages:

312

RRP:

$42.99
The Outsiders By Judd Winick Book One
---
---
The Justice League is a bunch of pushovers. The Teen Titans are just kids. When the DC Universe calls for a more...aggressive approach, they call Nightwing, Arsenal and company: the Outsiders.
A renegade Superman robot goes on the rampage, and a long-standing member of the Teen Titans dies. Stricken with grief, old allies Nightwing and Arsenal decide that enough is enough: a more proactive approach to justice is needed.
Calling on established heroes like Jade and Metamorpho, as well as newcomers like Black Lightning's daughter Thunder, the mysterious powerhouse Grace and Indigo, an android from the distant future, this new group will find the threats before they become real, no matter what the cost.
The Outsiders by Judd Winick: The Darker Side of Justice collects Titans/Young Justice: Graduation Day #1-3, Teen Titans/Outsiders Secret Files 2003 #1 and Outsiders #1-7 from artists Tom Raney (Uncanny X-Men), ChrisCross (Superman/Batman), Ale Garza (Batgirl) and more!
Published:

28 May 2019

ISBN:

9781401288518

Imprint:

DC Comics

Format:

Paperback

Pages:

312

RRP:

$42.99