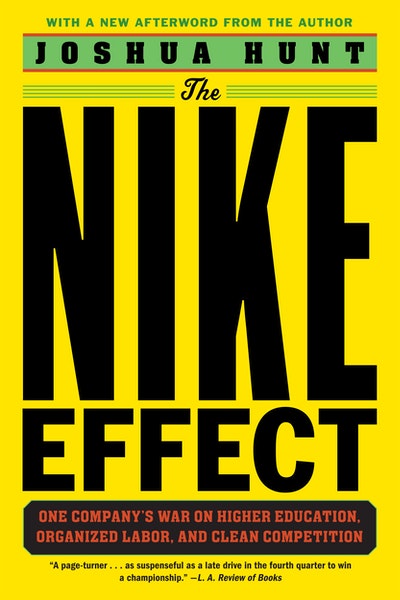 Published:

2 April 2020

ISBN:

9781612198439

Imprint:

Melville House

Format:

Paperback

Pages:

320

RRP:

$32.99
The Nike Effect
One Company's War on Higher Education, Organized Labor, and Clean Competition
---
---
"A page-turner . . . as suspenseful as a late drive in the fourth quarter to win a championship."—Los Angeles Review of Books
**A New York Post Best Book of the Year**
As decades of headline news stories attest, there is nothing Nike won't do to win. Mistreating employees, eliminating competition, and secrecy are all part of the playbook.
There is perhaps no clearer example of this than Nike's ongoing experiment at the University of Oregon, where the company has donated more than half a billion dollars in exchange for high-visibility branding opportunities. But as journalist Joshua Hunt shows in this dramatic expose, Oregon has paid dearly for this highly lucrative partnership.
Here, Hunt uncovers efforts to conceal university records, buried sexual assault allegations against university athletes, and cases of corporate overreach into academics and campus life—all revealing a university being run like a business, with America's favorite "Shoe Dog" calling the shots.
And it doesn't stop there: Nike money has shaped everything from Pac 10 televsion deals to the way the college sports are played; from the landscape of Oregon's campus to the types of research conducted there.
Encompassing more than just sports and the academy, The Nike Effect is a riveting story about the future of our public institutions and our society.
Published:

2 April 2020

ISBN:

9781612198439

Imprint:

Melville House

Format:

Paperback

Pages:

320

RRP:

$32.99
Praise for The Nike Effect
"Remarkable… [a] page-turner… [that] reads as suspenseful as a late drive in the fourth quarter to win a championship."—LARB "A searing indictment"—INSIDE HIGHER ED "Hunt's book is worthwhile—a cautionary tale for college officials to avoid the siren song of corporate money targeted at big sports."—THE NATIONAL REVIEW "Engaging...with important insight into contemporary problems."—NEW YORK JOURNAL OF BOOKS "An eye-opening account about how the University of Oregon had sold its soul to Nike and how it affects higher education and college athletics in general."—KENTUCKY FORWARD "Providing fascinating and alarming insight into how other public universities have emulated similar practices in obtaining endorsement deals and partnerships at the expense of their values, this is for readers of sports journalism and true stories of corporate America." —BOOKLIST REVIEWS  "In this fascinating, candid tale, Hunt exposes Nike's astonishing transformation of the University of Oregon into a modern American university — in other words, a power center of education, wealth, and college football unlike other institutions of learning across the globe." —Vanessa Grigoriadis, author of Blurred Lines: Rethinking Sex, Power, and Consent "In this illuminating case study Joshua Hunt connects the dots between endorsement deals and campus sexual assault. University of Nike is a must read for anyone worried about the higher-education industrial complex, which should be all of us." —Malcolm Harris, author of Kids These Days "A page-turning work of investigative reporting. Much of it details the perfidy of Nike and its founder Phil Knight. But, as the title suggests, this book is also about the damage that America's tax-cutting mania and contempt for government has done to its public, land-grant universities . . . As Hunt shows, by starving institutions like the University of Oregon of resources, an unholy alliance of right-wingers and market-worshipping neoliberals has pushed colleges into the hands of corporate puppeteers like Nike. You need to read this compelling and disturbing book." —Samuel G. Freedman, author of Breaking The Line "Through diligent and deep-dive reporting, Hunt reveals how the University of Oregon sold its soul to a corporation. University of Nike is a damning indictment—it should be read by anyone who still believes in the privatization of public institutions. This book is proof that it's a bad idea when universities become shills for billionaires." —Dale Maharidge, co-author of the Pulitzer Prize-winning And Their Children After Them "Joshua Hunt has weaved an amazing tale of power, greed and deceit. This should be a textbook for anyone who wants to learn the truth about what's happening to public universities throughout the country." —Andy Boyle, author of Adulthood for Beginners