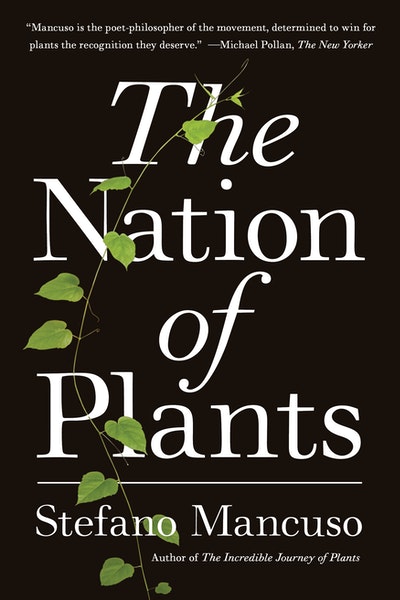 Published:

16 June 2021

ISBN:

9781635420999

Imprint:

Other Press

Format:

Hardback

Pages:

144

RRP:

$34.99
The Nation of Plants
---
---
A leading plant neurobiologist presents the eight fundamental pillars on which the life of plants--and by extension humans--rests in this playful yet eye-opening guidebook.
Even if they behave as though they were, humans are not the masters of the Earth, but only one of its most irksome residents. From the moment of their arrival, about 300,000 years ago--nothing when compared to the history of life on our planet--humans have succeeded in changing the conditions of the planet so drastically as to make it a dangerous place for their own survival.
The causes of this reckless behavior are in part inherent in their predatory nature, but they also depend on our total incomprehension of the rules that govern the existence of a community of living beings. The last to arrive on the planet, we behave like children who wreak havoc, unaware of the value and significance of the things they are playing with.
In The Nation of Plants, the most important, widespread, and powerful nation on Earth finally gets to speak. Like attentive parents, plants, after making it possible for us to live, have come to our aid once again, giving us their rules: this is the first Charter of Rights of Living Beings written by the plants. A short constitution based on the general principles that regulate the common life of plants, it establishes norms applicable to all living beings. Compared to our constitutions, which place humans at the center of the entire juridical reality, in conformity with an anthropocentricism that reduces to things all that is not human, plants offer us a revolution.
Published:

16 June 2021

ISBN:

9781635420999

Imprint:

Other Press

Format:

Hardback

Pages:

144

RRP:

$34.99
Praise for The Nation of Plants
"A marvelously inventive spur to imagination. Plants have many lessons to offer us about thriving and resilience, and these are wonderfully elucidated in this deep green journey." —David George Haskell, author of the Pulitzer Prize finalist The Forest Unseen and John Burroughs Medal recipient for The Songs of Trees

David George Haskell, David George Haskell
"Stefano Mancuso's The Nation of Plants is brilliant and delightful. A perfect little gem of a book." —Sonia Shah, author of The Next Great Migration: The Beauty and Terror of Life on the Move

Sonia Shah, Sonia Shah
A fantastic and necessary read for any plant enthusiast or environmental activist, The Nation of Plants is not merely a missive on the perils of climate change. Rather, the book begins from the whimsical perspective of plants, then weaves scientific fact with historical examples in a moving and inspiring call to action. Apart from the initial address, Mancuso's concrete approach is far from fantastical. The Nation of Plants is moving and informative, balancing a love for all things botanical with a passion for listening to and considering the needs of our plant brethren. —Jessica Roux, author of Floriography: An Illustrated Guide to the Victorian Language of Flowers

Jessica Roux, Jessica Roux