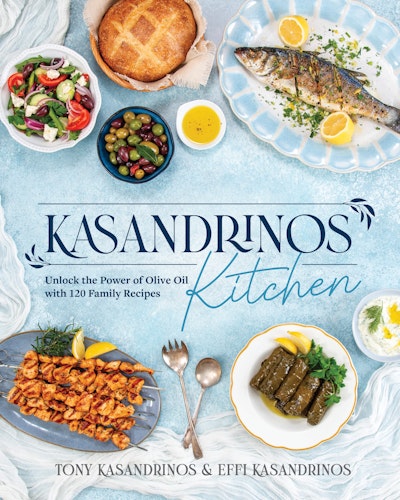 Published:

13 February 2024

ISBN:

9781628605020

Imprint:

Victory Belt Publishing

Format:

Paperback

Pages:

320

RRP:

$75.00
The Mediterranean Code
Unlock the Power of Olive Oil with 120 Family Recipes from the Kasandrinos Kitchen
---
---
From Effi and Tony Kasandrinos, renowned purveyors of premium-quality Greek olive oil, comes The Mediterranean Code, a first-of-its-kind cookbook that teaches you how to tap into one of nature's most useful ingredients.
With 120 olive oil–based recipes and a guided tour through Greece, this book will immerse you in entrancing flavours infused with history—all while showing you how to adopt a diet and lifestyle that promotes health, happiness, and longevity. The Mediterranean way of eating is consistently ranked among the top diets for heart health, and olive oil in particular provides monounsaturated fat that lowers total and LDL cholesterol levels.
Olive oil, known as "the elixir of health and youth," is the cornerstone of Mediterranean cuisine, and with The Mediterranean Code, Tony and Effi will help you develop a deeper appreciation for this versatile ingredient as you begin to cook your way to a healthier lifestyle. We're all familiar with using olive oil in salad dressings, but have you ever tried it in a dessert? This book features 120 of the Kasandrinos family's favourite recipes for every course, from appetizers and soups to, yes, desserts and even drinks.
You will also learn about the history of olive oil, how it is made, and how the Kasandrinos family uses time-tested traditional methods to produce some of the best olive oil available. You will walk away with a better understanding of the nuances that demonstrate quality and the many ways in which this rich, delicious oil can be used to enhance your cooking.
Sample Recipes Include:
· Spicy Baked Feta Cheese Fondue
· Roasted Cherry Tomato Salad
· Good Friday's Tahini Soup
· Greek Baked Giant Beans
· Beef Patties with Baked Potatoes
· Olive Oil Honey Cake
Published:

13 February 2024

ISBN:

9781628605020

Imprint:

Victory Belt Publishing

Format:

Paperback

Pages:

320

RRP:

$75.00