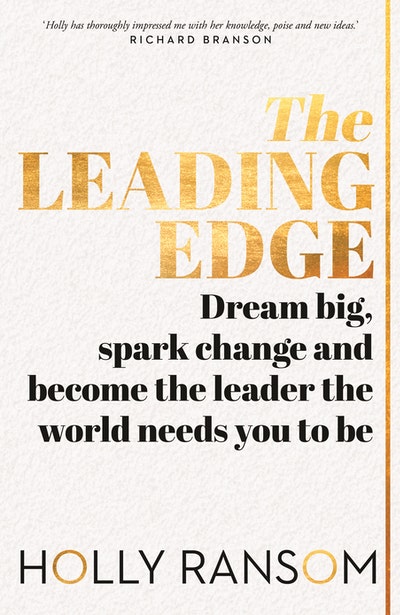 Published:

20 July 2021

ISBN:

9780143791522

Imprint:

Viking

Format:

Trade Paperback

Pages:

400

RRP:

$34.99
The Leading Edge
Dream big, spark change and become the leader the world needs you to be
Extract
Preface
Every one of us is born with the ability to lead the change we care enough to make. And each of us can hone our leadership skills to better scale the impact we dream of having. Saying no to making a leadership contribution is saying yes to allowing others to shape our world for us.
There are those people who laugh shyly and say, 'Oh I can't sing. I've got a terrible voice . . . But I love music!' Leadership is similar. You were born with a voice, a beautiful voice. It's just whether (and how) you choose to use it.
However, wherever and whatever we lead, each of us leads every day. The world needs your unique offering, and it needs it now. Diverse approaches to intractable problems can change paradigms. Distinctive skills combining in new ways are essential to breaking new ground. Authentic stories from personal experience will spark a movement. And the great thing? You don't have to be ready.
Leading from the edge is about embracing not quite knowing. It's about having all the questions as opposed to all the answers. It's about allowing a bold vision to rise up and to harness it with elemen­tal force. It doesn't mean avoiding the work or being comfortable with something embryonic or half-baked masquerading as a finished product. But it does mean experimenting, collaborating and diversi­fying, and committing to continually improving.
Leading at the edge requires us to take our scribblings, our new idea, our raw invention and show it to the world well before we're ready. Because if we were ready, if we were sure, the moment will have passed, the movement will have begun, the trajectory will already be set and we will be too late to make the change we dreamt of.
Leadership is not for the faint-hearted. It is for the big-hearted. And when we look inside our chests, we've all got one of those. We've all got the pre-requisite that's needed to be the leader the world needs us to be and we are all capable of leading when it comes to change we care about.
A quest for the Leading Edge
I was inspired to bring The Leading Edge to life because I know from experience the challenge of moving beyond the feeling of wanting to lead and into the action of leading. While I pored over books, keynote presentations and leadership programs shining with uplift­ing ideas, I always found the inspirational afterglow short lived. For the most part, the ideas never bridged what I term the personal implementation chasm: how could I go from being someone with a will, a work ethic and strong ideals to someone able to catalyse new behaviour for a better tomorrow?
Growing up, I always had the big dream, the fire in my belly, the inner feisty social-warrior streak. What I didn't have, and longed for, was the science. On my journey, I have developed the mindset to choose my moment, deal with criticism and bounce back strong. The methods to back up my opinions, test my fledgling strategies and work through fear. And the mastery to set and achieve goals, to work 'on' as well as 'in' my mission and to build a tribe of allies equally restless for change.
But it's not about what I've done, or even why I've done it. I want to break open the notion that leadership is exclusive. It's not. And in today's world more than ever we simply cannot afford for it to be. I believe everyone was born to lead in some way, and leading from the edge means harnessing the state of mind, the processes and the artistry that will arm leaders like you for impact.
The Leading Edge approach
I've spent the best part of the last fifteen years in search of answers. I've interviewed Barack Obama, Sir Ken Robinson, Condoleezza Rice, Sir Richard Branson, Malcolm Gladwell and scores of other leaders who've made their life's work living and leading from their edge. I've worked with boards and leadership teams from cutting-edge, noteworthy and influential organisations. And I had to stop myself just then from writing 'I've been lucky enough to . . .' Because leadership is not about luck. Leaders themselves are often no less riddled with fear and anxiety than the rest of us. What great leaders have learnt to do is build the mindsets, methods and mastery that support their new ideas and turn their determination into real traction. What is lucky is that so many of these people have been only too happy to share their tangible insights to help more of us achieve change. The Leading Edge is my opportunity to pass on their wisdom and teachings to you, along with some of the realisa­tions I've had during the past decade of pushing up against my own boundaries.
In these pages I hope you'll find not just names you know, but names you'll never forget. People from Kenya, Jordan, New Zealand, Ireland, the Himalayas, Canada and many more corners of the Earth. These leaders identify as Muslim, Black, transgender, Indigenous, suburban, Jedi-warrior, LGBTQIA+, shy, fearless and everything in between and are doggedly, intelligently seeking to be the change they wish to see in the world. I wanted the people and stories from the messy, challenging, vulnerability-inducing reality that is working for impact every day. My aim has been to consoli­date their lessons to illuminate a new path forward.
Before we venture further together, I'm keen for you to ditch any notion you might have that I am preaching from a leadership pulpit. I'm no better than anyone else who is striving to be a better person and pushing for a better world. I wrote The Leading Edge to prompt more questions, exploration and sharing. If I've learnt anything in my life to date it's that leadership, like self-development, is an infinite pursuit – you never 'win' or 'arrive' – you just continue to try, learn and evolve. We often don't get it right first go and it requires contin­uous humility, curiosity and self-compassion. But there is no more noble pursuit than to choose our own adventure through life on the quest for better: better me, better us, better world.
What to expect from The Leading Edge
It starts from within. A common thread throughout the uncommon leaders, pioneers, trailblazers and change agents I've interviewed, is that their aspiration for a better world begins with a determination to be a better person. That's why the structure of The Leading Edge is dedicated to 'Leading Oneself' ahead of 'Leading Others': you can't run before you can walk.
Part One explores ideas, stories and actions to build our strength as an individual leader. This first section paves a pathway to enable us to be 'leading ourselves' at the edge of our comfort zone. Once we have taken these ideas on board, it's time to move to Part Two, 'leading others' at the edge of their own leadership capacity. Here's where we move from practising our own ability to make change to enabling collective impact.
You will see that both Part One and Part Two are divided into three collections of ideas: Mindset, Method and Mastery. Leadership is within everyone's reach, everyone's ability and everyone's power. It's simply about having the mindset to make change happen, the methods to progress change even when it gets tough and the mastery to own it like a leader.
I also encourage leaders to define success on their own terms. Something I've observed, without exception, from leading edge change-makers is that they've all done things in their own unique way. The tools and ideas discussed in these chapters are not profess­ing a gold standard of human by which you should judge yourself (god forbid), nor are they intended to be a definitive list of qualities and capabilities. I hope that, like with any good DIY guide, you pick them up and give them a go. I'd love for you to make modifications, the way I do with my favourite recipes, and share them with me on social media so they can build on and enhance the foundations I'm seeking to lay here. Perhaps they'll spark some conversation and debate. I also hope that in the diversity of the stories and skills that follow you'll see your own strengths, find your own edges and feel emboldened to reach, believe and be. Because the world needs you – all of you.
Finding your leading edge
My message is simple:
I hope this meets you where you are and helps you reach a little higher, move a little faster, delve a little deeper or stand right where you are and make a little more real the change you want to see in the world.
Dream big.
Spark change.
Become the leader the world needs you to be.
---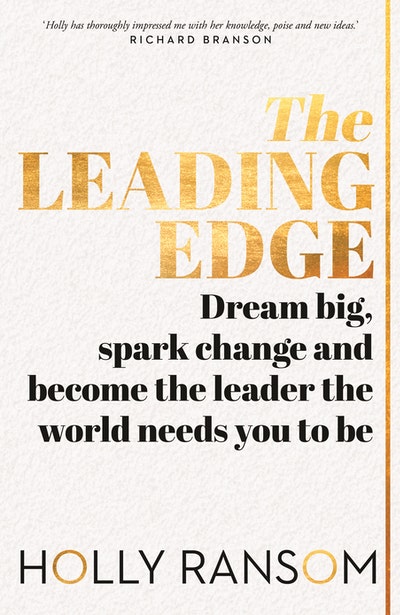 Leadership is within everyone's reach, everyone's ability and everyone's power. It's time to step up, and Holly Ransom will show you how.
Buy now
Buy now
---