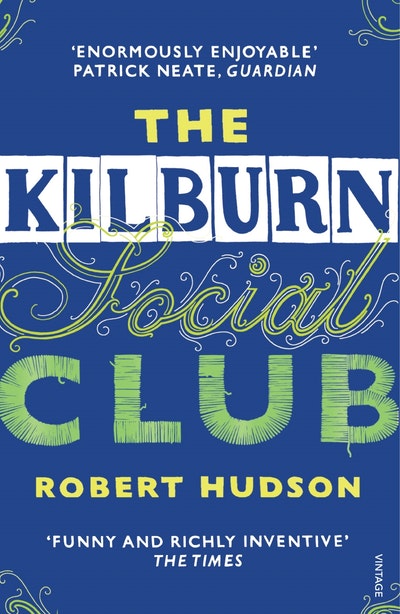 Published:

1 September 2010

ISBN:

9781409079026

Imprint:

Vintage Digital

Format:

EBook

Pages:

496
The Kilburn Social Club
---
---
---
A dazzling first novel about footballers, love, idealism and what happens when two sisters inherit a Premiership football club
The Kilburn Social Club is a Premiership football team of opera singers, academics and South African freedom fighters. It's a dream, a club where no one is more equal than anyone else, managed by an enigmatic war hero, inspired by a gay Argentinian millionaire and led by the restless, World Cup-winning Great Britain captain, and backed by the Rosslare Group, a Liberal-utopian business empire.
A medical student inherits KSC and the Rosslare Group. Can she protect them from the hungry world, from rapacious tycoons, snakes in the grass and the blunderbuss venality of money? Why should she have to, and does she even want to? And how will she cope with her football-crazy sister's jealousy? From doomed lust to innocence defiled, from hopeless loss to dulled acceptance to hope reborn, this is an old-fashioned heroes and villains state-of-the-nation romance set in a wish-fulfilment alternative London.
The Kilburn Social Club is a story of love, idealism and identity in something like modern, multicultural Britain. It doesn't demand any football pre-knowledge – it's for sceptics and sports lovers alike, neither cynical about what makes fans tick nor devoted to parroting the press-release puff of football's absurd self-image. And beyond this, there are the eternal stories of finding the people we share our lives with, how we choose, what we settle for and why. It is also about the cosmology of footballs.
Published:

1 September 2010

ISBN:

9781409079026

Imprint:

Vintage Digital

Format:

EBook

Pages:

496
Praise for The Kilburn Social Club
Reminiscent in places of Iain Bank's The Crow Road and Jonathan Coe's What a Carve Up!, Hudson's intricately plotted comedy works best at its broadest, satirising soccer's greed

Adrian Turpin, Financial Times
Funny and richly inventive, and you don't have to like the beautiful game to enjoy the journey

Kate Saunders, The Times
It's a really clever and original concept... You don't have to love football to enjoy this book...It's ambitious in the most quirky sense...Very complex, multi-layered book...Marvellous sense of the ridiculous...It's brilliant

Tim Bowler, Radio 5 Simon Mayo book club
It really worked...Surreal and bizarre...The scope of book (is) tremendous

Helen Dunning, Radio 5 Simon Mayo book club
The football scenes are great...it is very hard to write about football well

Tony Bradman, Radio 5 Simon Mayo book club
It's the kind of book I can imagine people would get quite obsessed by

Alex Hemmingway, Cerys Matthews BBC 6 Music show
I liked it - and I'm not a football fan

Hemmingway, Cerys Matthews BBC 6 Music show
Entertainingly far-fetched... with energy, confidence and occasional flashes of humour... Hudson is definitely a talent to watch

Adam Lively, Sunday Times
There is an echo of Jonathan Coe's What a Carve Up! - a similarly broad satirical novel with larger-than-life characters

Tim Souster, TLS
The concept is sound and the execution wholehearted

Gabriel Tate, Time Out
An audacious and surprising tale of football, friendship and family feuds...an enormously enjoyable, adept and, above all, confident debut; and like all the best writers, Hudson has the good sense to wear his confidence lightly

Patrick Neate, Guardian
An audacious first novel...funny, readable and articulate

West End Lane Books
It's an ambitious addition to the bloke-lit genre, with energy, confidence and flashes of humour

Adam Lively, Sunday Times
A terrific book, for all sorts of reasons: how lightly the comedy and the conceits are worn; the thumping readability of it; the laughs; the counter-factual world in which it's set. Oh, and also because of the talking football, a sort of Motson-meets-Kierkegaard character. This is a fizzy, funny, fantastical first novel.

Robert MacFarlane