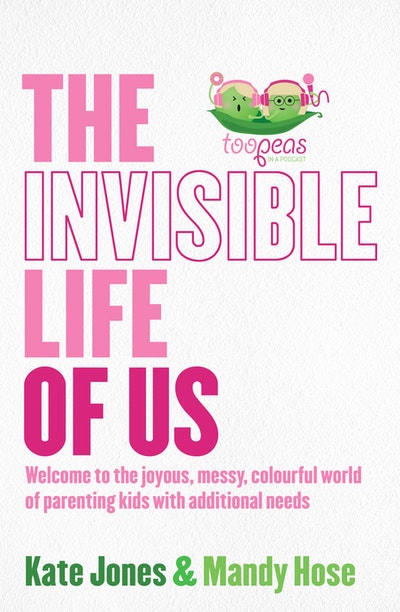 Published:

20 July 2021

ISBN:

9781761040252

Imprint:

Penguin Life

Format:

Trade Paperback

Pages:

288

RRP:

$34.99
The Invisible Life of Us
Welcome to the joyous, messy, colourful world of parenting kids with additional needs
Extract
How we started the podcast
We are absolute podcast tragics. Mandy started getting into them first. Since the twins' birth, she hadn't had much free time to dedicate to reading books, but boy, did she yearn for stories. Podcasts were the perfect solution. She spent many an hour in the kitchen with an earphone in one ear (the other ear listening out for any family chaos that might be occurring). She walked the four Aldi aisles every week with both earphones in. One of her favourite podcasts, Terrible, Thanks for Asking, was a standout. She couldn't believe people were talking about real stories in this format and laughed and cried along with the host, Nora, and her guests. She then peer-pressured Kate to join in, as all good friends do, taking Kate's podginity with My Dad Wrote a Porno, which brought constant joy and raucous, tears-down-the-cheeks laughter to us both.
Mandy noticed that the podcasts she listened to were mostly created and hosted by women and centred around women telling their stories. She wondered if one day she too could have a podcast. But, being more of an ideas person and not really the type to go out and buy a microphone, she knew she needed a partner in crime. Someone who also loved stories, loved to laugh and who had an adult son who knew about buying microphones. And suddenly, one idea became too peas.
'Doesn't everyone have a podcast these days?' we hear you ask. Well, that is sort of true, but we wanted to do it because after the many private conversations in each other's cars after a movie or dinner, laughing or crying about our amazing kids, we realised how important it was to share our stories. Until we met each other, we hadn't comprehended how much we needed the connection that comes with speaking to someone who under­stands what life mothering twins is like – particularly twins who don't tick the boxes that society wants ticked in a certain order. The multiple-birth world is lovely and very well supported, but there is a small subgroup who don't have much representation (or didn't before we very loudly entered the podbar and turned the microphones on): multiples who have additional needs and disabilities, multiples born prematurely, multiples who were conceived but one or both precious babies didn't get to come home from hospital. Where were those amazing human stories? Mandy had a nagging feeling, a voice in her head, saying, 'You need to do something about families of twins with disabilities, no one ever talks about them.'
Plus, let's face the truth: we have a lot to say. We were the kids at school always getting in trouble for talking, and it turns out we have used that talent to the best of our ability – we don't just have a podcast, now we have a book, so take that, Mrs Windsor!
When we first decided we would actually start a podcast, we bought a couple of microphones (well, Kate's eldest son did), and decided that, whatever our podcast looked or sounded like, it would include laughter. And that was that! There was no mucking around, no target-market research – we just had voices we couldn't silence any more. We hoped thirty or so people would listen each week and we could establish a little tribe to ease the crying-on-the-shower-floor loneliness (we have a chapter on that, don't worry!) that can sometimes accompany parenting multiples with additional needs (it can accompany all parenting, really) and give us somewhere to talk about our families. Not the 'typical family' but our beautiful, messy, frustrating, miraculous families.
There was one major stumbling block standing in the way of us and our podcast dreams: we didn't know what to call it.
You think naming a baby is hard? Well, sit right down – naming a podcast is almost impossible. We did what we always do when we can't solve a problem: we chatted with friends who had families like ours and asked them, 'What do you think we should call our podcast that you haven't listened to and know very little about?'
And boy, did they deliver. We also realised, as the potential names came thick and fast, how much this podcast was needed, and that we had listeners before we even uploaded the first (pretty ordinary, looking back) episode.
The names we came up with were Multiple Diagnosis or Just a Healthy Baby (we also have a chapter on that, so put the kettle on), and, to be honest, we still think those names are pretty fab, but we're glad we chose someone else's idea. Here, though, are some of the names our pea friends suggested:
Fucking Amazing Mums (You can see how fabulous these names are going to be, can't you?)
We Survived, or We Are Surviving
Ten Little Fingers and Ten Little Toes (Again, something we probably all say without thinking about the fact that having ten little fingers and ten little toes is not an achievement or a choice. And lots of people have hand or foot differences.)
I'm So Fucking Over This! (What parent hasn't uttered this line? We laughed a lot at this one; imagine seeing that in the podcast charts.)
Understanding Us (This actually underscores the podcast, no matter the name.)
This Is My Actual Life!
Wait and See! (This is not a 'wait and see what Santa brings', this is a 'wait and see' when it comes to children's health, milestones and genetic conditions.)
This Is Real and Raw
Just Another Family Keeping It Real
Getting the Fuck on with It! (Amen to all of us, in all walks of life, doing that today!)
Stop Staring or I Will Punch You in the Face (Oh my word, we laughed. But seriously, stop staring!)
It Could Happen to You!
This IS Our Normal (We loved this one, too.)
Daily Challenges (We thought this sounded like Survivor and loved it. 'Okay, Mandy, if you survive these five daily challenges before 7.05 am . . . you get nothing, not even a mum buff. But you might get your kids to school! Winner!')
My New Normal (You get to view the world with a different lens – not good, not bad, just different.)
What Is Typical, Anyway? (This is fab. And yeah, what is typical, apart from the fact that it will rain when you hang the sheets on the line?)
These Smiles Have Tears Too
The Invisible Life of Us (Powerful, right?! See how hard it is to choose? At the time we were like, fuck, that is a good one. We didn't use this for the podcast, but we did end up using it somewhere!)
What Happened Next . . . (Actually, a great name for a podcast.)
Bet You Didn't Expect This When You Were Expecting! (This made us roar with laughter and, come on, can't every parent or caregiver relate?)
It's Nothing Like Fucking Holland. (This is a reference to a poem. Google it, but it's actually called 'Welcome to Holland'. We have an episode on it if you want to listen.)
My Only Special Need as a Parent: A Bigger Wine Glass!
You are So Lucky to Have a Disabled Parking Sticker! (People say this to Mandy. It still takes our breath away – as in, a shocked gasp, not oh-the-view-of the-city-at-night-takes-our-breath-away!)
My Kid Doesn't Fit in the Box
Don't Dis the Ability
The Unexpected Path.
We obviously didn't go with any of these extremely worthy and amazing names; we went, of course, with Too Peas in a Podcast. That was because at the end of one of Buzz and Woody's visits to the paediatrician (who also treats Mandy's daughters), Kate said to the doctor, 'Mandy and I are going to start a podcast.' He looked at her and said, 'Yes, you should. And it should be called Two Peas in a Podcast. You both have twins, you are like two peas in a pod, and you share a story.'
What a brilliant idea, but we expect nothing less from Dr Shane. We have both been seeing him since our twins were born. Now, we know it is the kids that actually see him, but if you have a beautiful, supportive paediatrician, you will know: you all see the doctor!
Of course, we then discovered that sadly there are already many podcasts called Two Peas in a Podcast. One has even been going since 2013! But we realised that actually it wasn't just us in the pod, it was you too (#peatoo). We are in this pod together. So Too Peas in a Podcast (which is the spelling nightmare you imagine it to be when people try to find it online) was born. A baby that we birthed together without any drugs. And what a movement it has been! Almost as good as the first bowel movement post-childbirth. We can't imagine our podcast having any other name.
The other question we receive every time we are inter­viewed – from people wanting to start podcasts themselves, and even from random people on the street – is 'Why do you think your podcast resonates with so many people – people who are not parents, people who don't have twins, people who don't live with or alongside a disability?'
To that we simply say, 'Two reasons, random citizen.'
This is a podcast that captures contagious friendship, even when life throws you curve balls – and shit balls, for that matter.
It resonates with a diverse audience because we are all humans. We are telling human stories and the fact that some people find it hard to understand why it could be relatable about children with a disability or additional needs or families living that journey, probably goes to show why we had to make a podcast in the first place.
Did we expect people to listen in the thousands? No, never! While we think the topics are amazing, we are very ordinary people with no media training, so we didn't even know if we had the skill to do this. Now we find it hard to keep an episode under an hour and a half! Turns out, ordinary people are actually bloody interesting. Our podcast is mostly ordinary families, parents and kids talking about how life looks and works for them, and that is not ordinary at all!
We hope that The Invisible Life of Us gives you a place to cry (and feel supported), an opportunity for a therapeutic laugh and that hearing our stories and rants and memories gives you comfort and the realisation you are not alone. Everyone is welcome in the pea tribe. We're here to celebrate everyone's stories, everyone's family – no matter how it looks! Parenting wasn't ever meant to be easy, but it is meant to be messy, joyous and inclusive.
---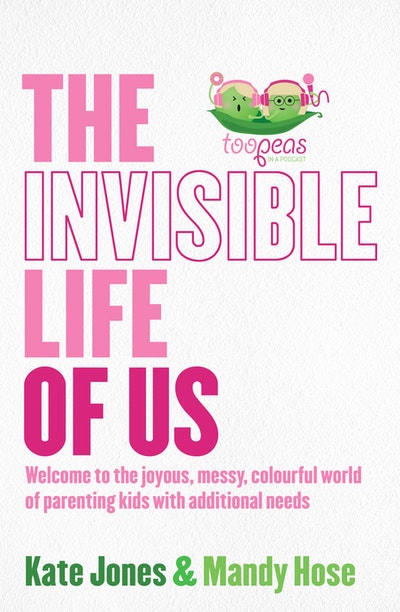 The surprises, challenges and sheer delight of parenting twins with additional needs
Buy now
Buy now
---