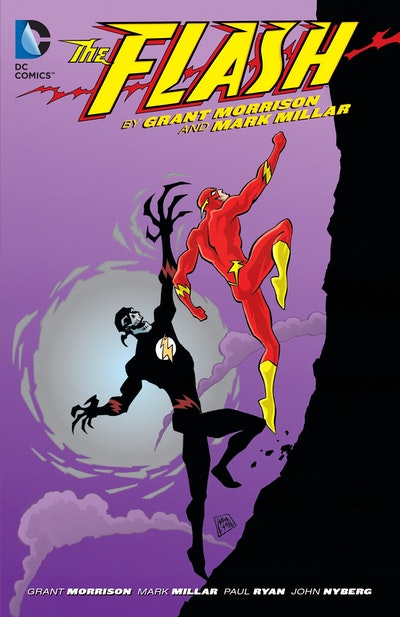 Published:

15 May 2016

ISBN:

9781401261023

Imprint:

DC Comics

Format:

Hardback

Pages:

336

RRP:

$32.99
The Flash By Grant Morrison & Mark Millar
---
---
Superstar writers Grant Morrison and Mark Millar take on The Flash!
In this acclaimed collaboration, iconic comic book creators Grant Morrison (MULTIVERSITY) and Mark Millar (THE AUTHORITY) conspire to put the Scarlet Speedster through the most grueling and life-changing challenges they can conjure up!
First, the Flash must battle against every hero's nightmare—a sentient super-costume that consumes the life force of anyone who wears it. Then, the Fastest Man Alive must find a way to counter his old foe the Mirror Master before everyone he cares about is reverse-aged out of existence. After that, Wally West barely has time to breathe before he's forced to enter a race spanning all of time and space against an unbeatable opponent—with the loser's world to be erased from existence!
Of course, with friends like Jay Garrick, Max Mercury, and Jesse Quick by his side, the Keystone Comet can face down nearly any threat imaginable—but not even an entire team of speedsters can outrun death itself. And when the Black Flash comes for him, Wally will have to go deeper into the Speed Force than he's ever dared—or lose everything he holds dear!
Morrison and Millar are joined by artists Paul Ryan, John Nyberg, Ron Wagner, Pop Mhan and many more for a celebrated run with comics' most celebrated runner in THE FLASH BY GRANT MORRISON & MARK MILLAR—collecting THE FLASH #130-141, GREEN LANTERN #96 and GREEN ARROW #130.
Published:

15 May 2016

ISBN:

9781401261023

Imprint:

DC Comics

Format:

Hardback

Pages:

336

RRP:

$32.99