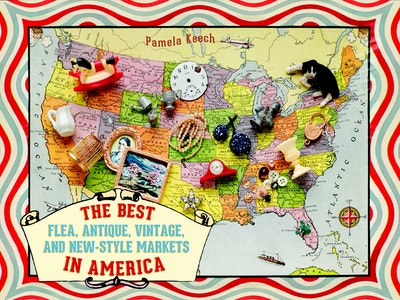 Published:

2 January 2014

ISBN:

9781936941049

Imprint:

NY Review Books

Format:

Paperback

Pages:

192

RRP:

$32.99
The Best Flea, Antique, Vintage, And New Style Markets In America
---
---
Among the countless flea markets in America, there are those that deserve to be called legendary. Scattered around the country, these are the markets with hundreds—sometimes thousands—of dealers and whose spectacular settings, covetable offerings, and colorful histories make each an unforgettable experience and a unique adventure. Pamela Keech—a museum curator who shops professionally at flea markets—profiles her top twenty choices, the flea markets that can be counted on to surprise and delight at every turn.
Tackling these mammoth events, however, is not for the faint of heart. For starters, the size and scope of each market can be overwhelming—no, are overwhelming. They cover acres and acres and miles and miles. (To give you an idea of their scope, there is one that stretches from Maryland to Missouri and another from Michigan to Alabama.) The Best and Biggest Flea Markets in America is an essential guide for shoppers who want to get the most out of each venue. All the practical details are covered: how far ahead of time to make reservations, how to avoid wasting precious time in traffic jams, how to navigate the miles of aisles, how to determine the best paths through the markets, how much territory can be covered in a day, how to find out where the must-see dealers set up their tables, what to take to be comfortable, and more. Other essential information includes smart negotiating, shipping options, and—because the thrill of the chase can be utterly exhausting—great local places to eat and where to find a soft bed at the end of the day.
One of the many charms of the book is its focus on regional style. Each of the markets profiled has an unmistakable sense of place, evident in the merchandise that fills the booths. Canton, Texas started 150 years ago as a trading market for cattle and livestock; this is where you'll find vintage cowboy boots, railroad and ranch memorabilia, and primitives. At the Rose Bowl Flea Market, the proximity to Hollywood casts a sparkle over everything; don't be surprised to find yourself browsing elbow to elbow with movie stars at tables filled with memorabilia from the silver screen and glamorous costume jewelry. At Shipshewana, in the heartland of the Indiana Amish, you'll find more than the usual number of pie safes, kitchen implements, and quilts. Keech highlights these differences with bits of cultural and decorative history and lots and lots of photographs that will make even armchair travelers feel like part of the action.
Published:

2 January 2014

ISBN:

9781936941049

Imprint:

NY Review Books

Format:

Paperback

Pages:

192

RRP:

$32.99
Praise for The Best Flea, Antique, Vintage, And New Style Markets In America
Praise for Pamela Keech's previous book, The Curious Shopper's Guide to New York City:

"As long as 'little' is the operative word of the day, the Little Bookroom covers its bases with two types of New York shopping guides. Travelers with a casual interest in shopping might enjoy "The Curious Shopper's Guide to New York City" by Pamela Keech ($12.95; 352 pages). By culling each neighborhood's best offerings and leaving out the rest, it makes room for some enlightening background along with the meaty details, glossy photos and buying tips that shoppers live by." -The San Francisco Chronicle

"A gem of a book no bigger than a knish." --The Boston Globe

"A lovely gem of a book, The Curious Shopper's Guide presents Manhattan in its entire specialty-shopping glory. Need kitchenware? Go to the Bowery. Need underwear? The Lower East Side. It's 47th Street for a day or afternoon exploring the Diamond District. Keech (The Civilized Shopper's Guide to Rome) details each shopping area, showing how to walk it and including select restaurant suggestions to complement the excursion. A welcome addition to libraries..." --Library Journal

"The Curious Shopper's Guide to New York City is a chunky little book that a rapid shopper in New York City can slip into a purse and wield as a secret weapon. Some of the best shopping in the world can be found in the Big Apple."--Pittsburgh Tribune

"Want to dig into New York City's unique shopping districts? The Curious Shopper's Guide to New York City is the perfect tool for uncovering great shops around Manhattan, whether you're looking for fabrics and notions, art supplies, flowers, lighting, kitchenwares or anything else." --About.com

"In addition to the design, I also love the structure of this book. It is organized by historic shopping districts, and one can easily flip through and read about where to traditionally buy items ranging from undergarments on the Lower East Side to antiques in Chelsea. Friendly descriptions are included for relevant stores, and the author focuses as much on the retailers' histories as she does on their goods and services. I would say this little book is a must have resource for designers who live in New York City." --CRIT Design

"Looking for a 2-foot lacquered sushi boat or antique ribbon? How about a feather mask, a zebra hide or a lampshade custom-made from parchment? Perhaps a vintage accordian or Chilean goat-toe shaker (a rhythm instrument) would bring out your inner musician. All of the above and many other exotic and unusual items can be found for sale in New York. And a new book called The Curious Shopper's Guide to New York City: Inside Manhattan's Shopping Districts, by Pamela Keech, can help you find them." --Associated Press

"Hundreds of superb listings of all sorts of shops. Probably one of the most useful guidebooks to come across Gridskipper's desk, author Pamela Keech exhaustively lists where one may purchase fabric, furniture, baubles, trinkets, clocks, knives, pillows, lighting and yes, even deer heads." --Gridskipper

"For pocket-sized, covetable books, turn to The Little Bookroom."–Vogue [UK]