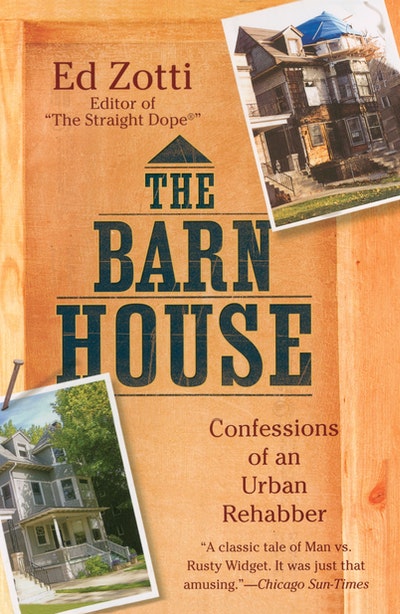 Published:

1 September 2009

ISBN:

9780451227874

Imprint:

Berkley

Format:

Paperback

Pages:

400

RRP:

$33.99
The Barn House
Confessions of an Urban Rehabber
---
---
A rollicking yarn about a home-improvement project that took a man and his family to hell and back.
In 1993, after Chicago lost many of its residents to the suburbs, Ed Zotti and his family gambled their future by fixing up a dilapidated Victorian home in a dicey neighborhood. Where most saw a shabby façade, the Zottis saw promise?even when it dragged and drained every resource. ?The Barn House? had a collapsed ceiling, wiring that shorted, and oak floors painted red, white, and blue. Unsettling discoveries included a box of .38 caliber bullets?with five missing?and the mere fact that the house was built on a bed of sand.
Alternately harrowing and hilarious, this is a classic account of one family?s private urban renewal project, featuring burglars, irate neighbors, and a lively cast of workers. From its grim beginning to its unexpected outcome, The Barn House is the inspiring story of what it means to live (and totally rewire) the American Dream.
Published:

1 September 2009

ISBN:

9780451227874

Imprint:

Berkley

Format:

Paperback

Pages:

400

RRP:

$33.99
Praise for The Barn House
"If you are a do-it-yourselfer with a compulsion to fix up a house, this will be a fun read." -Chicago Sun-Times "It's the perfect book for armchair or would-be renovators." -Booklist "Enlightening. And entertaining. [Zotti's] humor brings to mind Dave Barry." -St. Louis Post-Dispatch