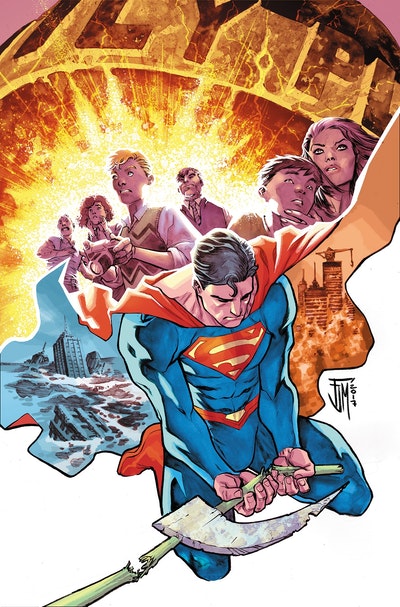 Published:

4 December 2018

ISBN:

9781401280437

Imprint:

DC Comics

Format:

Hardback

Pages:

400

RRP:

$69.99
Superman Action Comics The Rebirth Deluxe Edition Book 3
---
---
The SUPERMAN: ACTION COMICS VOL. 5 and 6 paperback volumes are now collected in hardcover as part of the DC Rebirth in SUPERMAN: ACTION COMICS: THE REBIRTH DELUXE EDITION BOOK 3!
Since the dawn of the DC Rebirth era, one villain has been standing in the shadows, plotting the destruction of Superman and all he represents. His name: Mr. Oz. Now the Man of Steel is about to find out the true identity of his newest nemesis...and everything he thought he knew about the world will come crashing down.
To put the pieces back together and solve the mind-warping riddle of Mr. Oz, Superman will begin a quest the likes of which he's never faced before. Teaming up with Lex Luthor. Time-traveling with Booster Gold. Waging war against General Zod...and his even more ruthless son. Fighting to preserve his own family, Lois Lane and Superboy...even against Superboy's own grandfather, General Sam Lane.
A new era is about to begin. To face it, Superman will need every ounce of his strength, his courage and his belief in truth and justice. But what does that mean in a world--or worlds--where truth and justice mean nothing?
Find out in Superman: Action Comics: The Rebirth Deluxe Edition Book 3! This collection contains the conclusion of legendary Superman writer Dan Jurgens' Action Comics run. Collects Action Comics #985-999 plus Action Comics Special #1.
Published:

4 December 2018

ISBN:

9781401280437

Imprint:

DC Comics

Format:

Hardback

Pages:

400

RRP:

$69.99
Praise for Superman Action Comics The Rebirth Deluxe Edition Book 3
"A fun and exciting story." --Comic Book Resources "Patrick Zircher is at his best when illustrating the gleaming gods that are Superman and Lex Luthor." --Newsarama "It's good to have a classic-numbered ACTION COMICS back on the stands." --IGN