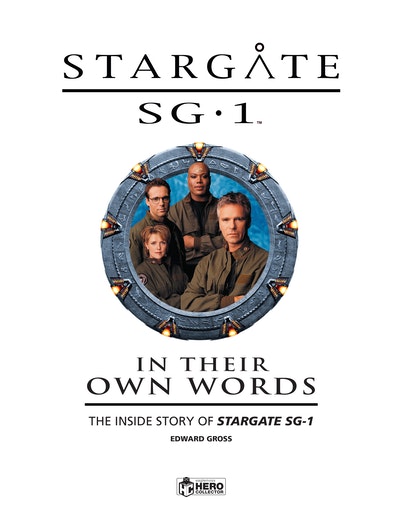 Published:

16 March 2022

ISBN:

9781858759982

Imprint:

Eaglemoss

Format:

Hardback

Pages:

200

RRP:

$52.99
Stargate SG-1
In Their Own Words Volume 1
---
---
The Stargate SG-1 cast and crew, via new interviews, personal recollections and extensive conversations, tell the story of the fan-favorite series in their own words.

Stargate SG-1, which ranks as one of the most popular science-fiction shows in television history, was inspired by the 1994 film Stargate, a blockbuster based on concept of an alien Einstein-Rosen bridge device – known as a Stargate – that facilitates near-instantaneous travel across the cosmos. The show Stargate SG-1 debuted in 1997 as a sequel to the movie and starred Richard Dean Anderson, Amanda Tapping, Michael Shanks, Christopher Judge, and Don S. Davis. The SG-1 team traversed the galaxy and protected Earth from numerous threats for 242 episodes over the course of 10 seasons (1997-2007), as well as in two direct-to-video SG-1 features, Stargate: The Ark of Truth and Stargate: Continuum, numerous books, video games and comic books. Further, the show was joined by several spin-offs, including Stargate Atlantis, Stargate Universe, and the prequel web series, Stargate Origins.
Stargate SG-1: In Their Own Words Volume 1 delivers an insider's point of view examining the show's development, production, writing, visual effects, and more, with comments from all the key actors, producers, writers, and other behind-the-scenes talents who helped bring the series to life.

Published:

16 March 2022

ISBN:

9781858759982

Imprint:

Eaglemoss

Format:

Hardback

Pages:

200

RRP:

$52.99