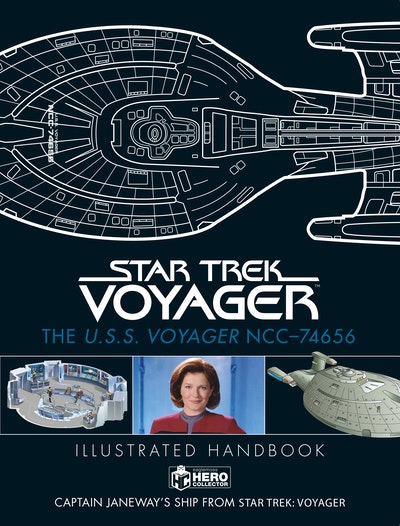 Published:

12 May 2020

ISBN:

9781858756127

Imprint:

Eaglemoss

Format:

Hardback

Pages:

216

RRP:

$59.99
Star Trek: Deep Space 9 & The U.S.S Defiant Illustrated Handbook : Featuring the Space Station Deep Space Nine and the U.S.S. Defiant
---
---
---
Fourth in the series of STAR TREK ILLUSTRATED HANDBOOKS, this guide takes an in-depth look at the space station Deep Space 9 and the starship U.S.S. Defiant.
Captain Kathryn Janeway's Starship Voyager! Lavishly illustrated with detailed technical information, this third volume in the Illustrated Handbook series features the U.S.S. Voyager from the hit Star Trek TV series.
This book is an in-depth, illustrated account of the Intrepid-class U.S.S. Voyager NCC-74656. Showing Captain Janeway's 24th century ship in detail, it opens with the ship's operational history and features illustrations of all the key locations from the bridge to the shuttlebay; the deflector relay control room to the stasis chamber.
With illustrations and technical information from official sources, this book provides an extraordinary reference guide to this iconic ship.
Published:

12 May 2020

ISBN:

9781858756127

Imprint:

Eaglemoss

Format:

Hardback

Pages:

216

RRP:

$59.99