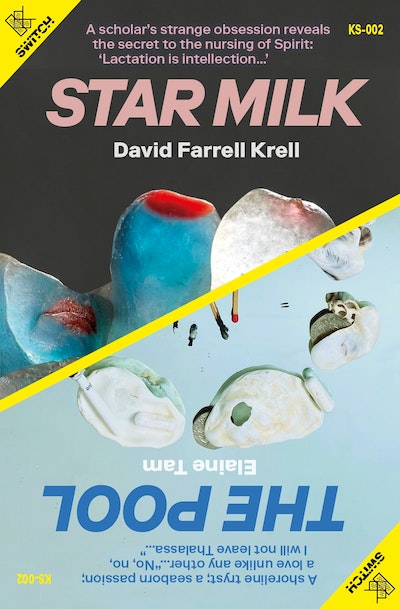 Published:

18 October 2022

ISBN:

9781915103062

Imprint:

MIT Press

Format:

Paperback

Pages:

160

RRP:

$32.99
Star Milk/The Pool
---
---
Two theory-fiction novellas of geotrauma, biopsychology, regression, and longing.
A disturbed young woman in therapy reveals her intimate encounters with a seaborn entity; a rogue scholar's lost notebooks record his obsession with the cultural, biological, and etymological genealogies of the female breast.
Two theory-fiction novellas of geotrauma, biopsychology, regression, and longing unveil disconcerting visions of the continuity of human life, thought, and desire with forces that exceed them.
In Elaine Tam's The Pool, sanity expands and withdraws in waves as the unidentified narrator tentatively discloses details of her shoreline tryst with a nonhuman lover, and the strange affair that ensued. With each session, her surreal monologue draws closer to the dream's navel. Regression, recapitulation, oceanic bliss, origin and otherness, Yoruba myth, Irigarayan appropriation, thalassic erotica, and briny Lovecraftian body-horror meet in a love story unlike any other. "No, no. I will not leave Thalassa…"
The posthumously recovered journals of Yorgos Mammákythos, collected in Star Milk, chart his increasingly urgent meditations on the importance of mother's milk to the nourishment of spirit: "lactation is intellection; origin of memory equals origin of mammary!" David Farrell Krell, author of Daimon Life and Infectious Nietzsche, traces Yorgos's path from the impasses of Freud's account of libido to the marvelous discovery of a Via Lactea only hinted at in cryptic remarks by Novalis and Hegel, but which led the unfortunate archaeologist into cosmic delirium—from which he did not return.
An Urbanomic K-Pulp Switch: singular texts by two different authors in a classic pulp format.
Published:

18 October 2022

ISBN:

9781915103062

Imprint:

MIT Press

Format:

Paperback

Pages:

160

RRP:

$32.99