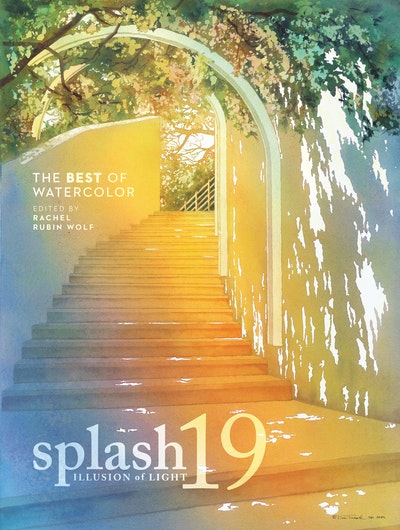 Published:

17 July 2018

ISBN:

9781440352409

Imprint:

Penguin

Format:

Hardback

Pages:

144

RRP:

$62.99
Splash 19
The Illusion of Light
---
---
Illuminating the Best in Watercolor Painting!
"If tonal value is the structure--the bones and muscle--of the painting, the illusion of light gives a painting its soul.... There would be no art, no life, without light."
-Rachel Wolf (p5)
Like moths to a flame, watercolor artists are forever fascinated, sometimes obsessed, and often frustrated by their quest to capture the elusive qualities of light. Splash 19 showcases 125+ shining successes, fresh out of the studios of today's top artists.
These artists revel in the possibilities of light, reflection, refraction, and shadows. Their paintings celebrate the magic that happens when light dances across the landscape, bounces around a still life, or pierces a rainy city night. From the riot of reflections on water, to a cat basking in the sun, to the inner glow of innocence in a child's expression...light brings this work to life.
Alongside each painting, commentary from the artist offers firsthand insight into how they use light to create mood, tell a story, or evoke a sense of time and place. A brilliant representation of contemporary watercolor, this 19th volume continues the proud tradition that has made Splash the longest-running "best of watercolor" competition series.
   • Paintings from more than 100 of today's leading contemporary artists, selected from thousands of entries
   • Captions reveal inspirations and techniques, allowing readers to appreciate the work on a deeper level
   • Themed chapters include cityscapes, animals, interiors, still life, portraits, landscapes, seascapes and more
"A gift of painting is this power to create the light we want to tell the story we choose." -Kathryn Keller Larkins (p 31)
"Light can change a rather ordinary subject into something extraordinary!" -Kathie George (p44)
"While painting, I became absorbed again by the emotional power of light streaming into a darkened room to create a beautiful tableau from a modest glass of flowers." -David Cox (p112)
"I find nothing more magical than wandering through forests of towering trees letting dappled streams of light filter their way toward me, challenging me to capture that moment in time." -Erica Qualey (p128)
Published:

17 July 2018

ISBN:

9781440352409

Imprint:

Penguin

Format:

Hardback

Pages:

144

RRP:

$62.99