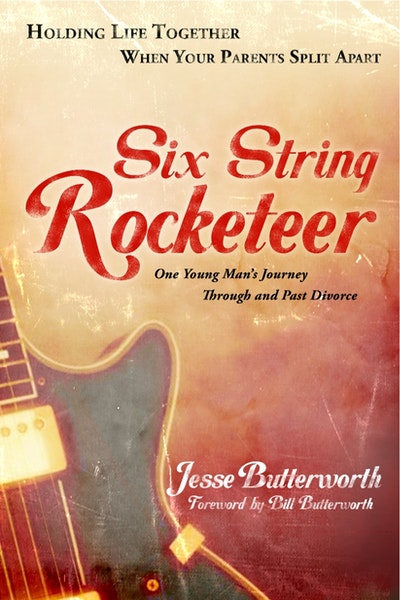 Published:

15 July 2009

ISBN:

9781578568840

Imprint:

Doubleday US

Format:

Trade Paperback

RRP:

$19.99
Six String Rocketeer
---
---
Holding Life Together When Your Parents Split Apart
The painful, scary, but sometimes hilarious true story of how one guysurvived his parents' divorce. And lived to sing about it.
The teenage years are tough as it is, but throw in the fact that your parents are divorcing and it's like fuel on the fire.
It started with the poorly muffled fights in his parents' bedroom. They just seemed to get worse, and it seemed that the inevitable would happen. Finally, it did and the family meeting was called. Jesse Butterworth had a hunch his folks were going to announce they were separating–but the two youngest boys were certain they'd be told they were going to Disneyland.
No such luck.
What happens when your world falls apart? How do you handle it when the two people you trusted most totally disappoint you…and seemingly destroy your already shaky life?
That's what happened to Jesse Butterworth, and he tells his story with humor, honesty, and heart. He also shows how he figured out what to do with the emotions that come with divorce: anger, hurt, frustration, and loss. Picking up a beat up guitar, Jesse discovered that he could turn his misery into music and his pain into passion–becoming the Six String Rocketeer. In the process Jesse realized that the wounds that hurt you can become the wounds that heal you.
Published:

15 July 2009

ISBN:

9781578568840

Imprint:

Doubleday US

Format:

Trade Paperback

RRP:

$19.99
Praise for Six String Rocketeer
"Heartbreaking one moment, laugh-out-loud funny the next, Jesse Butterworth has written a valuable book for anyone whose parents are going through a divorce. Without preaching, he invites readers into his own story of how he coped with his parents' breakup--and brings much-needed encouragement along the way."