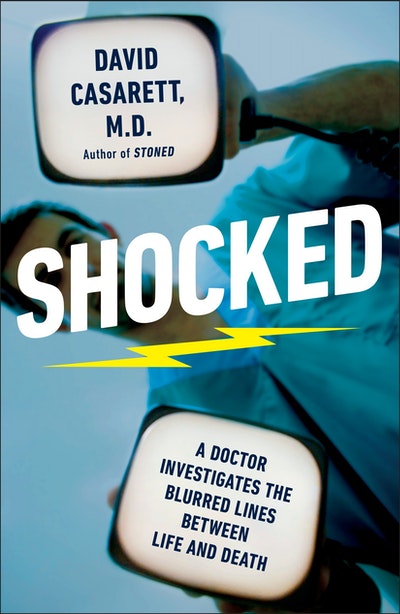 Published:

1 February 2016

ISBN:

9781617230226

Imprint:

Current

Format:

Paperback

Pages:

272

RRP:

$26.99
Shocked: A Doctor Investigates the Blurred Lines Between Life and Death
---
---
Fascinating, thought-provoking, and funny, Shocked is perfect for those looking for a prequel—and a sequel—to Mary Roach's Stiff, or for anyone who likes to ponder the ultimate questions of life and death.

As a young medical student, Dr. David Casarett was inspired by the story of a two-year-old girl named Michelle Funk. Michelle fell into a creek and was underwater for over an hour. When she was found she wasn't breathing, and her pupils were fixed and dilated. But after three hours of persistent work, a team of doctors and nurses was able to bring her back.
If Michelle could come back after three hours of being dead, what about twelve hours? Or twenty-four? What would it take to revive someone who had been frozen for one thousand years? And what does blurring the line between 'life' and 'death' mean for society?
In Shocked, Casarett chronicles his exploration of the cutting edge of resuscitation and reveals just how far science has come. He takes us to a conference of 'cryonauts' who want to be frozen after they die, a dark room full of hibernating lemurs in North Carolina, and a laboratory that puts mice into a state of suspended animation. The result is a spectacular tour of the bizarre world of doctors, engineers, animal biologists, and cryogenics enthusiasts trying to bring the recently dead back to life.
Fascinating, thought-provoking, and funny, Shocked is perfect for those looking for a prequel—and a sequel—to Mary Roach's Stiff, or for anyone who likes to ponder the ultimate questions of life and death.
'An exciting firsthand account of scientific research whose implications are relevant to every living person.' The Futurist
'Entertaining, informative, and, at times, electrifying.' Booklist
'[Casarett] traces the colorful history of efforts to revive the dead, with meticulous reporting and humor.' The Washington Post
'Dr. Casarett has produced a travelogue about as comprehensive as possible without actually dying . . . His guide to the process of hauling passengers back up the exit ramp is fascinating.' The New York Times

Published:

1 February 2016

ISBN:

9781617230226

Imprint:

Current

Format:

Paperback

Pages:

272

RRP:

$26.99