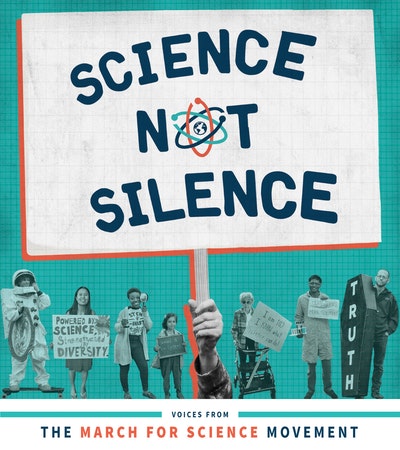 Published:

9 March 2018

ISBN:

9780262038102

Imprint:

MIT Press

Format:

Paperback

Pages:

176

RRP:

$17.99
Science Not Silence
Voices from the March for Science Movement
---
---
Signs, artwork, stories, and photographs from the March for Science Movement and community.In January 2017, an idea on social media launched the global March for Science movement. In a few short months, more than 600 cities, 250 partners, and countless volunteers banded together to organize a historical event that drew people of all backgrounds, interests, and political leanings. On April 22, 2017, more than one million marchers worldwide took to the streets to stand up for the importance of science in society and their own lives—and each of them has a story to tell. Through signs, artwork, stories, and photographs, Science Not Silence shares some of the voices from the March for Science movement.
From Antarctica to the North Pole, from under the sea to the tops of mountains, whether alone or alongside thousands, people marched for science. A citizen scientist with advanced ALS spent countless hours creating an avatar using technology that tracks his eye movements so that he could give a speech. Couples carrying babies born using in vitro fertilization dressed them in shirts that said "Made By Science." The former U.S. Chief Data Scientist spoke about what really makes America great. Activists championed the ways science should serve marginalized communities. Artists created stunning signs, patients marched with the doctors who saved them, and scientists marched with the community that supports them. Every story is a call to action.
The march was just the beginning. Now the real work begins. Science Not Silence celebrates the success of the movement, amplifies the passion and creativity of its supporters, and reminds everyone how important it is to keep marching.

Published:

9 March 2018

ISBN:

9780262038102

Imprint:

MIT Press

Format:

Paperback

Pages:

176

RRP:

$17.99