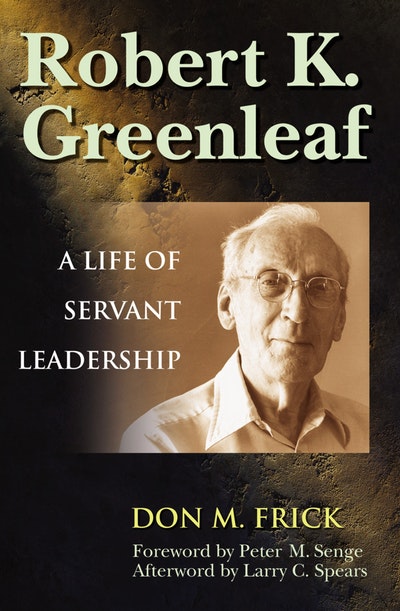 Published:

1 January 2018

ISBN:

9781576752760

Imprint:

Berrett-Koehler

Format:

Hardback

Pages:

456

RRP:

$54.99
Robert K. Greenleaf
---
---
Meet the man whose work influenced some of the world's most prominent business leaders and spawned a worldwide movement that is still gaining strength today. Robert Greenleaf's landmark 1970 essay, The Servant as Leader, introduced the now common term "servant leadership" to the world. His work has been cited by leading writers and business people including Ken Blanchard, Stephen Covey, Peter Senge, Margaret Wheatley, and Peter Block and led to the development of Centers for Servant Leadership around the world.
This long-awaited biography of Robert Greenleaf, authorized by his surviving children, finally tells his story. Drawn from Greenleaf's personal papers, correspondence, and interviews with family and friends, it provides a fascinating look at the sources of Greenleaf's thought, his friendships with some of the most influential men and women of the twentieth century—including Eleanor Roosevelt, Peter Drucker, the Menninger brothers, Reinhold Niebuhr, Aldous Huxley, Alcoholics Anonymous co-founder Bill Wilson, and many others—and how he influenced business history well before his first book was published at the age of seventy-three.
At a time when leadership and management fads substitute as wisdom, Robert Greenleaf's life stories provide clues for how each person can make a difference in the workplace, no matter what position he or she holds.
Published:

1 January 2018

ISBN:

9781576752760

Imprint:

Berrett-Koehler

Format:

Hardback

Pages:

456

RRP:

$54.99
Praise for Robert K. Greenleaf
"Greenleaf's life reads like an adventure novel—an adventure in ideas, people and spirit. Organic gardener, painter, astronomer, jeweler, researcher, master craftsman, philosopher, trusted consultant to key leaders in business, education, philanthropy and religion, Bob Greenleaf fulfills the classic description of genius. An avid seeker of deeper insights into human potential, growth, and a kind of leadership that encourages the creation of great places to work, extraordinary teamwork, productivity and joy in work, Greenleaf's insights into leadership open new possibilities for all of us." —Ann McGee-Cooper, Owner, Ann McGee-Cooper & Associates and author of Time Management for Unmanageable People and You Don't Have To Go Home From Work Exhausted "Don Frick has done an astonishing job of bringing to life my father and the times in which he lived.  The book illuminates the rich and meandering path which led Robert K. Greenleaf to the epiphany in which he conceived of the heroic and inspiring ideal of the servant-leader." —Dr. Newcomb Greenleaf, who carries on his father's lineage of servant leadership