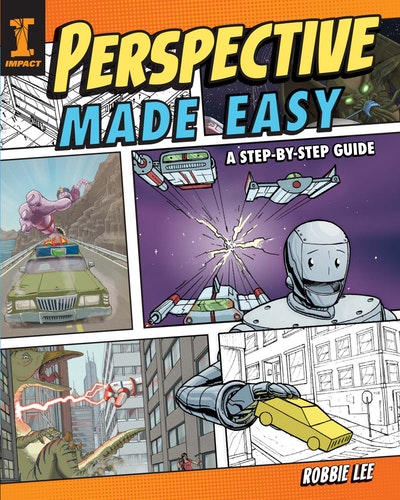 Published:

17 July 2015

ISBN:

9781440339233

Imprint:

Penguin

Format:

Paperback

Pages:

128

RRP:

$39.99
Perspective Made Easy
A Step-by-Step Guide
---
---
Understanding perspective is within reach!
Perspective Made Easy is a complete guide to understanding drawing in perspective and how to apply it. You will learn to create accurate drawings in one-, two- and three-point perspective, from space scenes to sunny beach parties. Sharing lessons learned from 12 years of teaching, Robbie Lee presents this fun, comic-book style art class to make drawing in perspective as clear as can be. Star-throwing ninjas, intergalactic spaceships and talking robots will help you understand alternative viewpoints, foreshortening, dimension and so much more!
You will learn to add depth to landscapes and provide focus to even the most chaotic alien invasions with simple, one-of-a-kind tips and techniques that will help you elevate your art to the next level.
   • 25+ step-by-step demonstrations
   • Drawing lessons for everything from the most basic shapes and figures to entire cities and beautiful landscapes
   • Master one-, two- and three-point perspective
   • Easy-to-follow comic book style instruction and easy-to-use exercises
   • All the bases are covered--from pesky horizontal and vertical lines, to incorporating realistic scale and elevation, to perfecting slopes and tilts
Published:

17 July 2015

ISBN:

9781440339233

Imprint:

Penguin

Format:

Paperback

Pages:

128

RRP:

$39.99