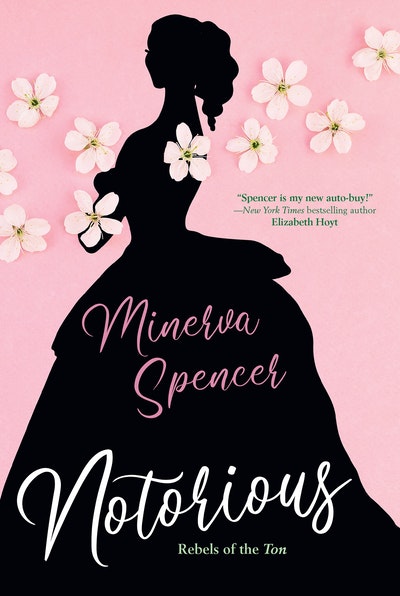 Published:

24 February 2021

ISBN:

9781496732835

Imprint:

Kensington

Format:

Paperback

Pages:

352

RRP:

$27.99
Notorious
---
---
Acclaimed author Minerva Spencer begins a sparkling new series featuring trailblazing women who have no qualms about breaking the strict rules of Regency era London and pushing back on societal expectations to forge their own exciting paths. In Notorious, a sharp-tongued wallflower and a notorious rake wage a battle of wits until one scandalous moment forces them into a marriage of convenience. But it's not long before an outside threat endangers their lives and tests their growing bond.
The cure for a willful wife...
Drusilla Clare is full of opinions about why a woman shouldn't marry. But that doesn't stop the rush of desire she feels each time her best friend's brother, notorious rake Gabriel Marlington, crosses her path. So imagine her dismay when she finds herself in the clutches of a scoundrel, only to be rescued by Gabriel himself. And when Gabriel's heartless--and heart-pounding--proposal comes, it's enough to make Dru's formidable resolve crumble...
...is a smitten husband.
She's sharp-tongued, exasperating--and due to one careless moment--about to become his wife. Still, something about Drusilla has Gabriel intrigued. First there's the delicious flush of her skin every time she delivers a barb--and then the surprisingly sensual feel of her in his arms. Gabriel even finds himself challenged by her unusual philosophies. And when he discovers a clandestine rival for Dru's affection, his temperature flares even hotter. But the real threat to their happiness is one neither of the newlyweds sees coming. If they're to save their future--and their very lives--they'll need to trust in each other and their growing love.
Published:

24 February 2021

ISBN:

9781496732835

Imprint:

Kensington

Format:

Paperback

Pages:

352

RRP:

$27.99