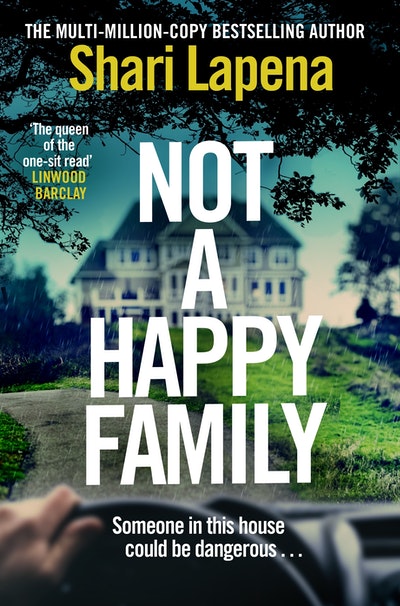 Published:

3 August 2021

ISBN:

9781787633025

Imprint:

Bantam Press

Format:

Trade Paperback

Pages:

368

RRP:

$32.99
Not a Happy Family
the instant Sunday Times bestseller, from the #1 bestselling author of THE COUPLE NEXT DOOR
Extract
Prologue
There are many expensive houses here in Brecken Hill, an enclave on the edge of Aylesford, in the Hudson Valley. Situated on the east side of the Hudson River, about a hundred miles north of New York City, it's like the Hamptons, but slightly less pretentious. There's old money here, and new. Down the long private drive, past a clump of birches, there it sits: the Merton home, on its vast expanse of lawn, presented like a cake on a platter. A glimpse of swimming pool to the left. Behind is a ravine, and thick trees on either side of the property guarantee privacy. This is prime real estate.
It's so still and undisturbed. A weak sun is out, interrupted by scudding clouds. It's four o'clock in the afternoon on Easter Monday; elsewhere, children are greedily finishing off their chocolate bunnies and foil-wrapped eggs, gauging what's left and eyeing how much remains in the baskets of their siblings. But there are no children here. The children have grown up and moved away. Not far, mind you. They were all over just yesterday, for Easter Sunday dinner.
The place looks deserted. There are no cars in the driveway – they are shut away behind the doors of the four-car garage. There's a Porsche 911 convertible; Fred Merton likes to drive that one, but only in the summer, when he throws his golf clubs in the trunk. For winter, he prefers the Lexus. His wife, Sheila, has her white Mercedes with the white leather interior. She likes to put on one of her many colourful Hermès scarves, check her lipstick in the rearview mirror, and go out to meet friends. She won't be doing that any more.
A house this grand, this polished – glossy white marble floor beneath an elaborate, tiered chandelier in the entryway, fresh flowers on a side table – you'd think there must be staff for upkeep. But there's only one cleaning lady, Irena, who comes in twice a week. She works hard for the money. But she's been with them so long – more than thirty years – that she's almost like family.
It must have looked perfect, before all this. A trail of blood leads up the pale, carpeted stairs. To the left, in the lovely living room, a large china lamp is lying broken on the Persian rug, its shade askew. A little farther along, beyond the low, glass coffee table, is Sheila Merton in her nightclothes, utterly still. She's dead, her eyes open, and there are marks on her neck. There's no blood on her, but the sickening smell of it is everywhere. Something awful has happened here.
In the large, bright kitchen at the back of the house, Fred Merton's body lies sprawled on the floor in a dark and viscous pool of blood. Flies buzz quietly around his nose and mouth. He's been viciously stabbed many, many times, his fleshy throat
slit.
Who would do such a thing?
Chapter One
Twenty-four hours earlier
Dan Merton shrugs on a navy blazer over an open-necked pale-blue dress shirt and a smart pair of dark jeans. He studies himself critically in the full-length mirror in the bedroom.
Behind him his wife, Lisa, says, 'Are you okay?'
He smiles wanly at her via the mirror. 'Sure. Why wouldn't I be?'
She turns away. He knows she doesn't relish the prospect of Easter dinner at his parents' house any more than he does. He turns around and looks at her – his pretty, brown-eyed girl. They've been married four years, and in that time there have been challenges. But she has stood by him, and he knows he's lucky to have her. She is his first experience of unconditional love. Unless you count the dogs.
He tamps down a twinge of uneasiness. Their financial troubles are a source of stress, a constant subject of discussion. Lisa always talks him around, though, and makes him believe things will turn out all right – at least while she's still in the room. It's when she isn't there that the doubts creep in, the crippling anxiety.
Lisa comes from hardy, middle-class stock – that was a strike against her from the outset, but he didn't care; his parents are snobs, but he is not – so she never had great expectations. When they met, she didn't even know who he was, because they didn't travel in the same circles. 'She's the only one who will have him,' he overheard his younger sister, Jenna, say to his older sister, Catherine, when they didn't know he could hear them.
Perhaps that was true. But his marriage, at least, has been a success – they have all had to admit it. And his family have grown fond of Lisa in spite of themselves and their prejudices.
'Are you going to try to talk to your father?' Lisa asks now, apprehension on her face.
He averts his eyes, closing the closet door. 'If the opportunity presents itself.'
He hates asking his father for money. But he really doesn't see that he has any other choice.
Catherine Merton – she did not take her husband's surname – looks forward to Easter dinner at her parents' place every year. And all the other occasions when they gather to celebrate holidays at the lavish house in Brecken Hill. Her mother will get out the special plates and the silver, and there will be a huge bouquet of fresh-cut flowers on the formal dining table, and it will all make Catherine feel elegant and privileged. She is the firstborn, and favourite, child; they all know it. She is the high-functioning one, the only one their parents are actually proud of. A doctor – a dermatologist rather than a cardiac surgeon – but still, a doctor. Dan has been a bit of a disappointment. And Jenna – well, Jenna is Jenna.
Catherine puts in a pearl earring and wonders what surprise Jenna might have in store for them today. Her little sister lives in a small, rented house on the outskirts of Aylesford and travels into New York City frequently to stay with friends. Her lifestyle is something of a mystery and causes their parents considerable distress. Dan says Jenna is out of control, but Catherine knows better. Jenna uses her lifestyle as a means of control. She has the power to shock and she doesn't mind using it. Jenna is certainly not well behaved, like Catherine. Not respectable or predictable. No, she is an outlier. When they were kids, she would do anything on a dare. Now, their father is always threatening to cut off Jenna's allowance, but they all know he won't do it because she'd move back home and they'd never be able to stand it. The family suspects drugs and promiscuity, but they never ask because they don't really want to know.
Catherine looks up from the seat at her mirrored vanity as her husband, Ted, walks into their bedroom. He's been rather subdued all day – his subtle way of showing his displeasure, although he would never admit it. He doesn't want to go to Easter dinner at her wealthy parents'. He chafes at their expectation of it, every holiday. He doesn't like the tension rippling beneath the surface during these meals. 'God, how can you stand it?' he always says as soon as they're in the car heading back down the driveway.
She defends them. 'They're not that bad,' she always replies, trying to make light of it as they speed away. Now, she gets up and goes over to him and kisses him on the cheek. 'Try to make the best of it,' she says.
'I always do,' he replies.
No, you don't, she thinks, turning away.
'Fuck, I really don't want to go to this,' Jenna says to Jake, who is sitting in her passenger seat as she drives toward Brecken Hill. He had taken the train in from New York City and she'd picked him up from the Aylesford station. He's going to stay the night at her place.
'Then pull over,' Jake says, coaxing, stroking her thigh. 'We can waste some time. Smoke a joint. Get you to relax.'
She glances at him, raises an eyebrow. 'You think I need to relax?'
'You seem a bit uptight.'
'Fuck you,' she says playfully, with a smile.
She drives farther until she finds a turnoff she knows and abruptly takes it. Her car bumps along the road until she pulls over and stops under a large tree.
Jake is already lighting up a joint, sucking in deeply. 'We're going to reek when we get there,' she says, reaching to take it from him. 'Maybe that's a good thing.'
'I don't know why you want to antagonize your parents so much,' Jake says. 'They pay your bills.'
'They can afford it,' she says.
'My wild child,' he says. He leans forward and kisses her, running his hands under her black leather jacket, up underneath her top, stroking her lightly, obviously feeling the buzz already. 'I can't wait to see what kind of people spawned you.'
'Oh, you'll gag. They're so self-righteous you'd expect a pulpit to appear every time they open their mouths.'
'They can't be that bad.'
She takes another deep drag and hands him the joint. 'Mom's harmless, I guess. Dad's an asshole. Things would be easier if he wasn't around.'
'Parents – they fuck you up,' he says, quoting the poet Philip Larkin, getting it wrong.
He gets most things wrong, Jenna thinks, looking at Jake through a haze of smoke, melting into the feel of his fingers on her nipple. But he's entertaining, and decent in bed, and that's good enough for now. And he's got the right look. Terribly sexy and rough around the edges. She can't wait to introduce him to the family.
---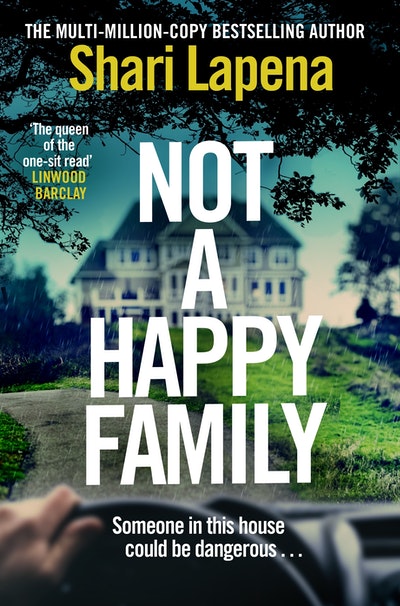 The new unputdownable thriller from the 'queen of the one-sit read', multi-million-copy bestselling author of THE COUPLE NEXT DOOR. When an elderly couple are found murdered, could their children be responsible?
Buy now
Buy now
---