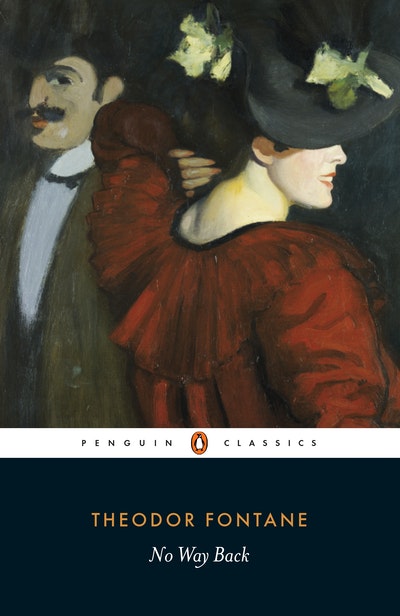 Published:

11 July 2013

ISBN:

9780141392158

Imprint:

Penguin Classics

Format:

Paperback

Pages:

256

RRP:

$22.99
No Way Back
---
---
---
In Helen Chambers's afterword, she looks at the hidden layers of meaning in No Way Back, Fontane's status as a major literary figure in Germany, and how his writing addressed the difficult relationship between the old and the new.
.

A rich and enjoyable novel about marriage, love and betrayal, from the great German realist Theodor Fontane.
Charming, cheerful Count Holk is delighted to be called away from his solemn wife to the distant court of a Danish princess. Swept up in the romance of his new, lively surroundings at a 'castle by the sea', the Count does not realize that not everyone there is what they seem - and that a wrong decision may have fatal consequences. Published in 1892, this tragicomic work of failing marriage and modern sexual politics is full of the irony, elegance and masterful dialogue for which Theodor Fontane is acclaimed.
Theodor Fontane was born in the Prussian province of Brandenburg in 1819. After qualifying as a pharmacist, he made his living as a writer. From 1855 to 1859, he lived in London and worked as a freelance journalist and press agent for the Prussian embassy. While working as a war correspondent during the Franco-Prussian war of 1870-1 he was taken prisoner, but released after two months. His first novel, Before the Storm, was published when he was fifty-eight and was followed by sixteen further novels, of which Effi Briest, No Way Back and On Tangled Paths are all published in Penguin Classics. He died in 1898.
Hugh Rorrison and Helen Chambers have both published extensively on German literature, and translated together the Penguin Classics translation of Fontane's Effi Briest.
'No Way Back has the amplitude, the social and personal varieties, we expect of the major social novel; it surely ranks among the most imaginatively challenging and intellectually satisfying attainments in that dominant nineteenth-century form' - Paul Binding, The Spectator
'Helen Chambers and Hugh Rorrison have improved on the previous English version...natural, idiomatic' - Ritchie Robertson, Times Literary Supplement
'Theodor Fontane's standing in Germany is comparable to Jane Austen's in the English-speaking world...his best work is an elegant and engaging blend of irony, penetration and compassion' Helen Chambers

Published:

11 July 2013

ISBN:

9780141392158

Imprint:

Penguin Classics

Format:

Paperback

Pages:

256

RRP:

$22.99
Other books in the series