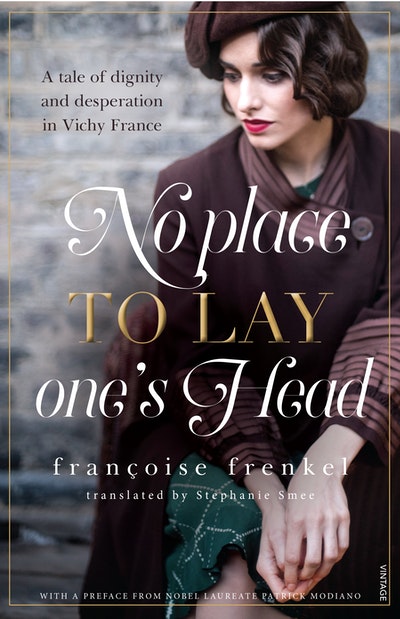 Published:

1 May 2017

ISBN:

9780143784111

Imprint:

Vintage Australia

Format:

Trade Paperback

Pages:

304

RRP:

$34.99
No Place to Lay One's Head
with a preface from Patrick Modiano
---
---
---
An extraordinary story of one woman's attempt to survive the horrors of Vichy France.
A bitter, beautiful and important book
Robert Fisk, THE INDEPENDENT
The French sensation, now in English translation.
Françoise Frenkel was a Jewish woman born in Poland and enamoured of all things literary and French. In 1921 she set up the first French-language bookshop in Berlin, recognising the craving for French culture in that city in the wake of the First World War. Her business was a success – attracting diplomats and celebrities, authors and artists. But life in Berlin for a Jewish woman and a foreigner soon became untenable.
Frenkel was forced to flee to Paris and compelled to keep moving as she attempted to survive in a world disintegrating around her. Her observations of and interactions with the French people, both those who would give her up to the Nazi authorities and those who risked their own lives and families by offering her refuge, show how humanity strives to assert itself even in the darkest times.
Frenkel's book, written with piercing clarity and sensibility in the immediate aftermath of her escape to Switzerland, was originally published in 1945 in Geneva. But only recently was a copy of this forgotten work discovered and a decision made at French publisher Gallimard to republish it, seventy years later.
Very little is known of Françoise Frenkel's subsequent life, except that she returned to live in Nice where she had spent much of her time during the war, and where she died in 1975.
No Place to Lay One's Head is the story of refugees, those fleeing terror, the world over.
With a moving preface from Nobel Prize–winning author Patrick Modiano.
Published:

1 May 2017

ISBN:

9780143784111

Imprint:

Vintage Australia

Format:

Trade Paperback

Pages:

304

RRP:

$34.99
Praise for No Place to Lay One's Head
A fine English translation by Stephanie Smee. It is a vivid account of life in hiding and on the run after Frenkel left occupied Paris for Avignon, Nice, Grenoble, Anneccy and, eventually Switzerland, where the book ends. The book is not only a moving memoir but also an intriguing historical document, thanks not least to Frenkel's emphasis on the often unsolicited help she received from ordinary French people.

Natasha Lehrer, Times Literary Supplement
It is often a mistake to assume that historical narratives transcend their particular time and place, yet to my mind it is impossible to read Frenkel's memoir without feeling its contemporary resonance; to hear the voices of the hundreds of thousands of Frenkels who today flee over different borders, for different reasons, with the same urgency and confronting the same indifference that Frenkel's memoir hauntingly conveys. Recognising that these struggles have yet again become commonplace is perhaps the most poignant aspect of reading Frenkel's memoir, as well as the most important reason that its translation and republication should be undertaken today.

Avril Alba, Australian Book Review
This real-life Suite Francaise is a moving tale of a French Jew betrayed by her country. [A] remarkable survivor's memoir. Terribly moving and terribly haunting. It's about one woman's immeasurable sorrow that everyone should hold in their hands.

Nicholas Shakespeare, The Daily Telegraph (UK)
Frenkel gives us an urgent narrative of the crucial years of her life. There is a wild beauty to the prose. Frenkel has an appealing style captured in an assured translation by Stephanie Smee. This rediscovered memoir by a Jewish bookseller is a vital eyewitness account of Vichy France.

Catherine Taylor, Financial Times
Frenkel wrote [this] in 1943–44, so the events are recent and the prose has a terrible immediacy. Certain episodes burn into the reader's vision with the intensity of nightmares. As well as a riveting account of her own experience, Frenkel offers intriguing insights into the behaviour of French people under occupation. Frenkel's portrait of a people she loved is a complex and unsettling view of humanity, in all its shifting shades. Inevitably, it makes us wonder how we would act in the circumstances, and forces us to face the probably disappointing truth.

Emily Rhodes, The Spectator UK
Frenkel's attempts to escape over the border to Switzerland, from December 1942, are as gripping as any thriller. No Place to Lay One's Head is a stark and chilling account of what happens when a society turns rotten and the rot spreads. It is all the more shocking because the tone is so matter-of-fact. There's a singing simplicity to the writing. We don't know much about what happened to Frenkel after her escape. What we do know is that we owe her a huge debt of gratitude. In sharing her bitter taste of bitter history, she has shown us the worst of humanity — but also the best.

Christina Patterson, The Sunday Times
NSW Premier's Literary Awards
Shortlisted • 2019 • NSW Premier's Translation Prize