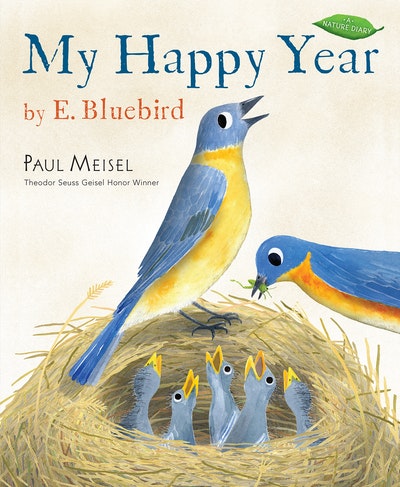 Published:

12 May 2020

ISBN:

9780823446780

Imprint:

Holiday House

Format:

Paperback

Pages:

40

RRP:

$14.99
My Happy Year by E.Bluebird
---
---
---
With humor and charm, a bluebird narrates her first year of life - adventures, joys, and scary times too.
"May 1. Today is my birthday." So begins the wondrous first year of E. Bluebird. Readers are treated to the intimate details of her life such as "May 8. Eating all these bugs makes me poop. My mom takes my poop sack out of the nest. Good thing." And "May 12. My brothers and sisters are getting ready to leave the nest. I like it here. It's safe." On May 18: "Where's my family? I'm getting hungry. Okay. This is it I jump! I flap! I'm flying!" She eventually migrates south, and when she returns north, she finds a mate and has a family of her own. What a happy year!
The art is both beautiful and kid-friendly and has been vetted for accuracy by two experts. A companion book, My Awesome Summer by P. Mantis, is an American Association for Advancement of Science/Subaru Science Books & Film Finalist. In a rave review, The New York Times called it "[a] celebration of nature's strangeness and wild wonders."
ABOUT THE NATURE DIARY SERIES
The life cycle of an animal told in diary form--
My Awesome Summer by P. Mantis: CCBC Best-of-the-Year List, AAAS /Subaru Finalist, Leaping Lizards Top 10 Read-alouds, SCIENCE Best Books for Curious Kids, Virginia Readers' Choices
My Happy Year by E. Bluebird: A Junior Library Guild Selection
My Stinky Summer by S. Bug: The latest exciting release in 2020
Published:

12 May 2020

ISBN:

9780823446780

Imprint:

Holiday House

Format:

Paperback

Pages:

40

RRP:

$14.99
Praise for My Happy Year by E.Bluebird
"Again relying on his own backyard observations as well as credited experts, Meisel offers a follow-up to his much-admired My Awesome Summer, by P. Mantis (2017). This description of a bluebird's life is straightforward in its content but versatile in its presentation. . . For fledgling readers, another appreciation of the natural world." —Kirkus Reviews "Like its companion book, My Awesome Summer, by P. Mantis (2017), this volume is called A Nature Diary. In dated entries, a bluebird records her experiences during her first year. . . . Created with acrylic ink and digitally enhanced, Meisel's handsome artwork shows a strong sense of color and form in depicting the natural world. The larger scenes are particularly striking. In the text, a simply written narrative traces the bluebird's growth from chick to mother bird, while illustrated notes offer additional facts. A clearly presented, informative introduction to a bird's life cycle."—Booklist "An Eastern Bluebird narrates a chipper account of her first year, from blind and helpless hatchling to fearful fledgling to full-grown adult . . . with a brief, friendly journal-style text accompanied by equally uncluttered and appealing digitally enhanced paintings in sumptuous colors. Both text and art provide a close-up look at the bird's growth, behaviors (including seasonal migration), diet, threats, and habitat. The illustrated front and back endpapers are filled with more detailed information about the species, a migration/habitat map, a glossary, information on how to build a bluebird house, and suggested websites."  —The Horn Book "an enjoyable option for emerging readers who prefer reading more factual literature."—School Library Journal "The dynamic illustrations, rendered in digitally enhanced acrylics, imagine the simple tale in rich colors: a field of orange pumpkins precedes a gray sky full of migrating bluebirds, which segues into scenes featuring the tropical greenery (and predators!) of E. Bluebird's winter home. A fact-filled introduction and a concluding glossary and resource list offer plenty of detailed information for ornithologically inclined readers."—Publishers Weekly