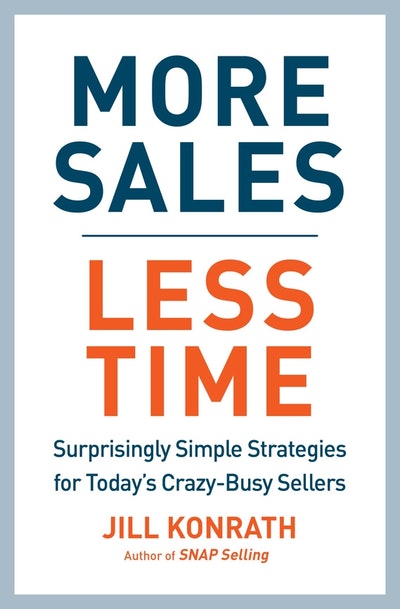 Published:

15 December 2016

ISBN:

9781591847267

Imprint:

Portfolio

Format:

Hardback

Pages:

256

RRP:

$45.00
More Sales, Less Time
---
---
A new approach to using time wisely and working smartly specifically for salespeople, from Jill Konrath, the acclaimed sales consultant and strategist.
Salespeople today are crazy-busy. Clients are demanding more. Business is continually changing. They're under intense pressure to increase productivity. While new technologies enable massive strides, the salesperson has now become the bottleneck in the system.
Yet traditional time management strategies don't work for salespeople. They can't just zero in on "one thing." Instead they need to juggle multiple prospects, all at various stages of their decision process. They can't go "offline" for deep thinking; they're entire life revolves around researching, emailing, engaging in social media, and conversations.
So how can they sell more in less time - when their entire day is a never-ending distraction? Konrath has been overwhelmed by this challenge too. In this book, she shares her experience combined with research-based strategies specifically tailored to salespeople. Readers will learn how to:
·Rescue at least one hour per day by eliminating the numerous "time bandits" that suck hours of their time - and rob them of their best thinking.·Put together a unique system, based on their personal strengths and energy management techniques.·Turn themselves from a time waster to a Time Master, using a transformative mindset that eliminates the difficulty of building new habits.
Readers who loved Konrath's fresh strategies in SNAP Selling and Agile Selling will find this book just as invaluable. It fills a necessary niche in the sales and time-management shelves by blending the two for a large and growing audience that needs specific advice from an expert.
Published:

15 December 2016

ISBN:

9781591847267

Imprint:

Portfolio

Format:

Hardback

Pages:

256

RRP:

$45.00