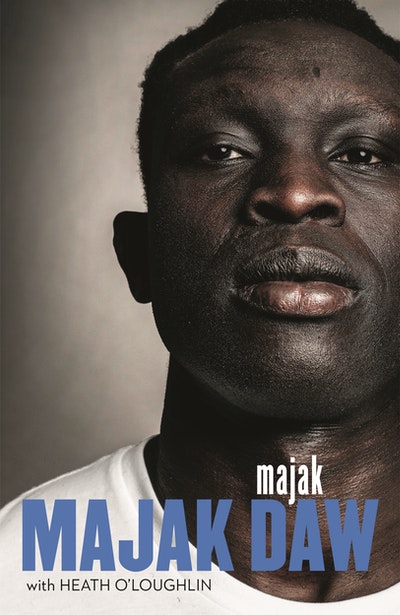 Published:

3 August 2021

ISBN:

9781760899653

Imprint:

Viking

Format:

Trade Paperback

Pages:

368

RRP:

$34.99
Majak
Extract
This book contains references to suicide and suicidal ideation. If you or a loved one need support, you can call Lifeline on 13 11 14 or chat online at lifeline.org.au.
1
Tök
I was on the verge of securing the biggest deal of my career. As the end of my breakout 2018 football season approached, my value as a player had significantly increased. Although I was already under contract with the North Melbourne Football Club for 2019, my man­ager convinced the club to consider negotiating a new deal, for more than $400 000 a year, which would have set me up financially and put me back on my feet after a tough period.
Twelve months earlier, and eight seasons into my AFL career, I was treading water and couldn't cement a spot in the senior side as a ruck/forward player. I was 27 years old and had just 32 games to my name. Everything pointed to my AFL career being over in a matter of months, and my ambitions remaining largely unfulfilled. But just when I had almost lost all hope of being a first-picked player at the Kangaroos, my then coach, Brad Scott, spoke to me about a change of role. With Ben Brown and Jarrad Waite holding down key spots in our attack, and both able to pinch-hit in the ruck when Todd Goldstein needed a rest, and Braydon Preuss next in line for a ruck role, Brad told me my only chance to break into the side was as a key defender alongside veterans Scott Thompson and Robbie Tarrant. I wasn't in a position to pick or choose where I wanted to play at the time, so I agreed to start training immediately in the backline group under then assistant coach Josh Drummond. Brad wanted to give me some clear direction and told me that if I trained hard, he'd try me out in defence in the upcoming pre-season practice matches.
I had a lot to learn, having never played as a defender before, and went to Robbie Tarrant and Scott Thompson, who were the best in the business, for help. Playing back is very different to playing forward, but the good thing is that it's probably easier to play back on someone than have someone play on you. As a forward, you have to be proactive and initiate the running and leading to the ball, but when you're a defender, most of the time you're reacting to the forwards' movements. With my power and speed, I was able to give my man a few metres' head start on a lead to the ball, but close the gap on him quickly enough to get into a position to spoil his mark, or mark it myself. If the ball was kicked in high and on top of our heads, I had the strength to out-muscle and push my opponent off the ball. While it wasn't that simple, I did feel comfortable in the position pretty quickly and felt that the change of roles was a good move for me and my career.
Full of confidence and ready to test my abilities against genuine opposition, Brad and the North coaches threw me in the deep end for a practice series, the AFLX, where I played okay against Carlton. But it was a match against Melbourne down at Kingston Twin Ovals in Hobart, Tasmania, as part of the full-length practice games, where I found out just how hard the role of a defender could be. Just when I was starting to feel good about my football transformation, I was given an absolute bath by Jesse Hogan and Christian Petracca. They outmanoeuvred me, out-muscled me, outplayed me and, to be honest, embarrassed me. I conceded several goals and looked completely out of place. It prompted talk in the media about whether my role change was a silly experiment. Brad reassured me that I was worth persisting with, but, later that week, I was dropped for the second game of the pre-season and sent back to play a scratch match in the VFL with Werribee against Williamstown.
I wasn't brought back in to play our final practice match against reigning premiers Richmond, in Carlton, where we got smacked by a whopping 70 points. I started the season proper on the outer too, and missed games against Gold Coast and St Kilda. In Round 3 against Melbourne at the MCG, I got my chance for redemption. After initially being named as an emergency, I was brought in to play alongside Scott Thompson when Robbie Tarrant pulled out with hamstring soreness. Within seconds of the game starting, the Demons booted the ball long and high into their forward line, looking for Bayley Fritsch or Christian Petracca to mark it. I had left my direct opponent, having identified where the ball was going, and leapt from the back of a pack to take a soaring mark right in front of their goal. It was a real confidence booster for me and set the tone for the rest of the afternoon. I was also able to line up Jordan Lewis with a nice hip and shoulder, as I was trying desperately to prove to Brad and the coaches that I had the aggression and determination to play as a defender regularly. While we ultimately lost the match, I ended up with five contested marks, seven tackles and a contender for mark of the year after sitting on Fritsch's head late in the first term – it was a productive day for a defender and I felt like I had passed an important test.
My effort against Melbourne was good enough to see me hold my spot the following week against Carlton, despite the fact that Robbie Tarrant was declared fit to return. I was getting games and building my form slowly, when disaster struck. A Hawthorn player accidentally landed on my foot and caused a small crack in my navicular, which is a small bone that sits in the middle of the foot between the ankle and the toes. Breaks in this area are troublesome and can take a long time to heal, because the navicular is a bone that bears weight. Navicular injuries are notorious for ending football players' careers prematurely because they're so delicate and hard to repair. After an assessment by the club's doctor during the week and a subsequent visit to a specialist, we decided to continue the season without surgical intervention, which was a risk. The thought process was that if the fracture broke all the way through the bone, we would get it fixed, but until then it would be more of a pain-management issue for me.
So, before each game that year, I had an injection in my foot to numb the pain. At the three-quarter-time break each week, the pain-killing medication would wear off and severe pain would kick in. Some of my teammates, who knew I was battling with the injury at the late stages of games, would get behind me and implore me to grind the games out until the final siren, which I always did. The club's medical team members were astounded that the bone never cracked all the way through despite the fact that I played 15 games on it. I managed to play 18 games that season, by far eclipsing my previous best tally of nine games in 2016. At the end of the 2018 season, I had surgery to repair the fracture, but I was in a good place football-wise and was about to put pen to paper on my new deal. Off the field, however, things were starting to unravel like never before. I was in a bad place mentally, but even I had no idea just how bad things were about to become.
2
Rou
I knew our pet lion was hungry because he hadn't eaten for several days. Sometimes my family didn't have anything to give him after feeding ourselves. On this particular day, the lion had a very distinct look about him that signalled 'approach with extreme caution!' and when he was in that sort of mood, it was a bad idea to go anywhere near his cage. Despite all the warning signs, I found a small piece of leftover meat for him and approached his small enclosure. It wasn't much, but I knew it would get him through the next few days until we could spare him some more.
A naïve seven-year-old, I slowly moved towards the steel bars. 'Here you go,' I uttered nervously and watched as he got up off the ground and came towards me with his ears folded back slightly. He seemed to become relatively docile and didn't growl or gnash his teeth – his usual signs of aggression. He was panting, though, and looked very tired. He turned his head towards me and our eyes locked. I sensed he knew I was there to help him. I reached out with the lump of meat in my hand and he started sniffing
the air. The scent of sun-baked, rotting animal flesh suddenly brought him to life. We were less than a half a metre away from each other, my hand edging ever closer to his mouth. I pushed the meat through the bars, his eyes stayed fixed on mine and his mouth began to open. What happened next is a blur. I remember him lunging forward and I instinctively let go of the meat and fell backwards to the ground.
There was blood everywhere. It was on my clothes and smeared across the bars of the cage. I looked down at my left hand – the one that had the meat in it – and it too was covered in blood, but at first I felt nothing. Then the pain kicked in. My hand started throbbing and I saw that the top of my left ring finger was missing. I screamed out for my mum and then I must have passed out.
That was almost 20 years ago, so you will have to forgive me; my memory is very clouded. In fact, it's so clouded that our pet was actually a tiger, not a lion. Yes, that's right – our pet tiger bit my finger off! No, no, no – he wasn't a pet. He was a wild beast that roamed around the outskirts of our village in Sudan and attacked me without warning one day when I was walking home from school and took a chunk of my finger. Or was the missing part of my finger self-inflicted? So hungry as a child in a developing country, perhaps I had to eat my own finger just to survive.
What is true is that I am missing a quarter of my finger on my left hand and I've been lying to people for years about how it happened. Only now have I figured out why I have been so guarded and protective of that story. When I arrived in Australia in 2003, I was asked about my missing finger a lot. I have pretty big hands, so the short, stumpy, deformed-looking ring finger on my left hand does stand out to people when they first meet me. It has no nail and was severed at the first (distal) knuckle. The stories I told you before, about the lion, the tiger and me biting it off for food, were all various versions of long-winded tales I made up to avoid telling anyone the actual truth, and in my mind, to avoid them judging me for com­ing from a poor African country. I thought if I injected some stereotypes, like wild or pet lions, tigers, starvation and a bit of humour, it would distract people from finding out the real story – and funnily enough, it always seemed to work.
Many people were understandably curious about my early life in Khartoum, Sudan, and later in Egypt, but there were some things I never felt comfortable sharing with them, and my missing finger was one of them.
Since joining the AFL, I've had many opportunities to tell my life story, with many people asking me to write a book, film a documentary, do a podcast or sit down for various radio interviews. While writing a book was always most appealing to me, I never felt it was the right time – but things changed after I became a father. With all that's happened to me and with the environment we're all living in, I decided now was the right time to share my journey and hopefully help others overcome the types of challenges and obstacles I have faced and worked through.
So, while I was kidding around with the story of how I lost my finger before, I make a promise to you as a reader of my story that from this moment on I will tell you nothing but the truth. And to prove it, here is the real story about why I had the top of my finger amputated at around the age of eight, and why I've been so sensitive about revealing the real story behind it.
After my early life during the civil war in Sudan, my parents decided to leave in search of a better future for their then eight children – I will elaborate on this later, but for context it's important to touch on it now. While awaiting a visa to gain entry to a country like Australia, Canada or the United States, we spent three years in Egypt, initially without my dad, William, who stayed back in Sudan to work and send money across to us. We were lucky enough to have some extended family in Cairo – a second cousin on my dad's side who we called an uncle. He and his wife had six children and lived in a tiny three-bedroom house. Despite already being overcrowded in their family home, they allowed us to stay. You can do the maths – that's 15 people under the one roof. It goes without saying it was cramped and extremely awkward, but we had nowhere else to go and were very lucky our uncle agreed to take us in.
After a period of time, it became very clear to me and my two older brothers, Peter and Augustino, that our mum, Elizabeth, was struggling financially to pay the rent and couldn't afford food for us all. None of us were attending school at the time because of our finances – Mum couldn't afford to send us and it just wasn't a priority, and our days basically involved sleeping in and playing with the other neighbourhood kids. Mum couldn't work because she had to look after my younger siblings, Teresa, Anthony, Sarah, Angelina, and Mary. Being the eldest, Peter decided to find work and had some success at a mechanic's garage. Augustino followed his lead and worked in a factory of some sort.
Although I was only nine years old, I too ventured out to assist my family in any way I could. When I look back now, the thought of walking the dangerous city streets at such a young age and searching for full-time work is hard to comprehend, but back then, I didn't have any perspective to even question it. After various attempts and knock-backs from several business owners who had no need for a child who wasn't their own, I eventually had some luck at a furniture maker's factory and started work immediately. My days involved helping the carpenters with the joinery, clamping and general cleaning of the workshop floors and benches. I was also responsible for making cups of tea and coffee for them and all the other workers. I can't recall exactly how much I got paid – it would have been very little – but the look of gratitude on my mum's face when I gave her my earnings each evening made it well worth the effort and made it easier for me to go back every day.
Although things started off okay for me at the factory, it didn't stay that way for long. After about a year, one of the carpenters started mistreating me – mainly for being young, vulnerable and Sudanese. Many local Egyptians hated the Africans who moved to Cairo for two main reasons: racism or religion. This particular man would occasionally hit me or abuse me when I had to work with him. I put up with it for a long time, and never told my mum or brothers about what he did, but eventually I made the decision to leave and find other work, as his treatment of me was getting worse and I feared for my safety.
It wasn't until I stumbled across a small family-owned sewing shop that I had any luck with getting other work. With their own children also employed to help with tailor­ing and curtain making, I don't actually think the owners had any work for me, but out of the goodness of their hearts they took me in. I felt very safe and welcome there. They were all so kind, even feeding me lunch and making me feel part of their family. I have really good memories of being with them and will be forever grateful to them for their generosity.
My role was to take the curtains after they'd been sewn and hemmed, cut holes in the fabric with large, sharp scis­sors and then clamp big metal eyelets onto them so they could be hung on a rail in people's homes. That's right, an eight-or-so-year-old using scissors and a metal clamp – you'd be forgiven for thinking they had something to do with the severing of my finger, but no, it was actually my own stupidity rather than an accident of that nature.
After several months, when the monotony of the work I was doing got to me, I'd often go over to the station where the eldest sister of the family worked and have a chat. She operated an old sewing machine with a rubber band looped over a metal wheel that spun around. While talking, I was running my fingers around the outside of the metal balance wheel, just playing, and my finger got caught between it and the rubber belt. The mechanism crunched down on my finger and caused the sewing machine to come to a grinding halt. I wrenched my finger out with force and blood spilt everywhere. All the bones in my finger had been crushed. I don't recall being in much pain, probably due to the shock. The family rushed me to the nearest hospital and called my mum. The dam­age was so significant, they couldn't save all of my finger and had to amputate part of it at the first knuckle. I was lucky it wasn't further down on my hand.
I know while reading this, you're probably thinking, That's exactly what a child would or could easily do in that situation, and There's no shame in what happened, but for me, the story holds so many different uncomfortable feel­ings and connotations.
In Egypt and other developing countries, a child having to forgo school and an education in order to work to help his family pay the bills is commonplace, but in Australia it's a storyline you'd only see or read about in a movie or an article in a National Geographic magazine. I've told a lot of my friends about where I grew up and various stories about my family, but I've never really discussed with them the levels of hardship we endured. I suppose I was always worried about what they might think of me, and deep down I feared they'd view me and my family as poor and inadequate.
As I've grown older, it's one part of my life that I've had to learn to become more comfortable with. With one finger three-quarters its original length, I have a very real reminder of what we suffered through as a family, and it's something I'll have to carry with me forever.
There's no point hiding my past anymore, and you're about to learn all about it.
---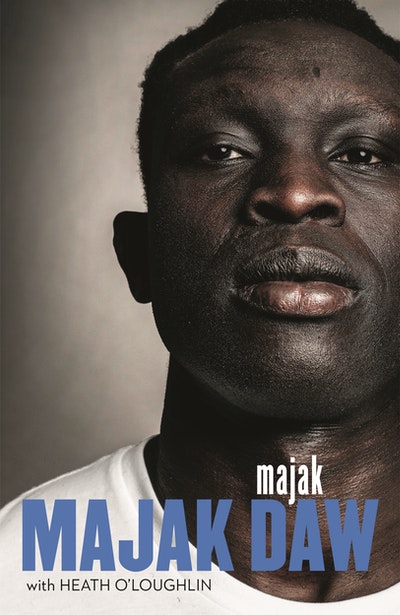 From AFL stardom to attempting to take his own life, Majak Daw's is a football story like no other.
Buy now
Buy now
---