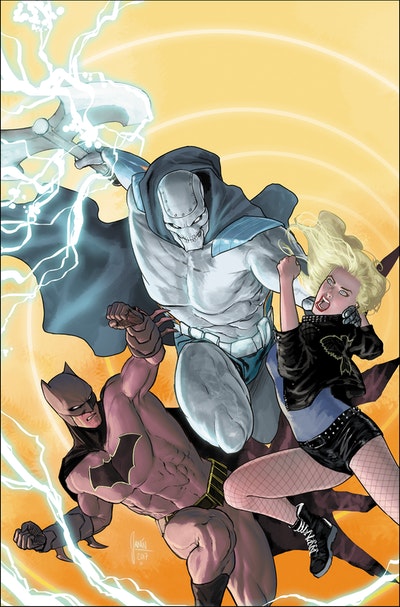 Published:

2 October 2018

ISBN:

9781401284497

Imprint:

DC Comics

Format:

Trade Paperback

Pages:

200

RRP:

$40.00
Justice League Of America Vol. 5 Deadly Fable
---
---
The unlikeliest League ever continues their adventures in Justice League of America Vol. 5.
The Might Beyond the Mirror, the great threat that Batman assembled the Justice League of America to stop, has finally arrived in the form of the Queen of Fables. However, Batman is gone, and the Queen has granted Killer Frost her fondest wish--a cure for her condition. Caitlin Snow has now switched sides, leaving the team down two members. But then the League is joined by Immateria's champion--Promethea. Can she help them, or will reality crumble at the Queen's whim?
Speaking of reality, the Adjudicator, a being who lives beyond the Multiverse, has determined that the Extremists' homeworld of Angor must remain dead. Batman and Black Canary have different ideas about that, and partner with former foes Dreamslayer and Lord Havok to alter reality or die trying!
All of this is prelude to the team's final mission, as the JLA must stop the time thief Chronos from killing Ahl, the god of superheroes, preventing him from seeding Earth with the concept of the hero. If the team fails, they all will cease to exist, leaving Earth vulnerable to all manner of evil.
Steve Orlando (Midnighter, Supergirl) collaborates with artists including Neil Edwards, Hugo Petrus and Miguel Mendonça in what is one of the most offbeat and compelling lineups the Justice League of America has ever seen. Collects Justice League of America #22-29.
Published:

2 October 2018

ISBN:

9781401284497

Imprint:

DC Comics

Format:

Trade Paperback

Pages:

200

RRP:

$40.00