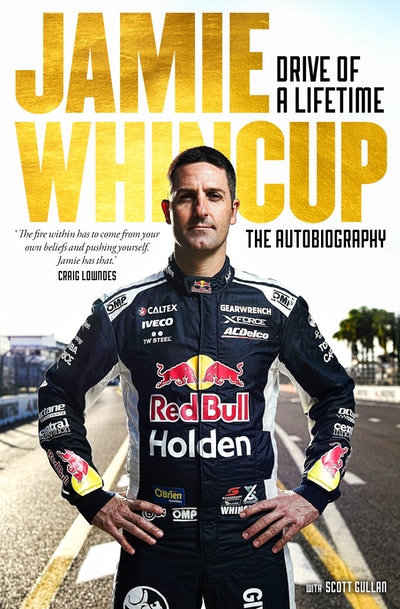 Published:

30 November 2021

ISBN:

9781761044885

Imprint:

Penguin

Format:

Trade Paperback

Pages:

256

RRP:

$34.99
Jamie Whincup
Drive of a Lifetime
Extract
1
GENETICS v. DEVELOPMENT
Are you born to be something, or is it your childhood that shapes who you become?
It's a question I often find myself contemplating. Was there something in my DNA that meant I was going to become a racecar driver?
If you're a basketballer it's a massive advantage to be tall and there are plenty of sports where genetics play a big part, but in motor racing is there a special characteristic that's required?
It has been put to me that you need a brain that isn't scared, one that doesn't react to a dangerous situation in a normal manner.
I recently watched a documentary on American climber Alex Honnold called Free Solo, which shows how he climbs rock faces without a harness. It's crazy stuff and they did an interesting exercise where they tested the reactions of his brain to certain scenarios.
Dramatic events such as car crashes, trains derailing and people being badly injured are shown to him – and his brain doesn't react to the danger. The consensus is that he doesn't experience fear like the rest of us.
I can see a link with being a Supercar driver, as we have different reactions to dangerous situations compared to the normal person. When cars are spinning out and crashing in front of you, I'm not getting frightened – I'm trying to pick the best way out of it.
How your brain is wired in regards to dangerous situa­tions and its ability to cope with long periods of sustained concentration does fall on the genetic side. But I still put a lot of emphasis on what you do growing up and the develop­ment you have at an early age.
So, did my father having me sit on his lap as he drove the boat, or as he took the motorbike for a spin around the block, play a part in my motorsport pursuit? Or the fact he let me drive the tractor and the ride-on mower, even when I could hardly reach the pedals?
It probably all played a part, and I'm a believer that what you do in your younger years up to the age of 14 really shapes you as a person.
The example that is set by your parents when you're growing up and going through puberty can go a long way to determining who you become.
Maybe I'm genetically suited to something else but have never actually discovered it.
What I do know is that I was seven years old when my father took me over to my Uncle Graeme's for a visit that set me on my path.
'Have a seat in that, mate.'
I was staring at this beautiful striking red go-kart that was parked inside my Uncle Graeme's garage.
The shock of what I was staring at was still sinking in as I lowered myself into the seat.
'How do you like it?' my father, David, asked.
I looked up at him and then across to my uncle, who was smiling. But his smile wasn't as big as mine.
'It's pretty good.'
I'd never really expressed any desire to get a go-kart but as I sat there with my hands gripping the steering wheel, I knew this was now going to be my sport. Although my first attempt didn't suggest I had much of a future in it.
The next day Dad, Graeme and I went up to the Eastern Lions Kart Club at Whittlesea, a northern suburb of Melbourne, a 30-minute drive from where we lived in Greensborough.
I had no idea what I was doing and it showed. I was useless.
While they didn't say anything, I could sense there was some concern in the camp as I battled to get the kart past idle for the entire afternoon.
I spluttered around the tiny circuit like a pensioner on a scooter, only slower. But the next week I went back, then the weekend after that. For 12 months Whittlesea was my home away from home as I learnt to become a go-karter.
Something I didn't realise at the time was that Dad was having to change the spark plug after each run. It was dead because so much oil was getting on it, which was caused by how slowly I was going.
I was only eight years old so Dad wanted me to just practise before we started racing.
After my inglorious beginning, I'd quickly got the hang of the machinery and was soon hurling myself around the circuit, which was around 300m, as fast as possible.
Dad had set a lap time of around the 15-second mark at Whittlesea which I had to achieve before he would let me race at other tracks.
I eventually got it consistently, so in 1992 my racing career officially began in the rookies class – age group 7 to 12 – and I had a helmet that was almost bigger than my body.
My first venture away from Whittlesea was to a track at Brooklyn, just near the West Gate Bridge – different from the track you see today though. It blew my mind – it was massive, almost double the size of my home circuit. I felt like I was getting lost driving around it because it was that long.
It took me a year to win my first trophy and that wasn't even for getting on the podium – it was an encouragement award for coming fourth. My first real trophy came not long after that when I finished second at Swan Hill.
The last Sunday of every month was club championship day. Points were collated from each club day to decide who was the champion at the end of the season.
There were usually between 10 and 15 kids racing and I improved quickly as the year progressed, finishing second in the championship.
That's when I got my first insight into the cut-throat competitive nature of motorsport.
It turned out the kid who'd won got penalised; his father had been using special fuel to gain an advantage. The trophy was now mine, and the first of many I'd hoped, as I was loving my new pursuit.
It was no surprise, really, given I'd grown up around motorsport.
My dad and Graeme had been involved for much of their lives, although initially they raced speedboats together.
Then Graeme got into racecar driving throughout the 1980s in a red Chevrolet Monza. His cars were always red (when he had the choice), which was why my first go-kart had been that colour. He'd also spent time working with touring car legend Allan Moffat as part of his team.
I'd heard many stories about his time with Moffat, who won four touring car championships as well as Australia's biggest race, the Bathurst 1000, four times.
As a young kid I'd often tag along in the big truck they used to transport the car when Graeme was racing, usually to Sandown, which was the main racetrack in Melbourne.
My mother, Sandra, was happy when I took a liking to the sport instead of following one of dad's other passions – pistol shooting. While they were both dangerous pursuits, she thought the go-karts were the least dangerous so therefore it was encouraged.
The other member of our family, Sally, five years older than me, was too busy with calisthenics (a type of gymnastic exercise) to take too much notice about the increasing number of trophies her brother was bringing home.
My first couple of years in rookies had gone well and by my third season things had got a lot more serious. We were racing all around the state; wherever there was a race we'd be there. From up the bush in Numurkah to down the highway to Geelong or all the way up to Mildura.
There was even the odd race interstate. In 1994, the year I turned 11, I won the Adelaide Formula 1 Grand Prix Kart race and also snared the NSW rookie state championships to go with my Victorian title.
The following year I had 25 starts for 19 wins, three second places and one third. That earnt me Rookie of the Year status for the second time. Karting had gone from an interest to a full-time passion and, the more I did it, the better I was becoming.
To be honest, nothing else interested me. I would have a kick of the football at lunchtime at Eltham College but that was about it. School wasn't really my thing and my routine during the week would be to get home as soon as I could, grab something to eat and then head to the garage to tinker with the kart.
After every race the whole thing had to be taken apart and given a good clean and service. A day at a go-kart track was like living in a dust bowl, so usually there was dirt and mud clinging to everything.
Wheels, tyres, sprockets, the engine . . . they all came off. If stickers had been damaged, they would be replaced. 'It doesn't cost any money to look good,' was Dad's motto.
He was adamant you had to make sure every tiny little thing was maintained and ready to go. The key was not to get lazy.
A dirty kart wasn't a slow kart, but if it was dirty it was obvious that you hadn't checked everything.
More often than not it was during the cleaning process that problems were found. For example, a crack in the chassis would often be discovered under a couple of layers of dirt.
Dad's attitude soon rubbed off on me, and cleaning is still part of my routine today. Before every Supercars race I always clean my helmet. It's my ritual, even if it doesn't look dirty. It has also become a safety check to make sure the radio and air vents are working.
This habit had served me well from day one and was important as I took the next step into the junior ranks.
It was a daunting move in a way, because I was a 12-year-old battling kids up to the age of 15. And it was full-on. We started racing 40 weekends a year all around Australia.
It's fair to say I didn't see many Fridays at Eltham College. Dad and I would often hit the road on a Thursday night if, for example, it was a competition at Swan Hill, which was a four-hour drive away.
On Friday we'd go to the track and practise all day, which would involve four or five sessions to dial in the kart. There would be anywhere between 200 and 300 entries at each race meeting.
On Saturday there would be qualifying followed by a couple of 30-lap races, which would usually take around half an hour.
The Sunday would involve a pre-final race and then a final of up to 40 laps. By the time the presentations were done it would be 6pm before we'd get in the car and start the journey home. A hamburger somewhere on the road would be dinner and then I'd inevitably sleep most of the way.
The trailer would be put in the garage, I'd go straight to bed and then wake up in the morning and head off to school.
That was our routine and it obviously needed some dedi­cated parents and a supportive uncle . . . luckily, I had three of the best.
Data logging, Italian factories, Whincup Racing Team. Welcome to the world of a 13-year-old junior go-karter.
We'd made the big call to change brands of go-karts. All through rookies and the start of juniors I'd used an Arrow kart made by famous Australian manufacturer Drew Price Engineering.
But now the Whincup Racing Team – my uncle Graeme had started it when he was competing and we were now resurrecting it – was being backed by Italian brand CRG. They'd supplied us with the latest CRG piston port kart, two engines and a dedicated mechanic at the major events.
I'd learnt there was so much more to karting than just getting in and going flat knacker.
Our kart now had an on-board data logger, so after each practice session I was able to download data and look at exactly what was happening out there.
For the 1997 season we also stepped up to a new sprint kart series called FMK. It was regarded as the best in the country because it was set up along international lines.
Most countries in the world used the same classes. I was moving into the Junior Intercontinental A, which was limited to drivers under 16. After that there were the senior classes, Intercontinental A and Formula A, which was the top of the tree in Australian karting.
We were hit and miss in our first FMK season and finished third behind Michael Caruso from NSW. He'd dominated and we were starting to have serious concerns about our European kart. We simply didn't have the pace, and became fascinated by anything Caruso did as we tried to figure out why he was so fast.
At one stage he ran a piece of tape along the middle of his axle – and we spent hours sussing out what it was doing. It was a great tactic for him, because in the end we used all of our time worrying about somebody else and not concentrat­ing on making ourselves go faster.
I'm certain he was just doing it to put everyone off. It was a lesson learnt that I still refer back to today because those tactics still go on.
The competition was getting fierce and one of my main opponents had become one of my best friends.
Will Davison came from a motor racing family and had also started his karting career at the Eastern Lions Kart Club in Whittlesea. His father, Richard, was an Australian Formula 2 champion while his older brother, Alex, had progressed from karts to Formula Ford racing.
We were both on the same path and, despite being at each other's throats on the track, we enjoyed hanging out away from it.
That wasn't the case with my other main rival, who I didn't really know too much about. He hailed from Sydney and his name was Mark Winterbottom.
---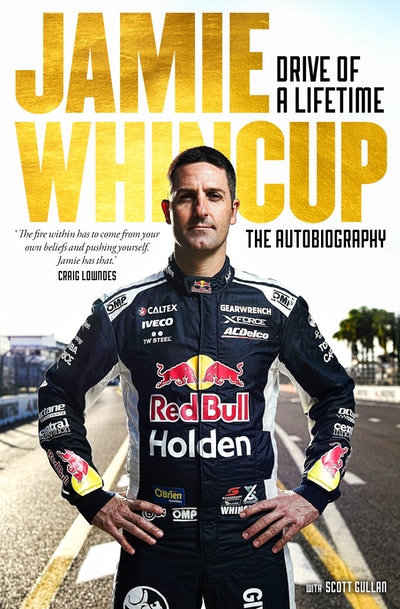 This is the definitive account of the life and career of the winningest Supercar driver of all time, Jamie Whincup ­– most championships, most race wins, most pole positions, most podiums. But it's also the story of the making of a champion – the drive and desire, the grind and the teamwork, the values and philosophies that it takes to get to the top, in sport and in the life.
Buy now
Buy now
---