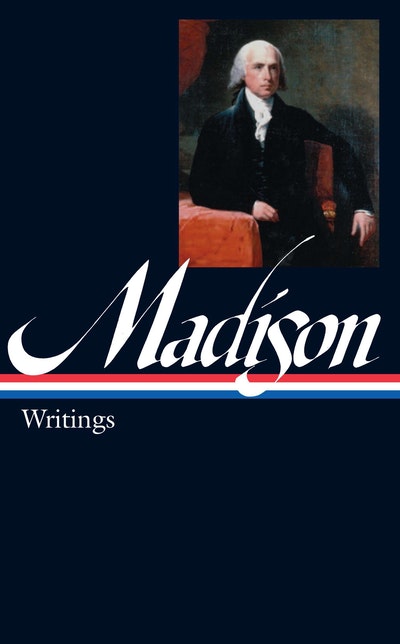 Published:

30 August 1999

ISBN:

9781883011666

Imprint:

Library of America

Format:

Hardback

Pages:

966

RRP:

$67.99
James Madison
Writings (LOA #109)
---
---
Over 200 years after the founding of the federal republic, James Madison remains the most important political thinker in American history. The prime framer of the Constitution and the Bill of Rights, Madison was also a brilliant expositor of the new republican government and its underlying principles. His eloquent and insightful writing on freedom of religion, freedom of speech and the press, the rights of minorities under majority rule, the role of the states in the federal system, and the separation of powers are central to American political thought and speak to the controversies of the present day.
Arranged chronologically, this Library of America volume contains 197 essays, addresses, speeches, private memoranda, and letters written between 1772 and 1836. Included are all twenty-nine of Madison's contributions to The Federalist, as well as revealing letters and speeches from the Constitutional Convention, the crucial Virginia ratifying convention, and the first federal Congress that illuminate his central role in framing and ratifying the Constitution and adopting the Bill of Rights. Early letters from the Revolution and the Confederation record Madison's strong commitment to religious freedom, his acute observations on the weaknesses of the Articles of Confederation, and the beginning of his historic political collaboration with Thomas Jefferson.
Selections from the 1790s include eloquent denunciations of the Alien and Sedition Acts and candid private appraisals of George Washington and John Adams. Writings from his terms as secretary of state and president record his determination to uphold American independence during the conflicts of the Napoleonic era and his leadership of the nation during the fiercely controversial War of 1812. Letters and memoranda from his retirement demonstrate his opposition to nullification and secession, his illusory hopes for African colonization as a solution to the dilemma of slavery, and his deepening concern over the sectional threat to the federal union he loved. James Madison: Writings includes a chronology of Madison's life, an essay on the texts, explanatory notes, and an index.
LIBRARY OF AMERICA is an independent nonprofit cultural organization founded in 1979 to preserve our nation's literary heritage by publishing, and keeping permanently in print, America's best and most significant writing. The Library of America series includes more than 300 volumes to date, authoritative editions that average 1,000 pages in length, feature cloth covers, sewn bindings, and ribbon markers, and are printed on premium acid-free paper that will last for centuries.
Published:

30 August 1999

ISBN:

9781883011666

Imprint:

Library of America

Format:

Hardback

Pages:

966

RRP:

$67.99