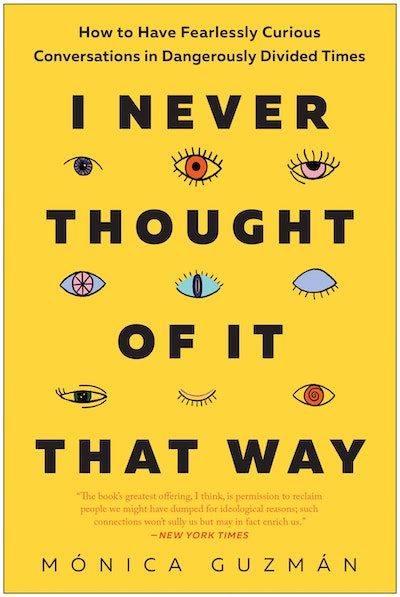 Published:

29 March 2022

ISBN:

9781637740323

Imprint:

BenBella Books

Format:

Hardback

Pages:

304

RRP:

$49.99
I Never Thought of It That Way
How to Have Fearlessly Curious Conversations in Dangerously Divided Times
---
---
When you think you have the answers, you need to be asking a lot more questions—and embracing fearless curiosity.
Partisanship is up, trust is down, and we're hanging with friends and social media feeds that make us sure we're right and everyone else is ignorant (or worse). It can feel impossible to understand one another . . . but it is more important than ever.
The solution? A new framework to reclaim our humility, channel conflict, and reach understanding far beyond our own perspective.
In a fearful and polarized environment, we have a choice: We could let our minds and worlds shrink as we settle into certainty. Or, we can start asking questions. But does it make sense to stay curious about other people's perspectives when the wrong question can blow up in your face, ruin a relationship, or make people think you're the weird one?
The best insights live where one fearless mind meets another—where two people share the goal of better understanding each other rather than being "right" or "wrong." In this timely, personal guide, journalist Mónica Guzmán shows why curiosity is our best policy and how you can put it to work for you immediately, sharing practical tips from the trenches of the social, political, and cultural divides.
You'll learn:
• How to ask what you really want to know (even if you're afraid to)
• How to grow smarter from even the most tense interactions, online or off
• How to cross boundaries and find common ground—with anyone
Guzmán's approach will help you to have adventurous and downright human conversations with the people in your life who have the most to show you: those whose identities, values, and experiences make them see the world in an entirely different and fascinating way. Along the way, you'll learn that life is best lived with an open mind, and that the world around you is a much nicer place when you're always ready to say, "I never thought of it that way!"
We think we have the answers. But Guzmán shows that we need to be asking a lot more questions.

Published:

29 March 2022

ISBN:

9781637740323

Imprint:

BenBella Books

Format:

Hardback

Pages:

304

RRP:

$49.99