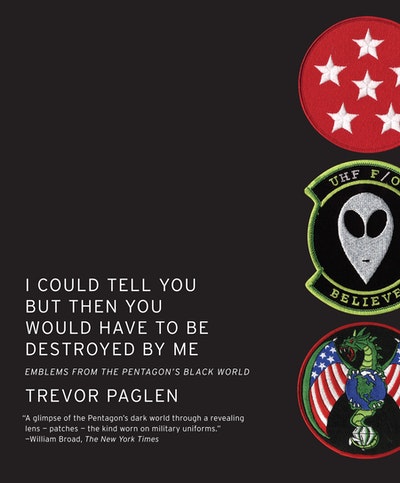 Published:

15 December 2010

ISBN:

9781935554141

Imprint:

Melville House

Format:

Trade Paperback

Pages:

160

RRP:

$27.99
I Could Tell You But Then You Would Have To Be Destroyed By Me
---
---
They're on the shoulders of all military personnel: patches showing what a soldier's unit does. But what if that's top secret?
"A glimpse of [the Pentagon's] dark world through a revealing lens—patches—the kind worn on military uniforms. . . The book offers not only clues into the nature of the secret programs, but also a glimpse of zealous male bonding among the presumed elite of the military-industrial complex. The patches often feel like fraternity pranks gone ballistic."
—William Broad, The New York Times
I COULD TELL YOU. . . is a bestselling collection of more than seventy military patches representing secret government projects. Here author/photographer/investigator Trevor Paglen explores classified weapons projects and intelligence operations by scrutinizing their own imagery and jargon, disclosing new facts about important military units, which are here known by peculiar names ("Goat Suckers," "Grim Reapers," "Tastes Like Chicken") and illustrated with occult symbols and ridiculous cartoons. The precisely photographed patches—worn by military personnel working on classified missions, such as those at the legendary Area 51—reveal much about a strange and eerie world about which little was previously known.
"A fresh approach to secret government."
—Steven Aftergood, The Federation of American Scientists
"An impressive collection."
—Justin Rood, ABC News
"A fascinating set of shoulder patches."
—Stephen Colbert, The Colbert Report
"I was fascinated... [Paglen] has assembled about 40 colorful patch insignia from secret, military 'black' programs that are hardly ever discussed in public. He has plenty of regalia from the real denizens of Area 51."
—Alex Beam, The Boston Globe
Published:

15 December 2010

ISBN:

9781935554141

Imprint:

Melville House

Format:

Trade Paperback

Pages:

160

RRP:

$27.99