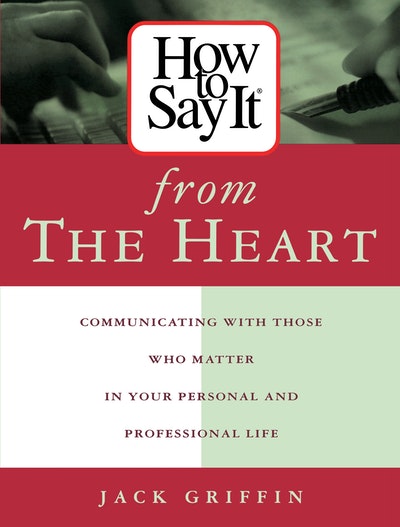 Published:

1 August 2001

ISBN:

9780735201620

Imprint:

Penguin

Format:

Paperback

Pages:

368

RRP:

$35.99
How to Say it from the Heart
Communicating with Those Who Matter in Your Personal and Professional Life
---
---
Those times when saying the right words really matters are often the times we find ourselves with no words at all! Now a guide exists that teaches the reader to properly place emphasis and focus on the emotional side of communication.
How to Say Itfrom the Heart offers practical advice and time-saving model conversations, letters, and e-mails that'll help you speak and write with conviction, sincerity, and compassion to the people who matter most. Whether you want to encourage a friend through hard times, ask someone out on a date, comfort a grieving co-worker, or just let someone know that you care, this entry in the How to Say It series provides all the words you need to express your feelings beautifully.
You'll find a wealth of ready-to-use models and guidelines covering 30 difficult to express subjects, including:  
·         Making graceful apologies
·         Expressing sincere thanks and appreciation
·         Offering meaningful sympathy and condolences
·         Writing romantic love letters
·         Providing truly constructive criticism—and real encouragement
·         Motivating your employees to work harder
·         Speaking to your children about death, divorce, drugs, and sex
Filled with illuminating examples and telling notes, How to Say it from the Heart will become the one source to turn to when you're looking for just the right words.
Published:

1 August 2001

ISBN:

9780735201620

Imprint:

Penguin

Format:

Paperback

Pages:

368

RRP:

$35.99