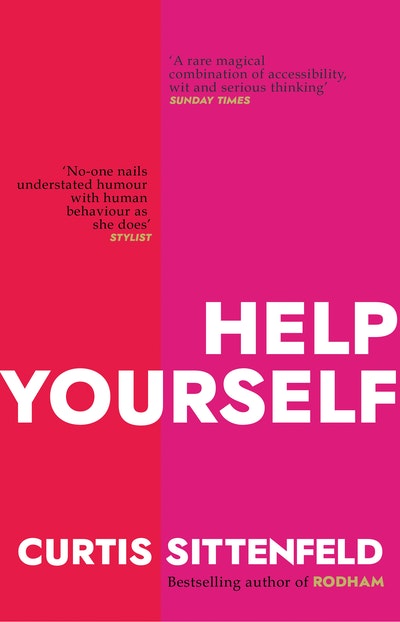 Published:

29 September 2020

ISBN:

9780857527479

Imprint:

Doubleday

Format:

Hardback

Pages:

96

RRP:

$19.99
Help Yourself
Three scalding stories from the bestselling author of AMERICAN WIFE
Extract
White Women LOL
Kiwi the Shih Tzu gets loose on the Thursday before the schools in the district let out for winter break. This means everyone knows, in a way they might not if he got loose after break had started. Regardless, everyone knows Kiwi. He weighs maybe twelve pounds, and the plentiful white fur around his face accentuates his dark eyes and dark little nose. (Do dogs have faces? Jill isn't sure). But Kiwi is both yippy and cute, and, though Jill – who is not particularly a dog lover – has never sought to pet him, he's the only dog at the elementary school drop-off whose name she knows.
Aside from his cuteness, there are probably two other reasons Kiwi is a school celebrity: the first is that he belongs to the Johnson family, and Vanessa Johnson herself is something of a celebrity. She's an anchor on Channel 8 evening news, is widely agreed to be the most beautiful mother at Hardale East Elementary School, is black, and lives in the tree-lined, large-house-filled neighborhood adjacent to the school, which allows her to bring Kiwi on a leash when she walks with her children to school in the morning; meanwhile, almost all of the school's other black families, whose children account for under ten per cent of the student body, live miles to the north, and ride the bus to campus. The second reason for Kiwi's celebrity is that, for kids, including Jill's own son and daughter, Shih Tzu is fun to say.
The way Kiwi escapes is that the Johnsons' housecleaner, who has been working for them on a weekly basis for years, carries a bag of garbage outside to the trash bin, leaves the back door open, and doesn't securely close the storm door. Apparently, while the housecleaner is despondent, Vanessa Johnson doesn't blame her; Kiwi is wily, and such a thing could have happened on anyone's watch. But, as Jill hears from her best friend Amy, whose other best friend is Vanessa, it isn't the first time the housecleaner has let this happen. However, in the other instances, Kiwi didn't make it out of the backyard.
It's from Amy that Jill learns about Kiwi. At 9 p.m. Thursday, Amy texts her, Kiwi has been missing since noon!
This is the first text Amy has sent Jill in weeks, and Jill immediately replies, Oh no what happened?
Amy explains the situation, and Jill expresses concern, which she does feel, though perhaps not as much as an actual dog lover would and not a concern totally separate from her own concerns about her strained friendship with Amy and her – Jill's – recently tarnished standing in the community. Jill initially thinks she's learning about a dog's imminent death rather than its escape; she thinks she's feeling a conclusive sorrow rather than the agitated hope of the unresolved. Their neighborhood is a grid of quiet, stately residential avenues bound by significantly busier streets. Additionally, in their part of the Midwest, a cold front is expected for the weekend and the temperature will likely fall to the single digits.
Jill and Amy engage in a thirteen-text volley, and the last text between them, from Jill, is Wow I feel so bad, keep me posted
She refrains from adding:
Does everyone at school hate me?
Is it too soon for me to come back to drop-off?
Are we still friends?
Almost three weeks prior, Amy's husband Rick hosted her fortieth-birthday party in the elegantly appointed back room of a trendy downtown restaurant. There was a fireplace, a bar, and many high round tables where guests could congregate first for drinks and then for the buffet dinner. Instead of flowers, there were willow branches and white lights.
About four dozen people were in attendance, the majority of them Hardale East Elementary School parents. Jill drank two glasses of wine and participated in several enjoyable conversations: one with Joanna Thomas and Wendy Upson about whether Mrs Pogue, who was all of their daughters' first-grade teacher, was pregnant; one with Sarah O'Dell about what per cent reprehensible Ivanka Trump was (Jill said 99 per cent, Sarah said 200 per cent); and one with Stewart Nowacki about the candy-cane-patterned pants he was wearing. Stewart Nowacki was Jill's go-to for harmless married flirtation, and when she'd learned that he was also her friend Rose's go-to for harmless married flirtation, it had enhanced rather than diminished her own flirtation with him because then she and Rose could jokily compare notes as well as speculate about whether Stewart and his wife Megan still had sex. Jill didn't speak to Vanessa Johnson, though she did end up at the bar at the same time as Vanessa's husband Bobby; as was often the case at such gatherings, Vanessa and Bobby were the only black people present. Jill and Bobby warmly exclaimed about how hard it was to believe that the busy month of December had arrived already.
The birthday cake was exceptional: hazelnut-almond topped with dark-chocolate ganache and white-chocolate truffles. The party was just winding down, with a third or so of the guests having departed, when Jill emerged from the restroom and noticed a table of five people who hadn't been there when she'd entered the restroom.
They were black. They were black, and they were stylish: two women and three men, all probably a little younger than Amy and Jill. One woman wore a floral silk blouse with a maroon background, and the other a black shrug over a beige camisole. Of the men, one wore a coat and tie, one a coat without a tie, and the third an orange cravat.
They weren't Amy's friends – they weren't guests – because Jill would have known them if they were. It was impossible that Amy would have friends close enough for inclusion at her birthday party whom Jill had never met. Jill also knew they weren't Amy's guests because they weren't mingling. And did she know because they were black? Sure, of course –  also that.
She approached their table. In the time since, she has vacillated between attempting to re-create her own mindset and to permanently erase it from her memory. She thinks she was trying harder than usual – harder than she would have with a group of white people – to seem friendly and diplomatic. Though her first words to the group were not recorded, what she had said was 'I realize this might not be obvious, but there's a private party going on in this room. A birthday party.'
The two women and three men looked at her with varying degrees of amusement and irritation. Jill added, 'You're not friends of Vanessa and Bobby, are you?' After a pause, the woman in the floral blouse said, 'No. We're not friends of Vanessa and Bobby.'
'If you wouldn't mind taking your drinks to the main room,' Jill said, and, though she was unaware of it in the moment, the recording had started, 'I think that would be best.'
With undisguised contempt, the man wearing the cravat said, 'Oh, really? Is that what you think?'
'I'm not trying to be—' For the first time, Jill faltered. 'It's my friend Amy's birthday, and her husband rented this room. That's all.'
The woman in the blouse said, also contemptuously, 'Do you feel unsafe? Are you going to call the cops?'
'Am I going to call the cops?' Jill was repeating these words, she is certain, in bewilderment at the escalation. But she concedes that, in the video, if one is inclined toward such an interpretation, her tone might come off as more contemplative. 'This isn't—' she began, but expressing herself had, abruptly, become very challenging. She said, 'This isn't political. I just think you'd all be more comfortable in the other room.'
'Bless your heart,' the man in the cravat said. 'Bless your heart for not making this political.'
One of the other two men, the one not wearing a tie, said, 'Your friend's party is over. The room was rented until ten o'clock.' He held out his left arm, and on his wrist was a steel and white-gold watch, which was, as it happened, the same watch worn by Jill's husband Ken. The time displayed was 10:20.
In a mocking voice, the woman in the blouse said, 'Sorry!' And, with fake cheer, the man in the cravat said, 'So that's why they're letting in the Negro riffraff!'
'That's not at all what I meant,' Jill said.
One of the men hadn't spoken, and one of the women hadn't, either; the woman was the one using her phone to record the encounter, as Jill subsequently deduced from the angle of the camera. The man with the watch said, 'Just like you, we're trying to enjoy an evening out. Could you leave us alone?' His voice contained no note of sarcasm, and later Jill wished she had taken her cue from him.
Instead, she folded her arms and sighed, and even she must admit that, in the video, the sigh is peevish, not compassionate or repentant. But the man in the cravat and the woman in the blouse were being so rude! Over a sincere misunderstanding! Jill said, 'Well, I didn't realize what time it was.' The woman in the blouse laughed mirthlessly. This is where the recording ends.
---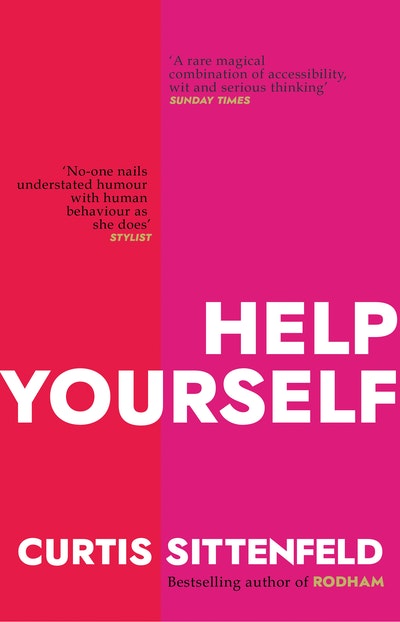 From the critically acclaimed and bestselling author of RODHAM comes a dazzling collection of stories that celebrates our humanity in all its pettiness and glory.
Buy now
Buy now
---